It seems to be baby season in celebrity town! From international sensations such as Serena Williams, Amanda Seyfried and Beyoncé, to our Asian artistes including Ella from S.H.E, Charlie Young, and of course our home-grown Joanne Peh. Most soon-to-be mothers must be preoccupied with the preparation of welcoming their baby (or better yet, babies!). If you too, are a mother-to-be, congrats! Perhaps one of your concerns is designing the nursery room at home. Fret not, because here are some inspiration and tips you can draw from here.
1. Get an Armchair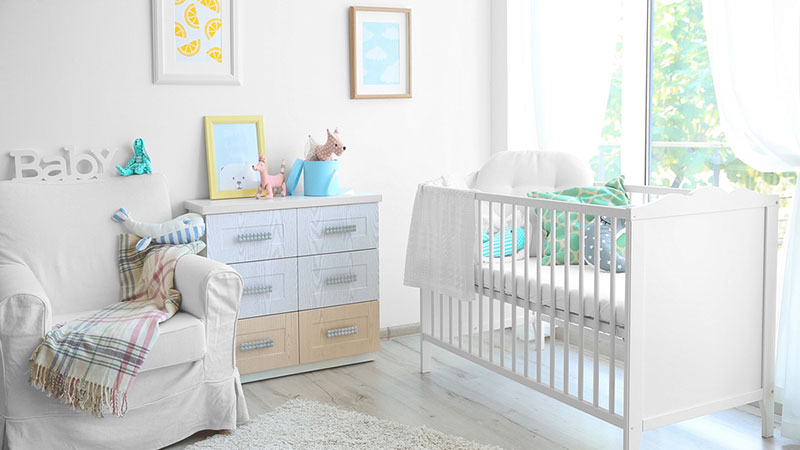 Africa Studio / Shutterstock.com
In the first few months, you will see yourself spending most of your time in the nursery room. From changing diapers, cuddling to feeding, your newborn is entirely reliant on you. Please do yourself a favour by getting a comfortable armchair to rest while looking after your newborn.
2. Pay Attention to Lighting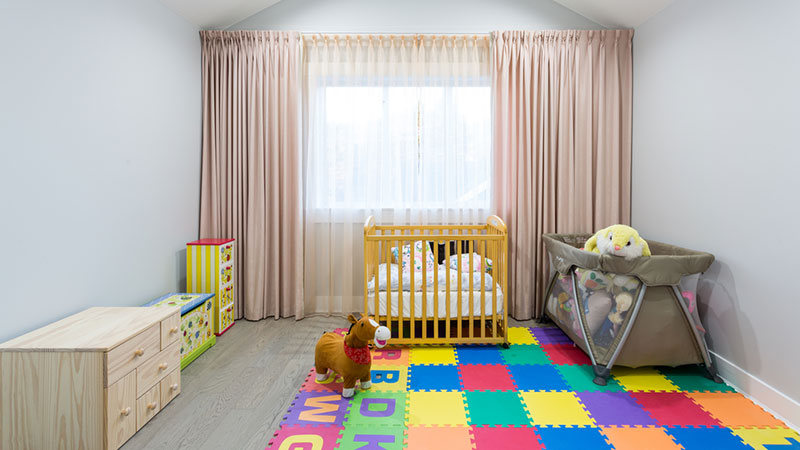 rawmn / Shutterstock.com
An aspect that many soon-to-be parents often overlook when designing a nursery room is lighting. Your newborns are still very sensitive to light, so please ensure that the curtains are thick enough to block the occasional harsh sunlight. Install dim nightlight to make it easier for your late-night feeding sessions without hurting his/her eyes.
3. Pick the Right Colours
Ever heard about colour psychology? Colours apparently have a significant influence on children's mood, behaviour and even physical well-being. If this is too complex for you, you can always play safe by combining soothing shades for your child's bedroom.
If you wish to get the nursery room done even before the gender-reveal (or if you simply want to keep the suspense for months!), play with gender-neutral colours such as ivory white, light grey, yellow, aqua, teal, or mint. A combination of two or three colours will create a more playful ambience for the room.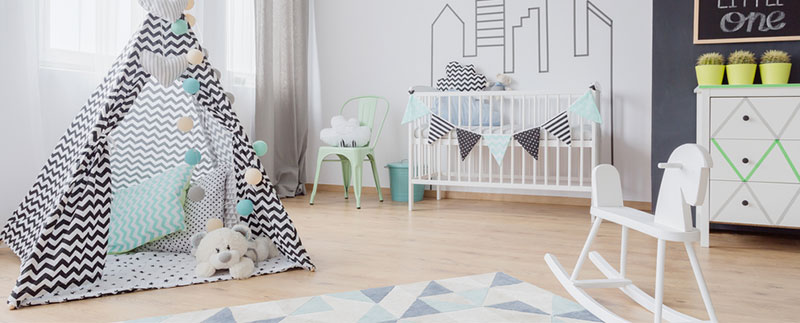 However, if soft colours are too dull for your taste, don't be afraid to pick bold and fun colours! They work great as an accent to the otherwise plain-looking room. You can also create a focal wall with animals or plants decals or graphic patterns.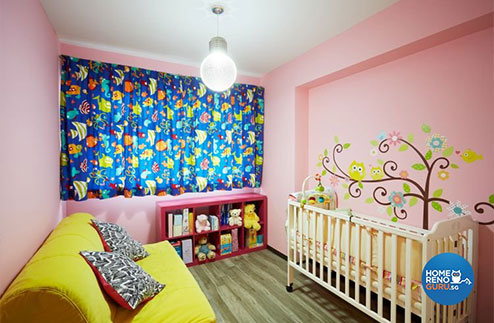 HDB 5 Room by Dots 'N' Tots Interior Pte Ltd
4. Shower Them with Toys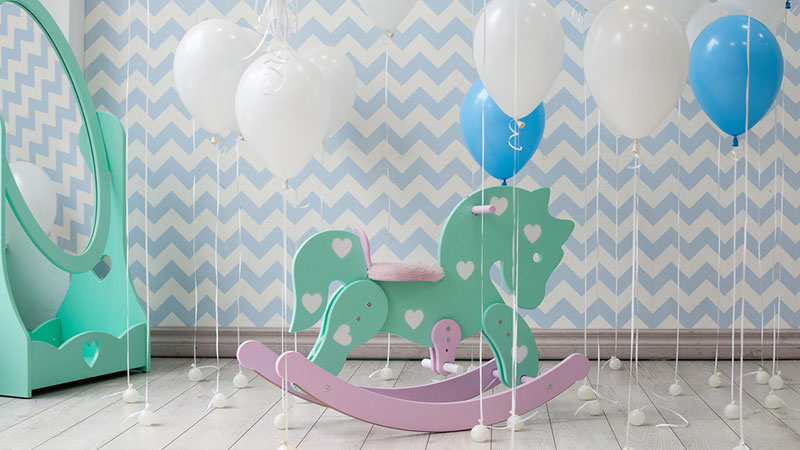 Orehova / Shutterstock.com
Still remember the iconic photo of Prince George in his robe riding a rocking horse that the then-POTUS Barack Obama gave him? While the retro handmade gift with the presidential seal on its saddle will be out of reach for most of us, there are plenty of rocking horses available in Singapore. If you're not a fan of horses, there are other alternatives you can look for such as rocking boat, sheep, Vespa, and many more.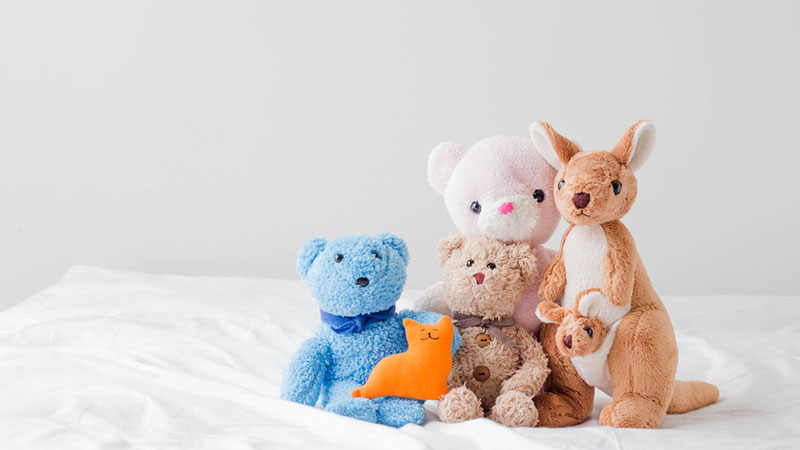 BK0808 / Shutterstock.com
Babies and toddlers are normally drawn to plush toys. Do get a few on their cribs for them to cuddle at night. The classic teddy bear or white bunny is a definite all-time favourite, but there are so many cute soft toys out there. Find some that suit the colour palette of the nursery room.
5. Extra Protection with Carpets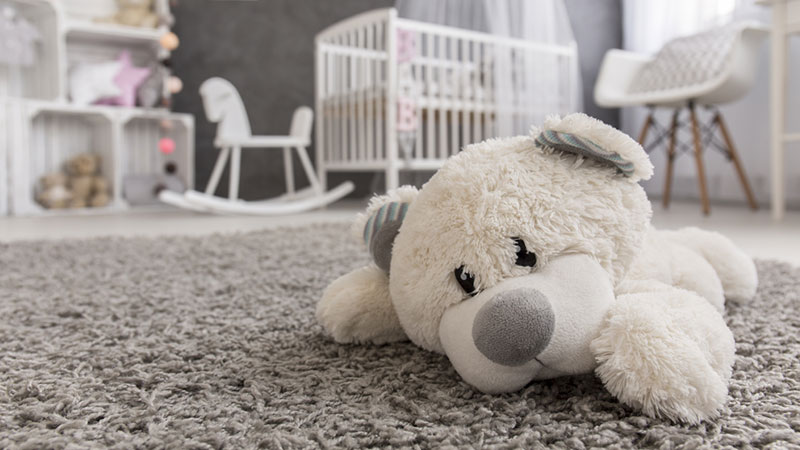 Photographee.eu / Shutterstock.com
Time flies real fast, especially for children. In a blink of an eye, your adorable infant will start crawling and taking his/her first steps. Invest in some soft fluffy rugs or carpets, so they have a soft padding while playing on the floor. Also, please make sure there is object or furniture with sharp edges that may hurt your toddlers while they are actively moving around.
If you need more insights from other moms on painting their children's bedroom, do check this out. Also, if the hubby wants to challenge himself by re-painting the room on his own, there are some tips that may come in handy. Designing a room is just not your cup of tea or are you getting too preoccupied with so many other things? Get an experienced interior designer to relieve your burden and to ensure a high-quality result to welcome your little darling(s).
NEXT ARTICLE
Fuss-free Housekeeping for Families with Children