Geometric wall paint designs are a great way to inject some fun into your living space. On top of adding a pop of colour, they are also a great way for you to express yourself and let your personality shine!
Instead of splurging on wallpapers or expensive artworks, geometric accent walls are ideal for those who are looking to spruce up their homes without breaking the bank. You can even paint it on your own.
Get inspired by some simple designs and learn how to do it yourself with our step-by-step guide!
Geometric Wall Paint for the Living Room
In a space where you host guests, your living room should reflect your style and personality! One way of doing so is by painting a geometric accent wall.
Here are some ideas to help you get started:
Rectangle Wall Paint Design
These rectangle wall paint designs are ideal for those looking to complement their modern interiors. Depending on the chosen colour scheme, they can either blend seamlessly with your furniture or stand out by themselves.
Rectangles are relatively easier to draw as compared to circles or triangles. Thus, they're perfect for beginners and those who are looking for DIY options.
Triangle Wall Paint Design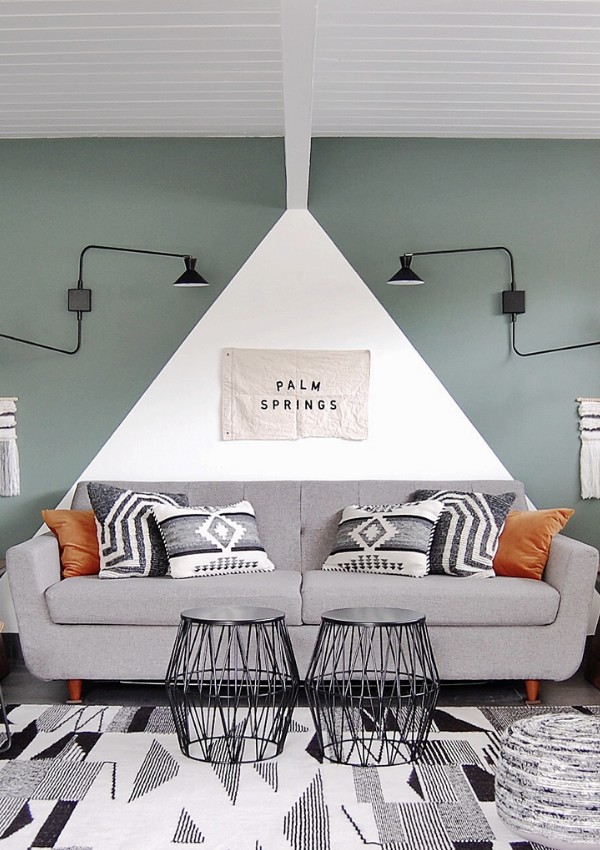 Credit: 23 Geometric Wall Paint Ideas
Triangles are great for those who want to inject a bit of fun into their living rooms!
They can be used to bring attention to certain details or centrepieces in your home. For example, you can paint a large triangle to place the spotlight on your sofa, just like the image above (on the right).
Alternatively, you can try playing around with triangles of contrasting sizes and colours and unleash the inner artist in you!
Asymmetric Shapes Wall Paint Design
If you're not a fan of symmetrical designs, why not try something else like geometric lines or play around with various shapes to create your masterpiece?
Simple black lines can help modernise a space. However, if you're not into monochromatic themes, harmonising various colours, shapes and sizes can add a fun and whimsical touch to your living room.
Arches Wall Paint Design
It's easy to understand why arches are popular among homeowners! Their soft circle helps to contrast the hard lines, making it pleasing to the eyes.
While it takes a bit more effort to come up with the perfect arch, it's definitely worth the effort.
Geometric Wall Paint for the Bedroom
Does your room feel uninspiring and dull? You can try to liven it up with a geometric accent wall. It doesn't have to be too grand or big – small geometric shapes and details can also help to elevate the look of your room.
Check out the following designs that are simple yet adorable!
Asymmetric Triangles Wall Paint Design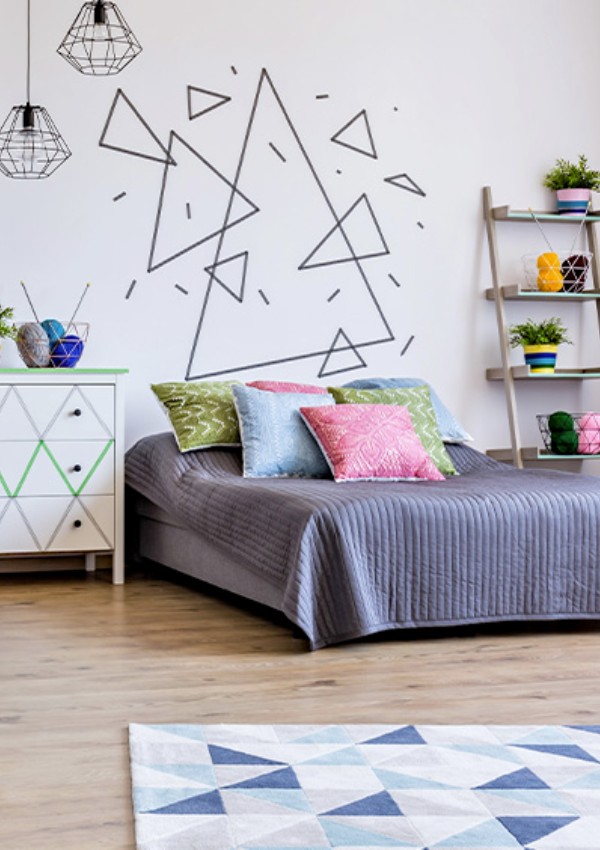 Credit: Geometric Wall Painting Ideas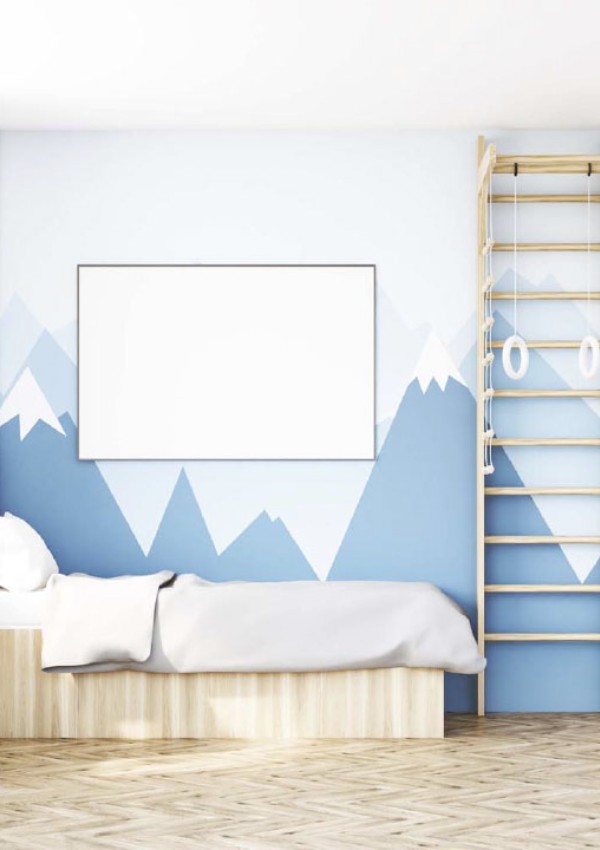 Credit: Exclusive Designer Walls
Have fun with asymmetrical triangles in your bedroom! While they may seem simple and nondescript, putting them together can add another dimension to the space.
Also, don't limit your creativity by only painting triangles on your walls. You can try incorporating them into your furniture as well. Play around with different materials and mediums to personalise your space.
Circles Wall Paint Design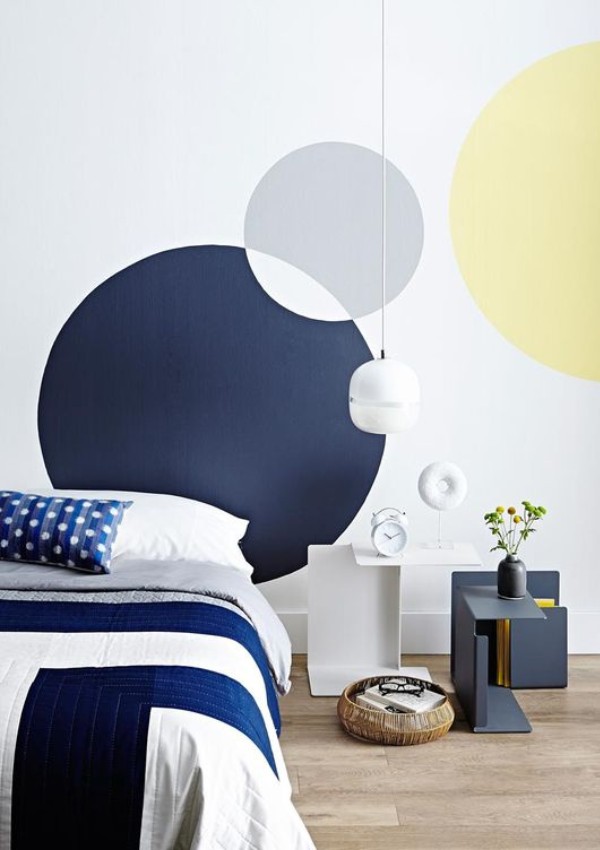 Credit: Angus Fergusson Photography
Research has shown that circles can evoke positive feelings and promote peacefulness and relaxation. So, what better way than to introduce this shape into our safe haven? Play around with various colours and sizes, and reshape your room now!
Hexagonal Wall Paint Design
Hexagons are versatile shapes that can either make your room feel more luxurious or fun. While single-coloured tessellations can help to elevate the appearance of a room, multi-coloured hexagons are perfect for those who are looking to inject a bit of fun.
Square Wall Paint Design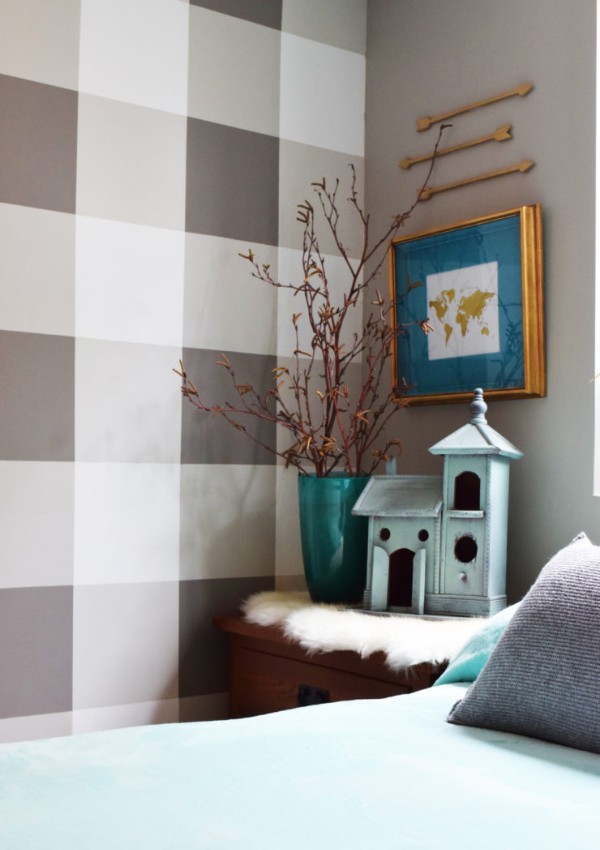 Credit: Buffalo Plaid Accent Wall
From buffalo checks to checkerboards to windowpane checks, square geometric patterns are the perfect building blocks to start with! They can be easy to paint and with your imagination, the possibilities are endless.
How to Create a Stunning Geometric Accent Wall
Geometric accent walls are great for those who are looking to inject their personality into their homes. If you're on a tight budget or want to try your hand at creating a masterpiece, here's how to get started:
Step 1: Choose the shapes and colours
Browse the web for inspiration from other homeowners before deciding on a design and colour scheme.
Once you've decided on how you want your accent wall to look, create a stencil of the shape or pattern using the following materials:
Ruler or compass
Pen, pencil, marker or chalk
Cardboard, corrugated board or thick paper
Scissors, penknife or craft knife
Using the ruler or compass as a guide, sketch your desired shape or pattern on the cardboard with the pencil. Once you're satisfied with the shape, cut it out with scissors.
Step 2: Prep the wall
To ensure that the paint adheres to the wall, it's important to prep the surface and remove all dirt and grime. If not done properly, the final product may not turn out well and may peel or crack over time.
To prep a wall:
Fill nail holes with wall putty and let it dry (if any).
Once dried, sand the area and wipe away the dust.
Using a damp cloth or non-abrasive sponge, wipe the walls thoroughly.
Tape off baseboard and ceilings with painter's tape.
Prime the walls with a paint sealer*.
Tip!
If stubborn stains remain after cleaning the wall with a damp cloth, mix a teaspoon of dish soap with a bowl of warm water. Next, wipe off the stains with the solution.
Stronger chemicals or household vinegar might be required if the stains still cannot be removed.
*Sealers are primers that are specifically designed to restore uneven surfaces. They're important if your walls have cracks that have been filled in with a sealant or filler, or if your current coat of paint is dark.
Step 3: Paint the base colour
Once the sealer has been applied and is completely dry, you can start painting the first coat of your new base colour. Allow it to dry completely before painting the second coat to prevent streaks and the paint from peeling.
Step 4: Outline the design
Once the base colour has dried, outline your desired design with the premade stencil using either a pencil or chalk.
It's recommended to start from the centre and move your way outwards to ensure that the pattern remains even and neat.
Step 5: Apply the painter's tape
Paste the painter's tape over the drawn lines carefully. To prevent paint from seeping through, you can use a ruler or card to run over the tape to ensure that it's pasted securely.
Step 6: Paint the shapes
Once you're done taping the designs, it's time to get down to the fun part – filling in the shapes with colours!
When doing this, you may want to paint over the tape slightly to ensure that the lines turn out crisp and straight. You may also want to avoid loading your brushes with too much paint at a time as it may seep under the tape and distort the shape.
Similarly, do ensure that the first layer of paint is dry before applying the second layer.
Step 7: Remove the painter's tape
Once the paint is completely dry, you can proceed to remove the tapes carefully to prevent any distortion to the design. With that, you now have your beautiful DIY geometric accent wall!
FAQs About Geometric Wall Paint
Can I DIY a geometric accent wall?
Yes, you can! All you need are the following items:
Items for creating a stencil
Ruler or compass
Pen, pencil, marker or chalk
Cardboard, corrugated board of thick paper
Items for prepping the wall
Paint scraper
Wall putty
Sandpaper
Damp cloth or non-abrasive sponge
Paint sealer
Items for painting
Paint colours of your choice
Paint sealer
Painter's tape
Paint brushes or paint rollers
Paint tray
What type of tape should I use for painting geometric walls?
Painter's tape is recommended for creating geometric walls as it's designed to have a low tack. This means that it can be easily removed without peeling the paint off or leaving any residue.
PREVIOUS ARTICLE
13 Types of Paints All Homeowners Should Know About: The Ultimate Guide for Painting Your Rooms and Furniture
NEXT ARTICLE
8 Trendy Neutral Colour Palette Ideas to Get Your Rooms Dripping in Style