A splash of colour is sometimes all it takes to brighten and refresh your surroundings. Nippon Paint provides many colours, shades and hues to create unlimited possibilities in home! With Nippon Paint Colours of Fortune 2022, discover the colour that matches your zodiac sign and your Eight Characters to enhance prosperity factors, build your dream home and open the doors to greater happiness!
Transform your life through the correct use of colours with expert advice from Grand Master Tan Khoon Yong, Master Goh Guan Leong and Master Mark Tan from Way Fengshui. Nippon Paint Colours of Fortune 2022 helps to add colours into your life and build your dream home, especially for this Year Of The Tiger. Paint to an abundant year of 2022!
2022 Zodiac Championship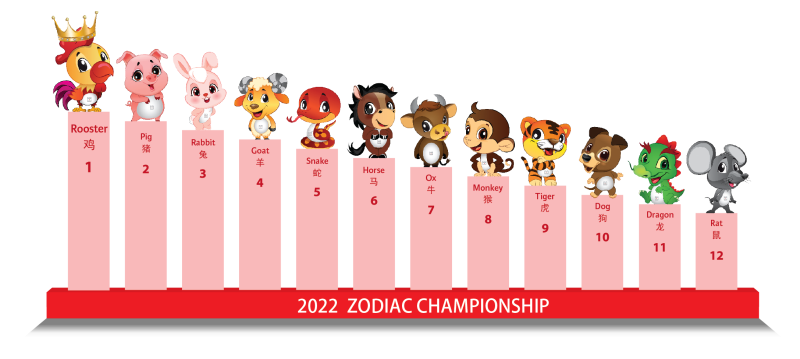 2022 Overall Forecast
The Year of the Water Tiger marks a challenging and competitive landscape that can be visualised as a training ground in a dense forest, with soldiers striving to advance and overcome various obstacles. This is a year with strong Water and Wood elements ruled by the Five Yellow Authority Star, indicating a year that requires grit and determination to compete. Nevertheless, there will be progress in all matters despite possible obstacles. Stay positive and be resourceful in dealing with challenges. As long as you work hard, you can power through the year of the Tiger.
壬寅年的来临,十二生肖如同来到了广大茂密的森林中展开训练。各位化身为士兵,在这充满了挑战和 竞争的环境下发奋图强,向前迈进。这是个水旺木盛的年份,并逢五黄星入中宫,预示今年一切有所推 进,但前方将出现无法预知的障碍。在这竞争激烈的年份,灵活和正面的心态尤为重要,能克服困难的 人,可使困难化为良机。只要努力前进,步步为营,就有望迎来风调雨顺,一帆风顺的虎年。
Improve your overall forecast for the year ahead with these lucky colours!
What's your lucky colour?
Click on each animal icon for a more detailed forecast for 2022.