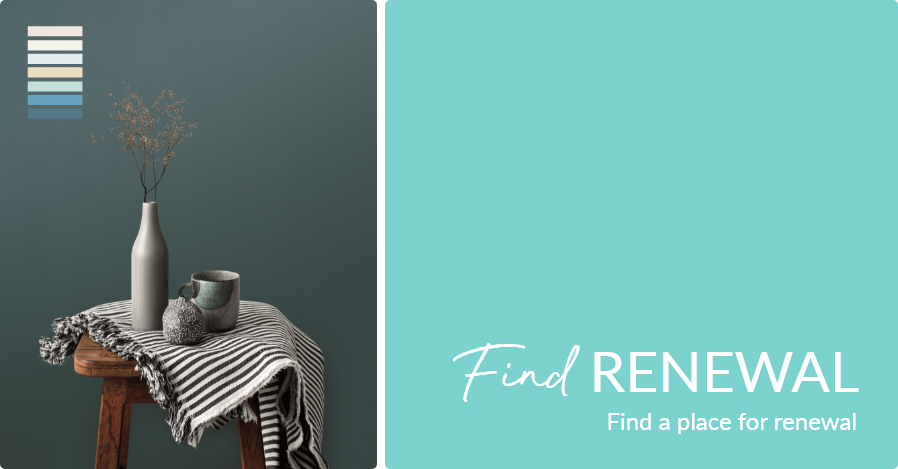 Find Renewal
The search for wellness in 2024-25 goes beyond green and into the blue. Our fascination for water is enduring, and the benefits of 'blue spaces' for wellbeing are increasingly validated by scientific research. These influences come together to signal a resurgence of interest in the healing qualities of environments that evoke the seas and shores.
Find Renewal / Colour Story One
Sand & Shell
A colour scheme inspired by soft sands and seashells features a gentle hint of pink in neutral Knitted Fleece – N 3387P with the sandy touch of Just an Inkling – N 3259P, and the perfect Simply White – OW 2146P. Together they create spaces of absolute serenity.
Find Renewal / Colour Story Two
Out To Sea
Embrace the aquatic with a deep dive into ocean blues. Clear Glazed Ceramic – BGG 2720P, deep, shaded Peninsular – N 3296D and vibrant Turquoise Reflection – BGG 2742P come together to evoke the essence of the sea. Whether you're inspired by tropical oceans or mysterious depths, there's a perfect sea-blue for you.
Find Renewal / Colour Story Three
Shore Lines
Nature creates perfect harmonies, and here we are inspired by the natural colour complements of sea blues and sandy neutrals. Rich Blue Button – PB 1560T and airy Staring Into Space – PB 2853P bring us the sea and sky, while Just an Inkling – N 3259P adds a touch of warm sand to the scheme.
Find Renewal / Focus: Healthcare & Spas
Balancing Blues
Healthcare and spa settings are a natural environment to explore the connection between nature's blues and wellness. Invigorating blues bring energy to active spaces, while softer aquatic hues help calm anxiety in waiting and treatment areas.