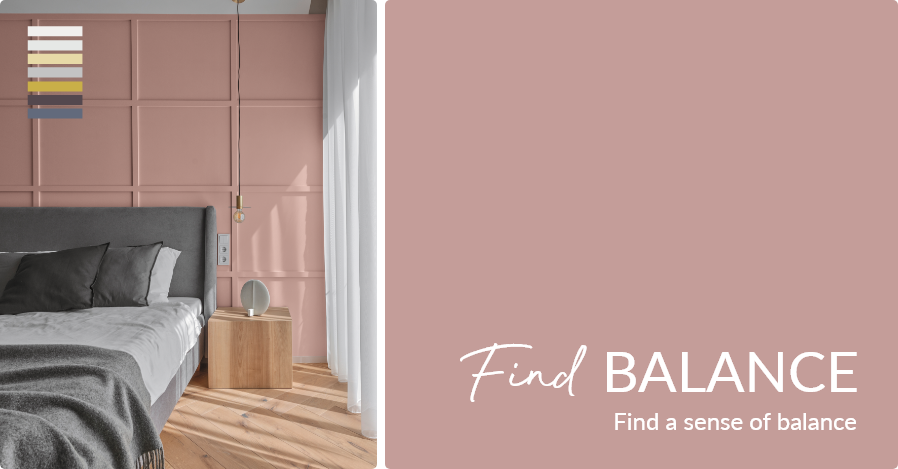 Find Balance
Structure and harmony are appealing, especially during turbulent times. Here, we're influenced by the design perfection found readily in nature; from seashells to flowers to honeycombs, their mathematical forms have inspired design rules in art and architecture for centuries. As we navigate this complex world, we can find balance using nature's harmonies as our guide.
Find Balance / Colour Story One
Monochrome Moment
Monochromes are a beautiful foundation for a timeless colour scheme. With the slightest hint of grey, nuanced white Silver Miner – N 2991P finds a perfect tonal partner in serene Graycloth – N 1979P, while the velvety depths of Lavender Hedge – N 1939A add a note of intrigue and glamour.
Find Balance / Colour Story Two
Timeless Tones
The gently grounding pink of Earthling – N 3372P and rich Fountain Blue – N 1968D make beautiful colour statements in any room, while delicate white Pearly Shell – OW 2153P adds a clean contrasting note. Bring modernity to classically designed spaces or a sense of timeless style to a contemporary home with this stunning scheme.
Find Balance / Colour Story Three
Natural Elegance
The natural colour harmony between warm blue and yellow is revealed here in a duo tone of rich Woven Slats – BGG 1695D and gentle Water Chestnut – BGG 1692P with an elegant accent of Fountain Blue – N 1968D. Whether you favour tonal layers or contrasting touches, the effect is balanced and refined.
Find Balance / Focus: Hospitality
Perfect Ambiance
Creating a perfect hospitality environment is a study in colour, material and light. With a palette designed for balance and harmony, the outcomes are effortlessly successful, from atmospheric dining spaces to elegant hotel lobbies and relaxing bedrooms.