Lucky Colours / 开运颜⾊: Blue, Black
WP_Post Object ( [ID] => 11299 [post_author] => 1 [post_date] => 2020-03-30 13:38:00 [post_date_gmt] => 2020-03-30 05:38:00 [post_content] => [post_title] => Barbara Blue [post_excerpt] => [post_status] => publish [comment_status] => open [ping_status] => open [post_password] => [post_name] => barbara-blue [to_ping] => [pinged] => [post_modified] => 2020-06-20 15:21:15 [post_modified_gmt] => 2020-06-20 07:21:15 [post_content_filtered] => [post_parent] => 0 [guid] => https://nipponpaint.com.sg/fullcolors/barbara-blue/ [menu_order] => 1926 [post_type] => fullcolors [post_mime_type] => [comment_count] => 0 [filter] => raw )
WP_Post Object ( [ID] => 11318 [post_author] => 1 [post_date] => 2019-02-13 18:44:15 [post_date_gmt] => 2019-02-13 10:44:15 [post_content] => [post_title] => Lite Up [post_excerpt] => [post_status] => publish [comment_status] => open [ping_status] => open [post_password] => [post_name] => lite-up [to_ping] => [pinged] => [post_modified] => 2023-11-01 11:55:11 [post_modified_gmt] => 2023-11-01 03:55:11 [post_content_filtered] => [post_parent] => 0 [guid] => https://nipponpaint.com.sg/fullcolors/lite-up/ [menu_order] => 362 [post_type] => fullcolors [post_mime_type] => [comment_count] => 0 [filter] => raw )
WP_Post Object ( [ID] => 10955 [post_author] => 1 [post_date] => 2020-03-30 13:32:26 [post_date_gmt] => 2020-03-30 05:32:26 [post_content] => [post_title] => Serendipitous [post_excerpt] => [post_status] => publish [comment_status] => open [ping_status] => open [post_password] => [post_name] => serendipitous [to_ping] => [pinged] => [post_modified] => 2020-03-30 13:32:27 [post_modified_gmt] => 2020-03-30 05:32:27 [post_content_filtered] => [post_parent] => 0 [guid] => https://nipponpaint.com.sg/fullcolors/serendipitous/ [menu_order] => 2100 [post_type] => fullcolors [post_mime_type] => [comment_count] => 0 [filter] => raw )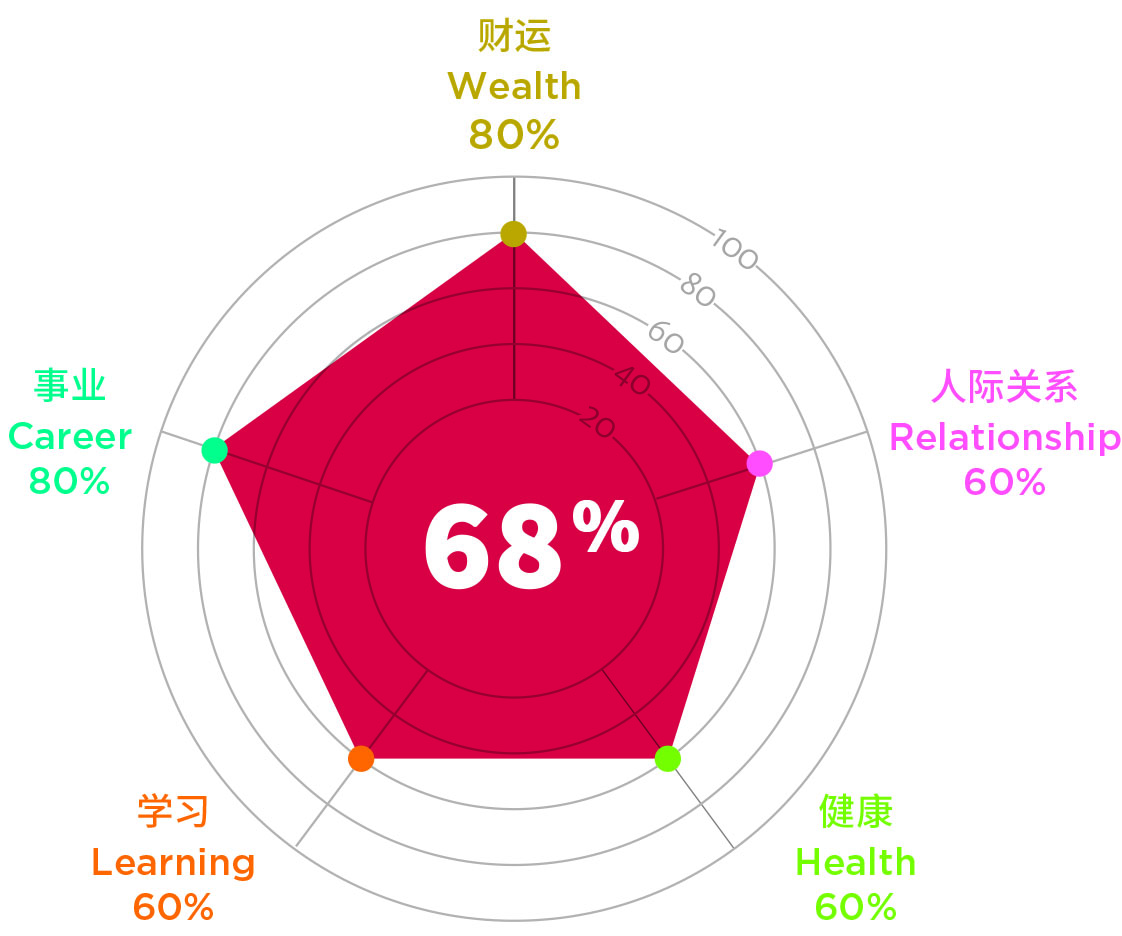 Luck / 运 程:
(68%)
Auspicious Direction(s):

Northwest
Auspicious Number:

3513
Benefactor Signs:

Pig (猪)

Luck:
This is a year of ups and downs with many opportunities. You can expect fresh encounters and new experiences. You will be supported by benefactors from afar, which will in turn boost your wealth. You shall also do well in your career. Be it to further your studies, work or start a business, this is a good year to venture overseas.
​​今年对于属虎者来说,是个充满机遇又较为波动的一年。生活里将出现各种新鲜事,给你新的体验和感受。你可得到远方贵人的支援,促使你在财运上有显著的进步,事业上也有不俗的成绩。若有往外发展的念头,不管是想深造、出国工作,还是想创业,今年算是好时机,对你未来的发展有很大的帮助。​

Wealth:
Besides steady career and income growth, you may get business opportunities through family and friends. Businesspeople who act decisively upon finding good opportunities can make great profits. You are more financially astute this year. If the timing is ripe, you should invest boldly in the project that you've been eyeing. Hesitating too much will cause you to lose the chance to make money.
​在工作和事业上收入稳步提升,也有望通过亲友获得不错的商机。生意人能找到新机会,果断行动就会一击必中,财运滚滚而来。你今年对金钱的敏锐度高,研究已久的项目若时机成熟,可大胆的投资,但若还是瞻前顾后,就有可能与财富失之交臂。​

Relationship:
You are admired by many for your independent mind and decisiveness. You shall be inspired as you interact and exchange ideas with others. The Mourning Star poses threats to relationships, so put in effort to maintain relations. Avoid neglecting your loved ones due to work or stress.
你有主见,决策力强,让你收获许多人的倾慕。和身边的人多交流,互换想法和体会,将给你新的启发。吊客星恐影响你和至亲的关系,需要努力维护,避免因为工作等压力而疏远重要的人事物。​

Health:
You may easily be affected by others and feel depressed. As the weather changes, you may also be prone to minor ailments such as colds and flu. Be sure to drink more water, take supplements and have sufficient rest. Resting is not limited to sleeping. You can consider taking therapeutic breaks such as reading, listening to music or even cleaning the house.
​你的情绪容易受别人影响而变得低落。随着气温的变化,你也可能被小病小痛纠缠,伤风感冒变成了家常便饭。记得多补充水分和维生素,注意作息时间。此外,休息方式也不只有睡觉一种,你可以抽离忙碌状态去做别的事,如看看书、听听音乐、打扫屋子等,都有助你舒缓情绪。​

Career:
You can look forward to a new position or work environment. Although you are highly motivated, the increasing workload and responsibilities can be overwhelming. Bosses and employees should review and adjust the pace to ensure that everyone stays on the right track and work effectively.
工作上迎来新职位或工作环境,都让你有所期待。工作起来越发带劲,你负责的项目有增无减,感觉自己忙得不可开交。在职者或老板需要适时地缓下来调整节奏,确保自己和团队在对的方向和策略上,才不会偏移跑道,导致事倍功半。​
Lucky Colours / 开运颜⾊: Blue, Black
Improve your luck with these auspicious colours!