Lucky Colours / 开运颜⾊: Green, White, Gold
Climbing Vine
NP BGG 1785 A
Gossamer White
NP OW 1015 P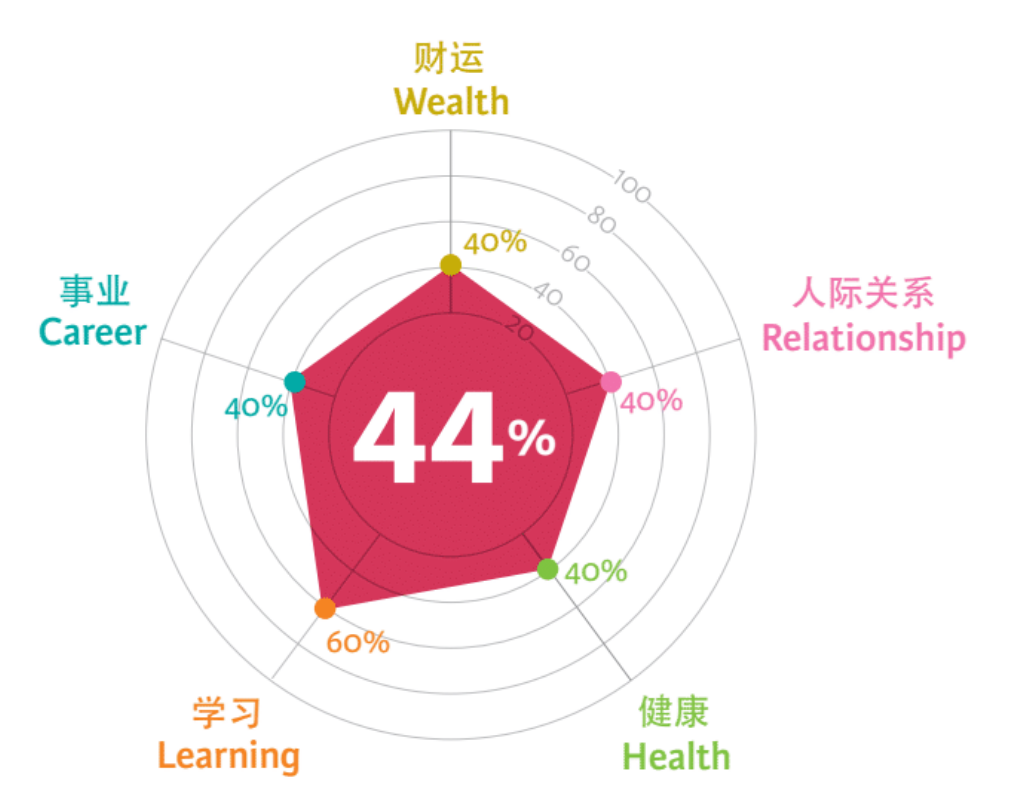 Luck / 运 程:
(44%)
Auspicious Direction(s):

East, West
Auspicious Number:

3214
Benefactor Signs:
Rabbit (兔), Rooster (鸡)
Luck:
Those born in the year of the Dragon have no support from lucky stars this year, causing mood swings and pessimism. The presence of unlucky stars add fuel to the fire, making you listless and indecisive. Everyone has a vulnerable side. In tough situations, seek help from those you trust. 2022 is a good year for further studies or to upskill. Don't be too quick to reject new knowledge. Listening and learning more will provide you with more choices for a new start. 
属龙的朋友今年无吉星照拂,随着生活出现的各种难题,你的情绪也会跟着起伏不定,容易多愁善感。平日气场十足的你,由于凶星推波助澜,令你黯然失色,在做决策时也变得犹豫不决且没有把握。每个人都有脆弱和无力的一面,遇到苦难时,不妨向你信任的人寻求帮助吧。2022年是个进修的好时机,对于新知识,别急着拒绝,可多听、多学,给自己更多的可能性,然后整装待发。 
Wealth:
Set a spending limit, as tight finances may cause worry. Plan your budget well, especially if you are low on savings, as there will be unexpected expenses this year. Businesspeople should adopt a conservative approach and look into rectifying gaps in your company's internal operating policies. Consider organising team-building activities to boost teamwork and morale. Take a wait-and-see approach in investments and avoid over-leveraging or acting recklessly with money. 
财务状况有些紧张,使你忧心忡忡。虽说礼尚往来,切记知道进退,量入而出。上班族今年有更多意想不到的开销,记得要提前计划消费。生意人宜以退为进,整顿好公司内部的营运方针,同时可举办团队建设活动,促进员工之间的协作能力,增强士气。投资方面,建议你采取观望的态度,别冲动行事。 
Health:
Despite having ample rest, you may still feel listless for people and things around you. While you may try to hide negative thoughts, others can easily notice them. Instead of suppressing your emotions, consider confiding in your loved ones. Otherwise, this will take mental and physical toll on you in the long run. Go outdoors to enjoy the beautiful scenery and incorporate moderate exercise to relax your mind and soul. 
即使有充足的睡眠,你也总觉得疲惫,对待周围的人事物缺少热忱。你不想把负面情绪带给身边的人,但其实别人早已有所察觉。在亲近的人面前可尽情倾诉,无需过多压抑和忍耐,否则将使你长期思虑过重,不仅快乐不起来,更影响身体健康。适度运动,出外呼吸一下新鲜空气,多欣赏美景,会让你放松一些。 
Career:
This year, it is important to maintain a manageable pace at work. Do not put all your eggs in one basket or implement wholesale reforms without due thoughts. Draw up a comprehensive plan with contingencies, or you could be thrown off when unforeseen problems arise. With little prospects of promotion or salary increment, you may consider changing jobs; however, it may be in your best interest to stay put and pull your weight. Business owners leading traditional enterprises through business transformation should brace and prepare yourselves for challenges. Stay positive and turn stress into motivation to build a more sustainable business model.   
在职场中,今年讲究稳扎稳打,千万别孤注一掷或实行大改革。你可要先做好完整的规划,否则会在问题出现时自乱阵脚。你眼看升职加薪无望,收入拮据,便有了想换新工作的念头。但先按兵不动,把该完成的事做好。传统生意的老板或企业都在转型,同时面临许多的新挑战,倍感压力。试着把压力转化为推动力,才能得心应手。 
Lucky Colours / 开运颜⾊: Green, White, Gold
Improve your luck with these auspicious colours!