Lucky Colours / 开运颜⾊: Brown, Blue, White
WP_Post Object ( [ID] => 10905 [post_author] => 1 [post_date] => 2020-03-30 13:31:19 [post_date_gmt] => 2020-03-30 05:31:19 [post_content] => [post_title] => Sable Brown [post_excerpt] => [post_status] => publish [comment_status] => open [ping_status] => open [post_password] => [post_name] => sable-brown [to_ping] => [pinged] => [post_modified] => 2020-03-30 13:31:38 [post_modified_gmt] => 2020-03-30 05:31:38 [post_content_filtered] => [post_parent] => 0 [guid] => https://nipponpaint.com.sg/fullcolors/sable-brown/ [menu_order] => 1680 [post_type] => fullcolors [post_mime_type] => [comment_count] => 0 [filter] => raw )
WP_Post Object ( [ID] => 11309 [post_author] => 1 [post_date] => 2019-02-13 18:44:12 [post_date_gmt] => 2019-02-13 10:44:12 [post_content] => [post_title] => Cerulean [post_excerpt] => [post_status] => publish [comment_status] => open [ping_status] => open [post_password] => [post_name] => cerulean [to_ping] => [pinged] => [post_modified] => 2021-12-29 16:15:19 [post_modified_gmt] => 2021-12-29 08:15:19 [post_content_filtered] => [post_parent] => 0 [guid] => https://nipponpaint.com.sg/fullcolors/cerulean/ [menu_order] => 110 [post_type] => fullcolors [post_mime_type] => [comment_count] => 0 [filter] => raw )
WP_Post Object ( [ID] => 17423 [post_author] => 1 [post_date] => 2020-03-30 12:40:23 [post_date_gmt] => 2020-03-30 04:40:23 [post_content] => [post_title] => Silent Hour [post_excerpt] => [post_status] => publish [comment_status] => open [ping_status] => open [post_password] => [post_name] => silent-hour [to_ping] => [pinged] => [post_modified] => 2020-03-30 12:40:23 [post_modified_gmt] => 2020-03-30 04:40:23 [post_content_filtered] => [post_parent] => 0 [guid] => https://nipponpaint.com.sg/fullcolors/silent-hour/ [menu_order] => 2185 [post_type] => fullcolors [post_mime_type] => [comment_count] => 0 [filter] => raw )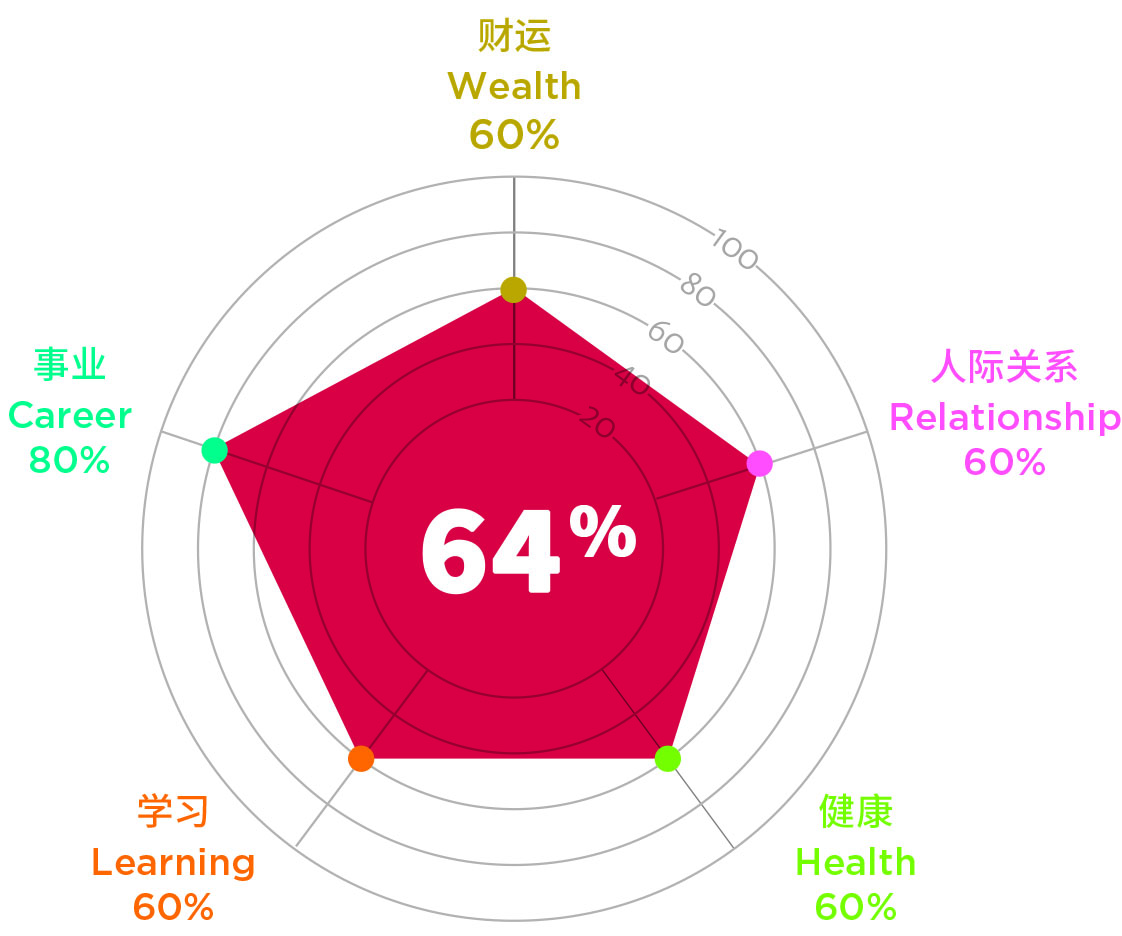 Luck / 运 程:
(64%)
Auspicious Direction(s):

Southwest, Northwest
Auspicious Number:

8122
Benefactor Signs:

Goat (羊), Pig (猪)

Luck:
Blessed by lucky stars, you will find opportunities amid changes. The presence of unlucky stars indicates ups and downs, but you will overcome the difficult situations. There will be major changes in life, from switching career paths to shifting premises. As long as you stay firm and work towards your goals, you will achieve breakthroughs.
属兔者今年获得吉星守护,有助你在变动中创造机会,健康无忧。然而,同时又凶星随行,因此运势有所起伏,但还是有办法解除困境。生活中将发生较大转变,这些变化或好或坏,如:转换工作跑道、搬家等。只要内心坚定,厘清自己的目标方向,就能持续下去,突破自我。

Wealth:
You are prone to impulsive spending due to your fluctuating wealth luck. Buying unnecessary items on a whim will result in waste, and make it difficult for you to save money. Your income is sufficient to cover your living expenses. For those planning to invest, it is better to wait and observe the market. Note that there are hidden risks in investments and preparation is crucial.
财运起伏跌宕,容易有冲动消费的倾向。一时兴起购买许多不需要的物品,反而形成了浪费,还使你难以聚财储蓄。工作收入足以应付生活开销,但投资理财上吉中藏凶,宜谨慎观望,你也可以趁这时候好好钻研,做足准备。​ ​

Relationship:
Be it furthering education, changing jobs or building a family, life transitions can be demanding as you deal with evolving interpersonal relationships and new environments. You may find yourself drifting apart from close friends and family. Taking the initiative to reach out to them can help in restoring your ties. Those attached can consider spicing up your relationship with random surprises.
​来到人生特定阶段,不论是升学时期,工作变动或家庭初建,环境和人际关系的巨变,都需要你分配精力去完成。你发现自己和从前熟络的亲友变得渐行渐远。若想增进感情,主动联系对方吧。有伴者感情平淡,别放置不管,可以为对方准备惊喜。​

Health:
You fall sick frequently this year, resulting in more visits to the hospital and clinic. Affected by your fluctuating luck cycle, you are prone to mood swings, making you irritable and anxious. Try to control your emotions and relax, as tension can be detrimental to your physical and mental health in the long run.
你今年反复生病,比以前更常进出医院和诊所。你的心情也会随着运势的起伏,而变得不稳定,脾气暴躁,容易感到焦虑不安。你可要注意调节情绪,避免过度紧绷,否则长期下来会损害你的身心健康。​

Career:
You are likely to find opportunities in new jobs or industries this year. You may feel trapped at times as it takes time to adapt. Try to adjust your mentality and stay positive. You will achieve remarkable results and gain confidence over time.
你今年可能面对从未接触的新环境或工作领域,需要一段时间适应,有可能令你产生逃避心理。但如果能及时调整好心态,积极行动和克服,你的信心将大大提升,内心压力也会慢慢消散,将取得显著的成果。
Lucky Colours / 开运颜⾊: Brown, Blue, White
Improve your luck with these auspicious colours!