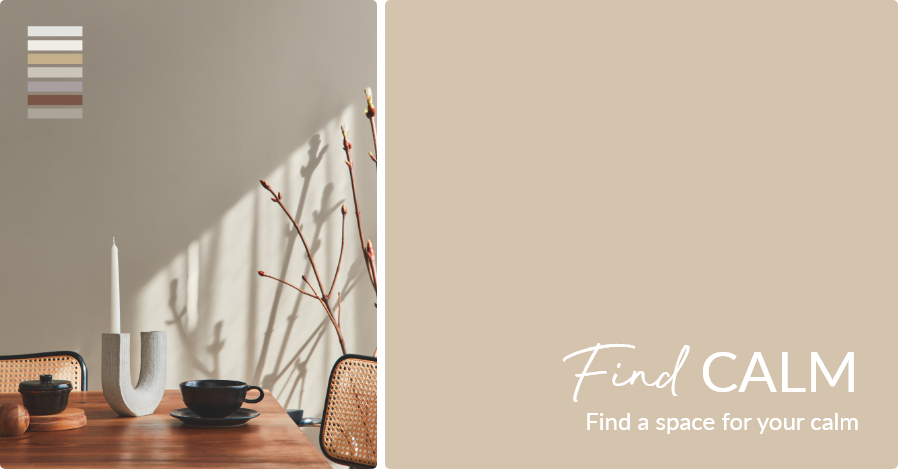 Find Calm
Finding a way to counteract the effects of polarisation, commotion and distraction can only be beneficial for our health and wellbeing. To do this, we seek out environments that silence the noise, and pursuits that calm our racing thoughts to give us the space we need to find calm.
Find Calm / Colour Story One
Light Touch
Feel a gentle uplift with this intriguing balance of coolness and warmth. Cool White Lilac – OW 1050P finds a perfect partner in the smoky purple of Burnt Ashes – N 1917T, while Suited Up – N 3409P brings a quiet contrast to a versatile scheme.
Find Calm / Colour Story Two
Super Warm
From rich, deep Red Earth – R 1379A to warm, cosy Sapling – N 1847T and soft Reserved White – OW 1081P, each of these hues works in harmony. Make a statement with a contrasting alcove or feature wall, or simply layer the lighter hues for an easy gentle warmth.
Find Calm / Colour Story Three
Delicate Nature
The trio of warm grey Desert Dusk – N 3404T, creamy Reserved White – OW 1081P and soothing Sandcastle – N 3195P work beautifully in Scandinavian and Japanese interior styles where pale woods, stone and natural woven textiles bring texture to clean, minimal spaces.
Find Calm / Focus: Workspaces
Office Support
As the trend of blending remote and office-based work has gained traction, our expectations of workspaces have undergone a significant shift. Colour and material play an essential role in creating environments that feel emotionally supportive and more reflective of the home.