Lucky Colours / 开运颜⾊: Red, Yellow, Brown
WP_Post Object ( [ID] => 10518 [post_author] => 1 [post_date] => 2020-03-30 13:25:21 [post_date_gmt] => 2020-03-30 05:25:21 [post_content] => [post_title] => Cotillion Red [post_excerpt] => [post_status] => publish [comment_status] => open [ping_status] => open [post_password] => [post_name] => cotillion-red [to_ping] => [pinged] => [post_modified] => 2020-03-30 13:25:21 [post_modified_gmt] => 2020-03-30 05:25:21 [post_content_filtered] => [post_parent] => 0 [guid] => https://nipponpaint.com.sg/fullcolors/cotillion-red/ [menu_order] => 2223 [post_type] => fullcolors [post_mime_type] => [comment_count] => 0 [filter] => raw )
Cotillion Red
NP AC 2071 A
WP_Post Object ( [ID] => 11473 [post_author] => 1 [post_date] => 2020-03-30 13:40:58 [post_date_gmt] => 2020-03-30 05:40:58 [post_content] => [post_title] => Lemon Yellow [post_excerpt] => [post_status] => publish [comment_status] => open [ping_status] => open [post_password] => [post_name] => lemon-yellow-2 [to_ping] => [pinged] => [post_modified] => 2020-06-20 15:16:18 [post_modified_gmt] => 2020-06-20 07:16:18 [post_content_filtered] => [post_parent] => 0 [guid] => https://nipponpaint.com.sg/fullcolors/lemon-yellow-2/ [menu_order] => 1385 [post_type] => fullcolors [post_mime_type] => [comment_count] => 0 [filter] => raw )
WP_Post Object ( [ID] => 10919 [post_author] => 1 [post_date] => 2020-03-30 13:31:40 [post_date_gmt] => 2020-03-30 05:31:40 [post_content] => [post_title] => Newtowne Brown [post_excerpt] => [post_status] => publish [comment_status] => open [ping_status] => open [post_password] => [post_name] => newtowne-brown [to_ping] => [pinged] => [post_modified] => 2020-03-30 13:31:53 [post_modified_gmt] => 2020-03-30 05:31:53 [post_content_filtered] => [post_parent] => 0 [guid] => https://nipponpaint.com.sg/fullcolors/newtowne-brown/ [menu_order] => 1736 [post_type] => fullcolors [post_mime_type] => [comment_count] => 0 [filter] => raw )
Newtowne Brown
NP N 1890 A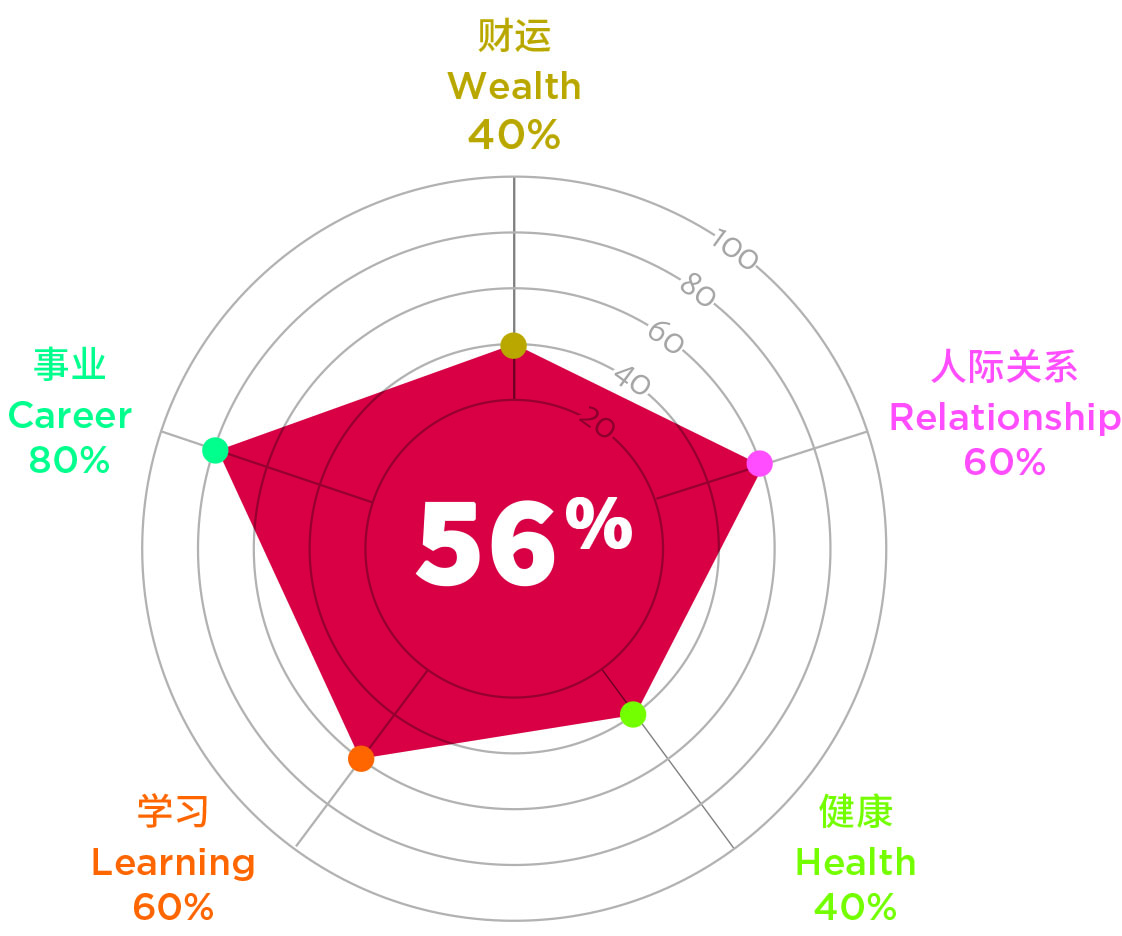 Luck / 运 程:
(56%)
Auspicious Direction(s):

Southeast, Southwest
Auspicious Number:

6020
Benefactor Signs:

Snake (蛇), Goat (羊)

Luck:
This will be a year of hard work, but you can make good progress in your career and business under the guidance of the Achievement Star. That said, you may encounter many challenges brought about by unlucky stars and feel helpless. Remember to pay attention to your health and safety.
今年将会是劳心劳力的一年,所幸事业上有八座星为你引路,生意得以拓展,工作顺遂亨通。然而,众多凶星席卷而来,会在生活中埋下绊脚石或陷阱,使你在进取的过程中有心无力,常有意外或停滞的情况。注意健康和安危,凡事提前做好准备,小心行事,将可逢凶化吉。

Wealth:
Average wealth luck makes it difficult for you to accumulate wealth. Everything will be fine as long as you don't incur deficits. As your career advances, there will be substantial expenses, leading to financial constraints as you try to meet these short-term obligations. Saving money is the top priority, so avoid spending extravagantly. Stay away from high-risk investments that may lead to a money crisis.
今年财运平淡,不容易积聚财富。只要收支平衡、没有亏损,就是好消息。事业进展迅速,所需流动资金变多,导致财务上吃紧。各方面开销不小,也有些意外支出。节流是第一目标,消费上切勿大手大脚。避免接触高风险投资,才不会引发财务危机。

Relationship:
Affected by the Emotional and ​Yearning ​stars, try to control your emotions instead of quarrelling with others. It helps to do things that make you happy. Singles are likely to engage in a whirlwind romance, but you are advised to think twice to determine if the other party is the right one.
​浮沉、红艳星影响着你的感情运。心绪不宁时,要沉住气,去做些令你开心的事,而不是找人干架,否则将一发不可收拾。单身者容易遇上烂桃花,陷入感情漩涡,记得要三思,多加观察。​

Health:
You may feel depressed and troubled this year. Amidst your fragile emotions, remember that extreme mood swings will lead to health issues. Hence, your top priority lies in staying calm and happy. Pay more attention to your liver. Try to avoid drinking, and improve your sleep quality.
你今年容易感到郁闷,心中总有一块石头压着,情绪也特别敏感脆弱。切记,极端情绪会促使健康亮起红灯,因此保持心情畅快是你今年的功课之一。多加注意肝脏方面的健康,饮酒能免则免,并注重睡眠质量。​  

Career:
Horses are confident and passionate. Coupled with support from the Achievement Star, you shall thrive further at work this year. Nevertheless, stay humble and keep a low profile as ​unclucky stars threaten to bring about stumbling blocks. As your workload increases, you may feel aggrieved even as you cope with circumstances. Try to adjust your attitude and go with the flow.
属马者充满热情和自信,加上八座星辅助,可在职场上八面玲珑,让你兵来将挡,水来土掩。然而凶星存在,建议你保持谦逊低调为上,以免因为投机而变得举步维艰。面对多变的工作现象,你明白身在其中,接受是唯一方法,但你还是会感到委屈。调整态度,顺其自然就好。 
Lucky Colours / 开运颜⾊: Red, Yellow, Brown
Improve your luck with these auspicious colours!