Lucky Colours / 开运颜⾊: Blue, Gold, Red
WP_Post Object ( [ID] => 17635 [post_author] => 1 [post_date] => 2020-03-30 12:43:55 [post_date_gmt] => 2020-03-30 04:43:55 [post_content] => [post_title] => Keep Calm [post_excerpt] => [post_status] => publish [comment_status] => open [ping_status] => open [post_password] => [post_name] => keep-calm [to_ping] => [pinged] => [post_modified] => 2020-06-20 15:21:20 [post_modified_gmt] => 2020-06-20 07:21:20 [post_content_filtered] => [post_parent] => 0 [guid] => https://nipponpaint.com.sg/fullcolors/keep-calm/ [menu_order] => 1937 [post_type] => fullcolors [post_mime_type] => [comment_count] => 0 [filter] => raw )
WP_Post Object ( [ID] => 11529 [post_author] => 1 [post_date] => 2020-03-30 13:41:35 [post_date_gmt] => 2020-03-30 05:41:35 [post_content] => [post_title] => Gold Dust [post_excerpt] => [post_status] => publish [comment_status] => open [ping_status] => open [post_password] => [post_name] => gold-dust [to_ping] => [pinged] => [post_modified] => 2020-06-20 15:15:39 [post_modified_gmt] => 2020-06-20 07:15:39 [post_content_filtered] => [post_parent] => 0 [guid] => https://nipponpaint.com.sg/fullcolors/gold-dust/ [menu_order] => 1308 [post_type] => fullcolors [post_mime_type] => [comment_count] => 0 [filter] => raw )
WP_Post Object ( [ID] => 10516 [post_author] => 1 [post_date] => 2020-03-30 13:24:57 [post_date_gmt] => 2020-03-30 05:24:57 [post_content] => [post_title] => Hot Shot [post_excerpt] => [post_status] => publish [comment_status] => open [ping_status] => open [post_password] => [post_name] => hot-shot [to_ping] => [pinged] => [post_modified] => 2020-03-30 13:25:18 [post_modified_gmt] => 2020-03-30 05:25:18 [post_content_filtered] => [post_parent] => 0 [guid] => https://nipponpaint.com.sg/fullcolors/hot-shot/ [menu_order] => 2220 [post_type] => fullcolors [post_mime_type] => [comment_count] => 0 [filter] => raw )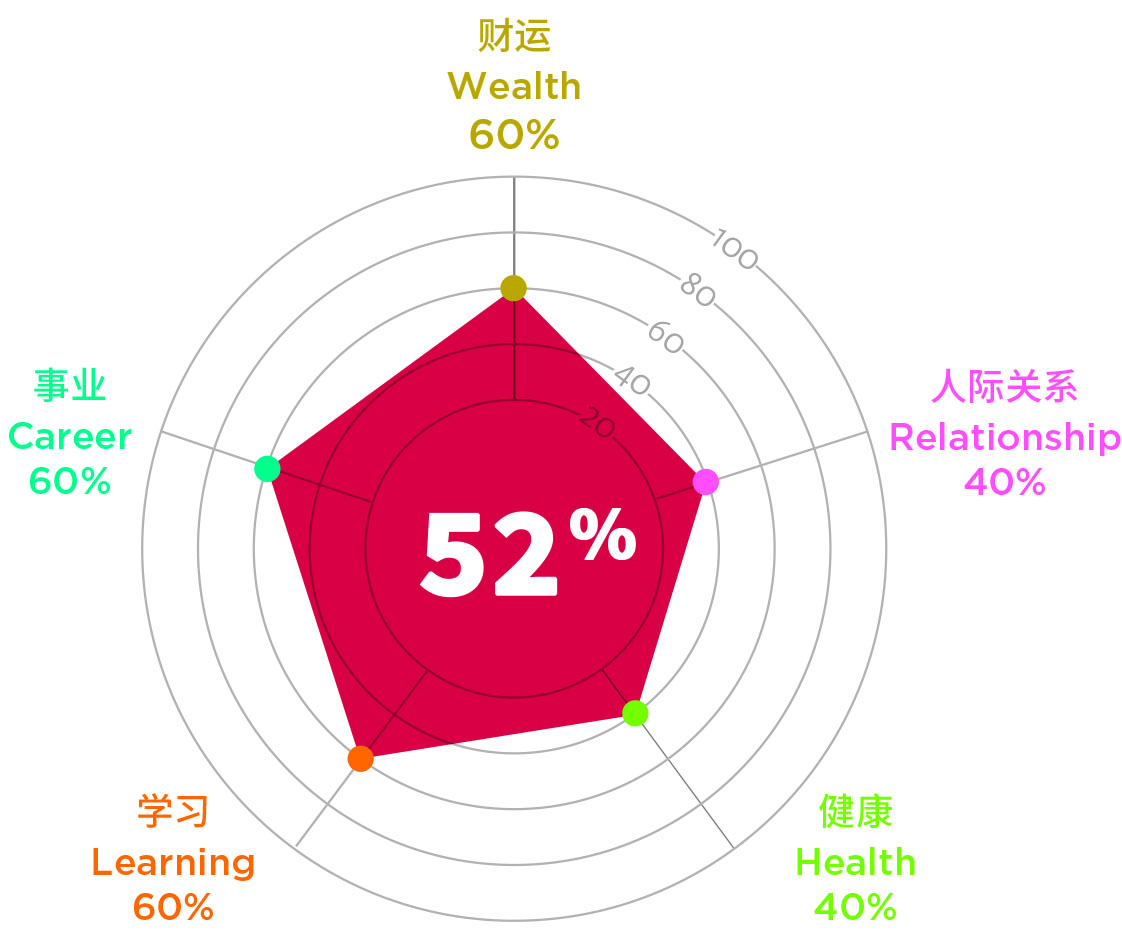 Luck / 运 程:
(52%)
Auspicious Direction(s):

North, Southeast
Auspicious Number:

1320
Benefactor Signs:

Rat(鼠), Snake (蛇)

Luck:
With lacklustre luck, you are easily hindered by competitors and obstacles from external forces. Frequent problems will cause stagnation and life is inevitably tough. Thankfully, you are motivated by the Achievement Star to thrive in your career. You can carve out a successful career if you focus on your goals and work hard. 
属猴者整体运势欠佳,容易受竞争对手或外力的阻挠,生活难免有磕磕碰碰,频频出现棘手的问题,令你停滞不前。然而,你有三台星鼎力相助,在事业上成就不错,斗志盎然。只要盯紧目标,为之奋斗,有望在事业上开创一片属于自己的天地。 

Wealth:
Your monthly expenses keep increasing despite your stable income. Money seems to come and go easily, hence you must be thriftier. Otherwise, you may have difficulties in making ends meet and even have to borrow money from others. Learn to manage your finances well. Spending beyond your means will only affect your fortune.
收入稳定,但每月需要缴付的费用有增无减。钱财来得快,去得也快,因此花费上不可铺张浪费,否则容易入不敷出,还会使你陷入不得不向人借贷的窘境。你要送懂得衡量自己的财务情况,打肿脸充胖子,只会拉垮你的正财运。

Relationship:
​ Sociable in nature, you tend to thrive in social situations. However, your confidence and optimism may cause others to mistake you as frivolous and untrustworthy. This year, proper communication is key. When interacting with others, especially your elders or superiors, do not jump to conclusions or make empty promises. 
​你喜欢社交,在社交场合中总能游刃有余。然而凶星使诈,你容易给人留下过于自信和乐观的印象,让人觉得你轻浮,难以信任。今年与人相处时,要注重沟通和理解,不要擅自下定论或胡乱承诺,尤其是与长辈和上级的关系。

Health:
Your motivations for a better life will spur you ahead. However, this may cause accumulated stress over time, leading you to easily overlook details and lose sight of the big picture. As such, you may easily fall into the traps of schemers. You are prone to prolonged colds, flus and cough this year. Consider taking more supplements and exercising regularly to improve your health.
​你难以满足于平淡的生活,欲望更是激发你前进。但长期下来,有可能使你精神紧绷、迟钝,容易忽略细节,看不清事态全貌,而陷入小人的圈套。伤风、感冒、咳嗽是今年的"常客",不妨多补充维生素,定时运动,来改善健康状态。​

Career:
This year, you may face challenges and pressure at work, which demands greater energy and focus than before. Adjust your mindset at the start of the year and stay prepared before taking action. The presence of the Lawsuit Star calls for extra care when handling contracts and documents. Otherwise, there will be dire consequences. 
​今年花费在工作上的精力和专注力增加了,你可能会面临一些压力和挑战。趁着年初这个全新的开始,调整一下自己的心态,凡在行动前,都要做足准备。官符星蠢蠢欲动,在处理与文件合约相关的事情时,需要认真仔细,一旦出错,将造成严重后果。
​ 
Lucky Colours / 开运颜⾊: Blue, Gold, Red
Improve your luck with these auspicious colours!