Lucky Colours / 开运颜⾊: Blue, Red, Yellow
WP_Post Object ( [ID] => 17642 [post_author] => 1 [post_date] => 2020-03-30 12:44:15 [post_date_gmt] => 2020-03-30 04:44:15 [post_content] => [post_title] => Blue Sachet [post_excerpt] => [post_status] => publish [comment_status] => open [ping_status] => open [post_password] => [post_name] => blue-sachet [to_ping] => [pinged] => [post_modified] => 2020-06-20 15:21:24 [post_modified_gmt] => 2020-06-20 07:21:24 [post_content_filtered] => [post_parent] => 0 [guid] => https://nipponpaint.com.sg/fullcolors/blue-sachet/ [menu_order] => 1945 [post_type] => fullcolors [post_mime_type] => [comment_count] => 0 [filter] => raw )
WP_Post Object ( [ID] => 11363 [post_author] => 1 [post_date] => 2020-03-30 13:39:09 [post_date_gmt] => 2020-03-30 05:39:09 [post_content] => [post_title] => Knockout Red [post_excerpt] => [post_status] => publish [comment_status] => open [ping_status] => open [post_password] => [post_name] => knockout-red [to_ping] => [pinged] => [post_modified] => 2020-03-30 13:39:13 [post_modified_gmt] => 2020-03-30 05:39:13 [post_content_filtered] => [post_parent] => 0 [guid] => https://nipponpaint.com.sg/fullcolors/knockout-red/ [menu_order] => 2226 [post_type] => fullcolors [post_mime_type] => [comment_count] => 0 [filter] => raw )
WP_Post Object ( [ID] => 11536 [post_author] => 1 [post_date] => 2020-03-30 13:41:35 [post_date_gmt] => 2020-03-30 05:41:35 [post_content] => [post_title] => Yellow Pinafore [post_excerpt] => [post_status] => publish [comment_status] => open [ping_status] => open [post_password] => [post_name] => yellow-pinafore [to_ping] => [pinged] => [post_modified] => 2020-06-20 15:15:20 [post_modified_gmt] => 2020-06-20 07:15:20 [post_content_filtered] => [post_parent] => 0 [guid] => https://nipponpaint.com.sg/fullcolors/yellow-pinafore/ [menu_order] => 1273 [post_type] => fullcolors [post_mime_type] => [comment_count] => 0 [filter] => raw )
Yellow Pinafore
NP YO 1153 P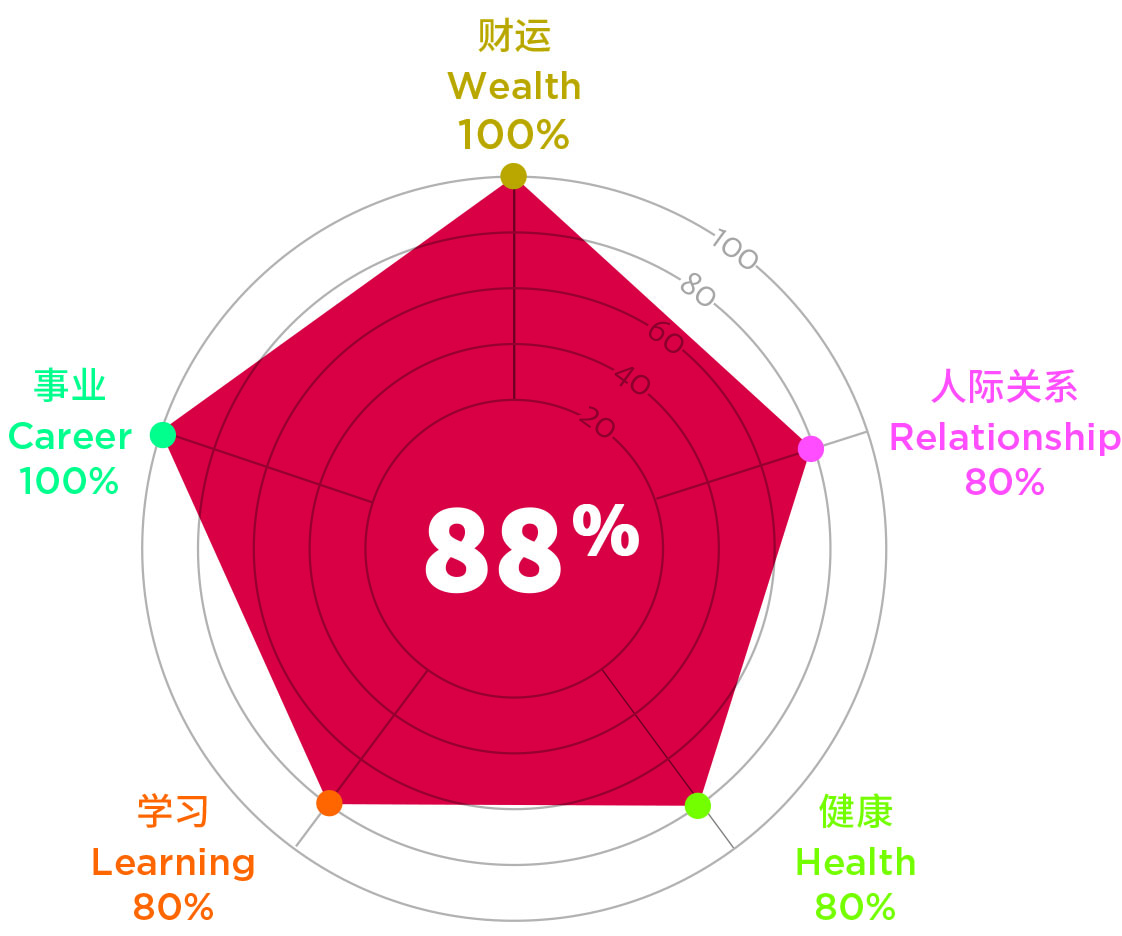 Luck / 运 程:
(88%)
Auspicious Direction(s):

North, Southeast
Auspicious Number:

1230
Benefactor Signs:

Rat(鼠), Snake (蛇)

Luck:
Those born in the year of the Ox are in luck. Blessed by many lucky stars, you can expect steady progress in your career and wealth with support from benefactors. You will get timely help even if you meet problems. Stay firm and work hard, and you shall achieve your goals. Nevertheless, with the presence of unlucky stars, stay alert and avoid divulging your plans to others.
​​属牛的朋友运势回升,在众吉星的庇护下,有贵人相扶,势不可挡。在事业和财运上都能稳步上扬,即使面对困难,也能得到别人及时的帮助,从而化解阻碍。只要秉持坚定的心态,努力实干,就可旗开得胜,达成目标。然而卷舌星的出现,因此需要提高警觉心,学会沉默,不要轻易把计划告诉别人。​

Wealth:
Your career prospects and earnings look promising. Be it a business expansion or new venture, everything shall progress smoothly and yield steady income. There are potential investment gains to be made. Rely on your accumulated experiences and network to make the right financial decisions.
事业前景大好,也带动了正财运。无论是开拓客源或新业务,都能进展顺利,而后转为实际收入。投资方面收益不俗,你平日里累积的人脉和经验,能助你一臂之力,选择最好的理财方向。

Relationship:
After a low-profile year, you are more composed and better at interacting with others. You can gain people's trust and bridge the gap. Those attached will get along well and enjoy closer bonds with your partner. However, be mindful of your words and refrain from being stubborn. Your partner will love you more if you are more appreciative and caring.
沉淀了一年,今年的你与人交涉时,变得更稳重纯熟,总是能取得别人的信任,拉近距离。有伴者与爱人相处融洽,心灵更为契合,然而需注意言辞,可别让自己固执的个性坏了氛围。多一分体贴,就少一分埋怨,对方也会爱你多一些。

Health:
Life is going smoothly without major health problems. While you are happy to be busy, do take a breather at times. Avoid staring at your phone during mealtimes. You will have a clearer mind if you take appropriate breaks from work.
​生活过得顺意,身体健康上并无大碍。你对于满满的日程安排乐在其中,然而你还是得给自己创造喘息的空间,用餐时别一直盯着手机看。适时从工作中抽离,才能让思路时刻保持清晰。

Career:
With lucky stars present, you shall receive great support at work. You will also gain from guidance of superiors and seniors due to your good relations with them. When making important decisions, consider seeking their opinions and learning from their success stories. This will help you to work more efficiently. To achieve great things, you must be bold in displaying your capabilities.
​吉星同在,事业上将获得不少帮助。你和上司和长辈的关系良好,能得到他们的提点。在做重要决策时,不妨听听他们的见解,学习成功经验,让你做起事来事半功倍。若机会当前,在职者可要勇往直前,发挥能力和才干,才能大有作为。
Lucky Colours / 开运颜⾊: Blue, Red, Yellow
Improve your luck with these auspicious colours!