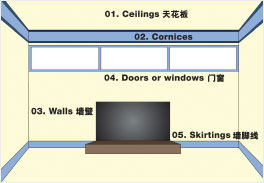 Step 01:
Always start with the ceiling.
Then paint the cornices and the walls.
Next the woodwork around the doors and windows and
finally the skirtings.
This way, the paint splashing from the ceiling will not ruin other painted areas.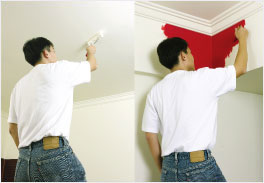 Step 02:
Paint the difficult areas such as edges and corners first with the use of a brush. Dip only the end third of the brush bristles into the paint and use long continuous sweeps of the brush edge to form a neat line.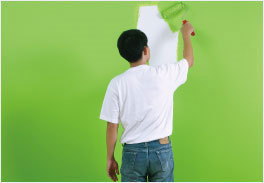 Step 03:
To paint the walls, you may use a wide brush or roller. A roller gives the best finish and is quicker. Apply the paint from the top right hand corner of the first wall in overlapping up-and-down strokes. You should overlap your strokes when moving from area to area.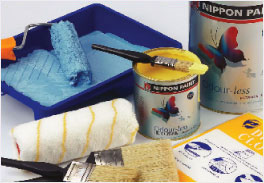 Step 04:
Always apply two or more coats of paint. Complete the first coat and let it dry before painting the second coat. Refer to the can as to how much time is required for the first coat to dry.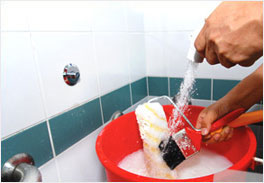 Step 05:
Wash all equipment immediately after completion. For emulsion paint, use water. For oil-based paint, use turpentine or thinner.
Other DIY Painting Guides Pages