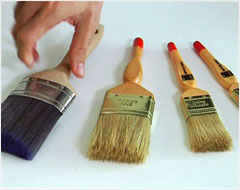 With the whole range of tools available, you will be spoilt for choice. It is certainly crucial then that you choose the right ones.
How do you decide which ones to pick?
(a) The right brush
A good quality brush is most essential when decorating.
The one I have here is a synthetic brush. Now, as it does not absorb moisture, it is most suitable for water-based materials as compared to solvent-based ones.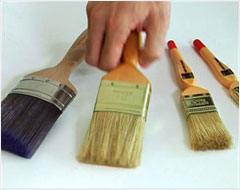 For the latter, the best choice would be a natural bristle brush, as not only does it apply evenly, it also does not leave any brush marks in its trail.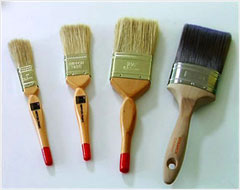 Now, brushes can range in size, from 1-inch all the way up to 4-inch.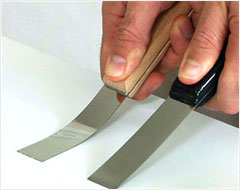 (b) The right scraper
Now lets talk about knives and scrapers. What distinguishes a filling knife from a scraper is the filling knife's flexibility.
A filling knife is flexible enough for you to allow a filler to be forced into a hole, whereas a scraper lacking that flex allows it to be forced across a surface.
When it comes to using a scraper, you need to push it across the surface, and when it comes to using a knife, you need to pull it. Using it in the right way will help protect the edge of the knife and also ensure that you have a fantastic paint job.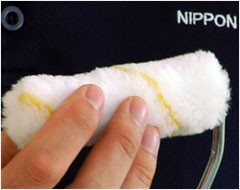 (c) The right roller
A quality roller is most essential when decorating large surfaces. There are many different sizes and pile lengths to choose from.
As a rule of thumb, a short pile is best suited for very fine or flat surfaces;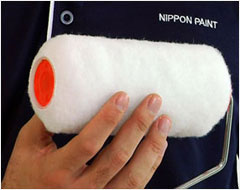 a medium pile for slightly textured surfaces or flat walls;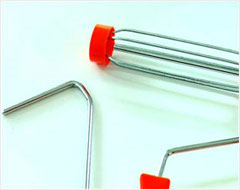 The rollers may come in two types: ready built or caged. It is very easy to push the sleeves onto the rollers.
To prevent fluff from the roller from being left on the wall, it is always advisable to wash the rollers in warm water first.