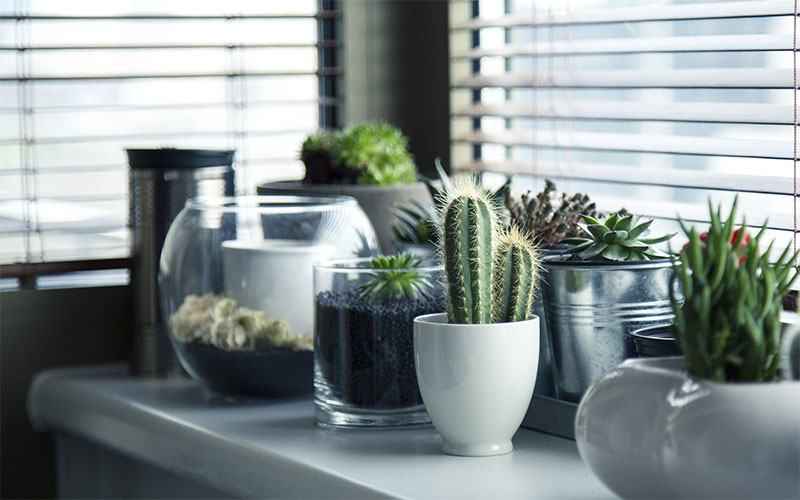 A cactus is the perfect example of an indoor plant – compact and self-sustaining. Photo credit: Pixabay
Wouldn't you love waking up to a lush garden within your home every morning? The kind of fresh happiness blooms and soothing greens impart are unbeatable to any other. A garden provides a sense of fulfilment, relief and a feeling of freshness in your home.
The only constraint? Limited space and time. Not everyone lives in a bungalow with a huge yard to grow a bunch of trees or germinate a full-fledged kitchen garden. But don't worry – it's all about utilizing your confined space and making the best out of it! Let's take a look at some simple ways of making an indoor garden:
1.Add vibrancy and colour to your life:
Colours exude positivity and brightness. Once you have found an easily accessible space, receives good sunlight and is not damp or mouldy for setting up your garden, get your paintbrushes out!
Pick a paint colour of your choice, whether it's your favourite colour or a complementary colour to your home design. While infusing colour to the space, contrast to give an illusion of depth. In one corner, install creepers and green trails and use coloured cubes and painted meshes for a striking colour-play. Want to add some element of fun? Simply take colourful flowering plants and place them in fancy wooden planks painted in various colours and patterns.
Pick from a variety of Paint Colour Schemes and add life to your indoor space. Having the Nippon Paint Odour~less EasyWash from the Colour My World series can help in reducing chances of bad smells and stains.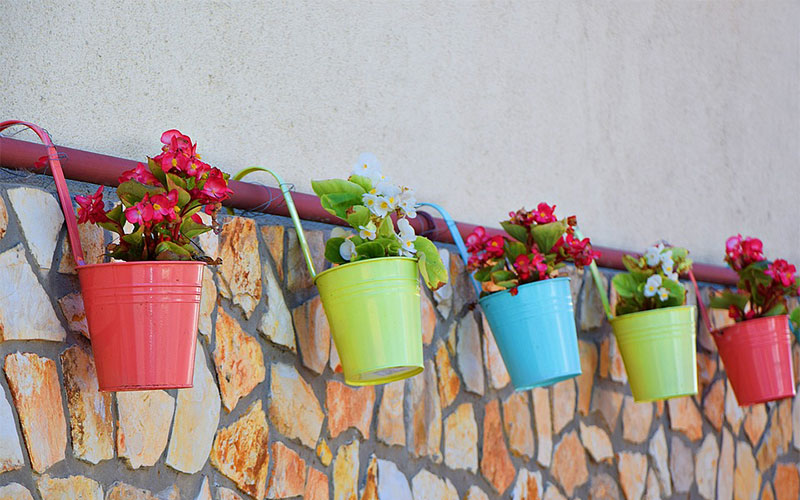 Colourful potted plants work wonders in a small garden by adding texture and style. Photo credit: Pixabay
2.Creeping Up With The Trends:
Love keeping up with trends? Try something fresh and new! Save space by going vertical. Cling flower pots and have creepers coiling around wire meshes. Display them in your living room or dining hall to save space! As an alternative, you could have your potted plants in bright flower pots and have 2-3 of them arranged on the side table. If you have a huge flowering plant in full bloom, highlight that with a taller table with some climbers and swirling greens along the surrounding walls.
You could even use a sturdy wooden frame with plastic or cloth strings to drill some plastic pots into the handles. Want to go all out? Paint your wall in cool tones of yellows and fresh greens.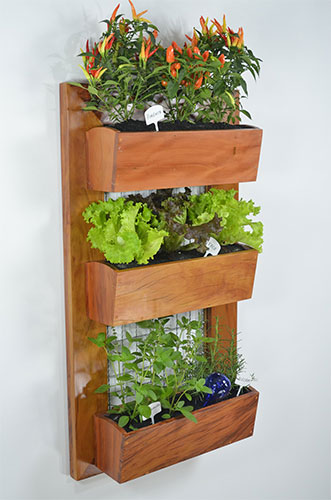 A vertical column is compact, elegant and looks beautiful against a plain wall. Photo credit: Pixabay
3.Simplicity Is Key:
Ever felt daunted by the thought of gardening whenever your interest for it picks up?
Just setting up an indoor garden isn't enough, you have to maintain it regularly. But it's actually much more manageable than what we think. Important elements – light, ventilation, surface area, feasibility – will make your life that much easier.
Once these are sorted out, everything else falls into place. Make use of artificial lights in accordance with the growth requirements of the plants. By using easy methods of planting, like clay pots, wooden frames, and brick enclosures, you would be able to manage and shift your plants whenever you please!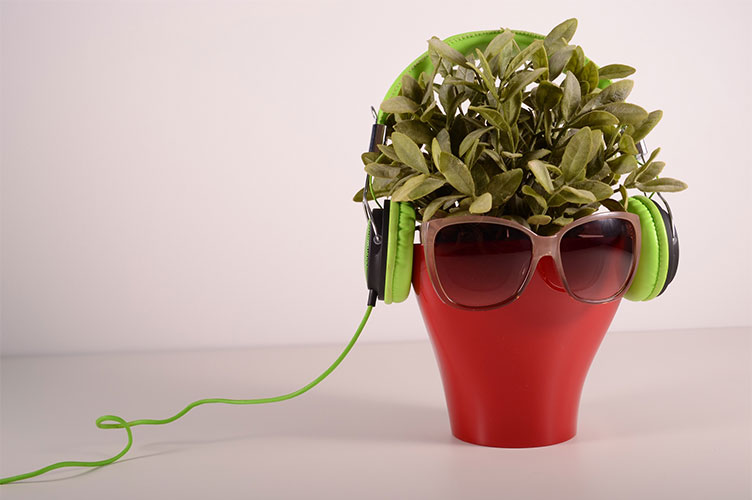 Independent plants. Photo credit: Pixabay
4.Let Your Garden Flourish By Itself:
A smarter way around building an indoor garden? Choose plants that require little or almost no maintenance! Especially for beginners, you should opt for those that can grow easily with limited sunlight and under diverse weather conditions. Cut the hassle and fuss with microgreens, radish, carrot, spinach, herbs and creepers that require minimal investment of time and money.
Water your plants few times a week or merely mist them daily. As you gain experience and exposure to the field of gardening, you can expand the garden and diversify the lot eventually.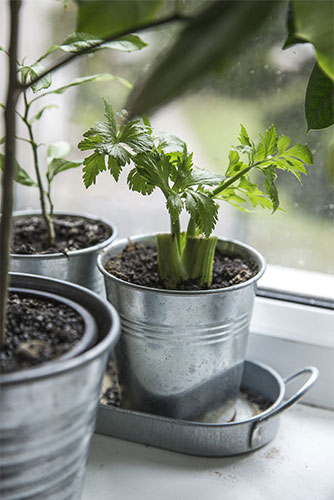 Multiple pots and pans can be used to cultivate a little kitchen garden. Photo credit: Pixabay
5.Don't Go Overboard:
Start small! Indoor gardening should be therapeutic, not placing unnecessary burden on you.If you have no pots and are on a tight budget,use existing materials such as shelves, pots and bricks.
Feeling experimental?Adopt the good old DIY method! Trawl through your unused goods to find the lost empty vases, pots, plastic bottles or light bulbs. Easily upcycle your old pots or vases with a fresh coat of eco-friendly paint.The alternatives to pots are endless.
You can construct a vertical slab, use plastic racks, use a vintage cart or rustic wheelbarrow to hold various plants in a compact space. Even mini pull-out drawers or small cubes can be used to plant your saplings too! These units can be placed in the kitchen, living area or common hall with good light and air.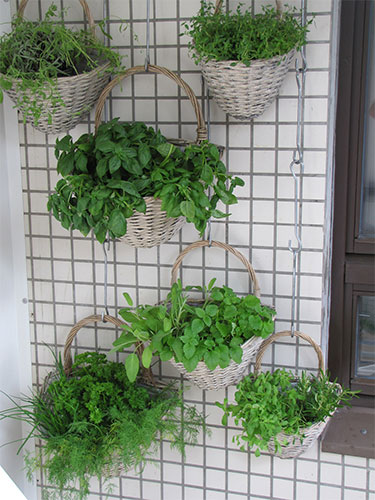 Simple DIY techniques help in re-inventing a drab space while helping you save money and resources. Photo credit: Pixabay
Make a cosy little indoor garden in your confined setting. All it requires is a little patience and keen interest in developing one! With the above simple tips and tricks, you could wake up to sappy hues and fresh fragrances every single day. If gardening is your new found passion, what are you waiting for? Pick those spades and wear your gloves to get started right away!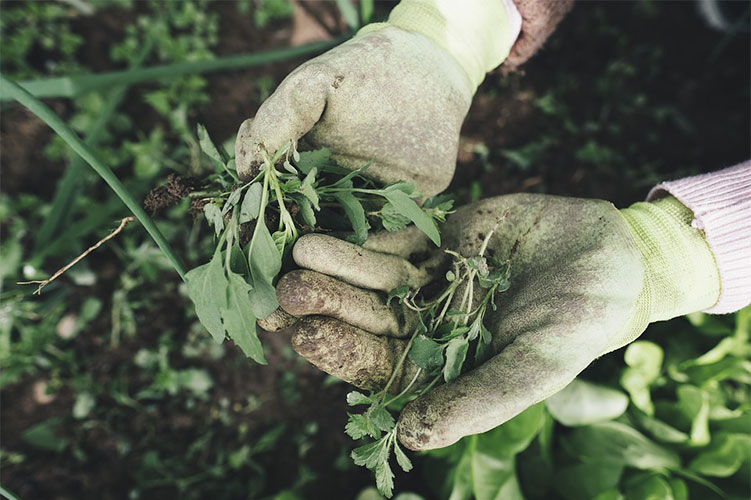 You reap what you sow! Picture credit: Pixabay