Does the great outdoors call to you? For people with a thirst for adventure, it's little wonder that they crave to replicate the beauty of a road trip or a natural sight in their own homes. After all, they do say that your home is a reflection of yourself. Whether you're someone naturally restless or aspiring to be the next Bear Grylls, it only seems right that your choice of paint should highlight your thrill-seeking, fun-loving nature. If you're still pondering what colours to deck your house out in, here are some choices for your consideration!
1) Funky Orange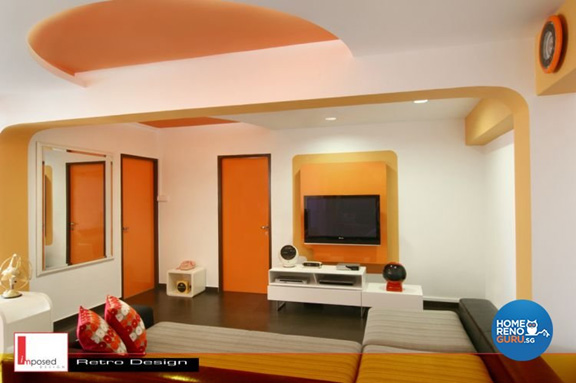 When it comes to fun colours, orange can't be missed out. Orange represents all that is vibrant and exciting, as well as the colour of joy and creativity. With your walls painted such a exuberant colour, you'll probably be itching to go out and explore again. Thankfully, the different shades of orange give you a wide array of options, so if you're prepared to go all out, you may consider a vivacious orange that will instantly brighten up your entire house. If you're scared that your furniture may clash with such a bright shade, try out a more muted/darker orange that will accentuate your home.
2)  Sunshine Yellow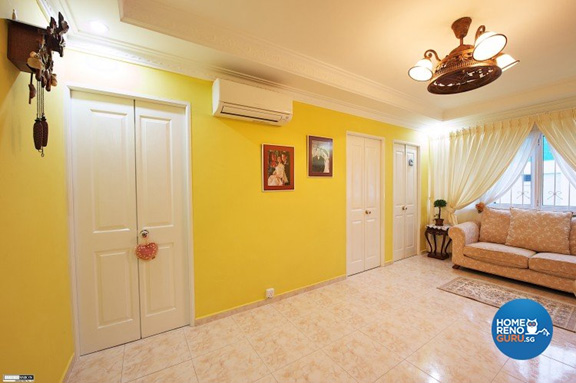 HDB 4 Room by Impression Design
You are my sunshine- this gorgeous, cheerful colour is one that carries its own light. The colour of daffodils and sunflowers, choosing this colour will only brighten your home and promote a cheery atmosphere. Yellow is sure to lift your spirits and give you energy, giving you the urge to get out of the house and explore. This mellow yellow will complement any pastels in your home decor perfectly, and a brighter shade would be great for accents!
3) Electric Blue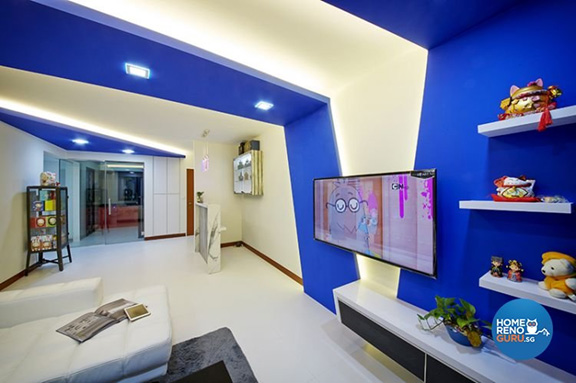 Not a common choice, this eclectic colour will highlight your family's adventurous nature- both outdoors and indoors. Shocking and bright, this colour will certainly make a strong first impression on any guests in your home. What's more is that it is commonly regarded as a youthful colour due to its bright nature, so your home will instantly shed 10 years! If you're going with this bright shade of blue, remember not to overwhelm your home by sticking with complementary neutral furniture.
4) Zany Purple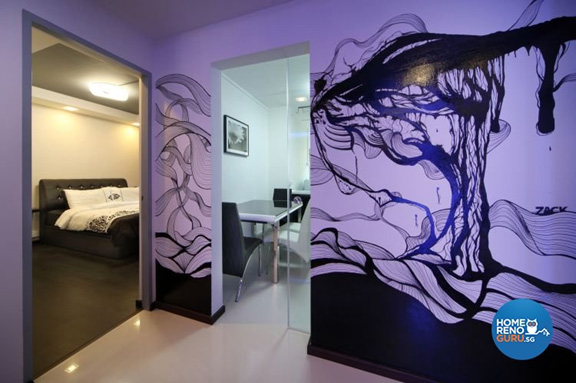 Block 462 Jurong West by Vegas Interior Design
The colour of luxury and royalty, purple might not seem like the first choice for an adventurous household, but a rich shade of eggplant could represent creativity and ambition befitting of your energetic family. When your walls are decked out in such a colour, you're bound to want to get creative and to play around with the decor a bit. To emphasise the feel of luxury, consider a chandelier or a unique ceiling light fixture to increase the chic factor. Otherwise, liven up your house with some knick-knacks of your own!
5) Fiery red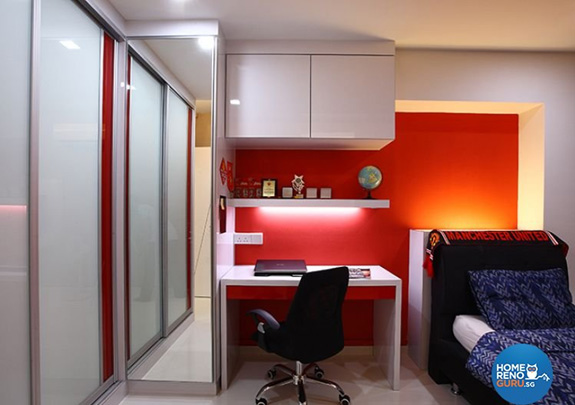 Block 804 Chai Chee by Renozone
Passionate and emotional, red is the go-to colour for households who like to make an impression. This stimulating colour keeps you going and excites you with its various meanings of energy, strength, power, and determination. When your walls are painted such a rousing colour, be sure to match it with accents of more muted colours to tone it down. Alternatively, a darker red similar to brick would be a wonderful complement to your wooden furniture.
6) Fuchsia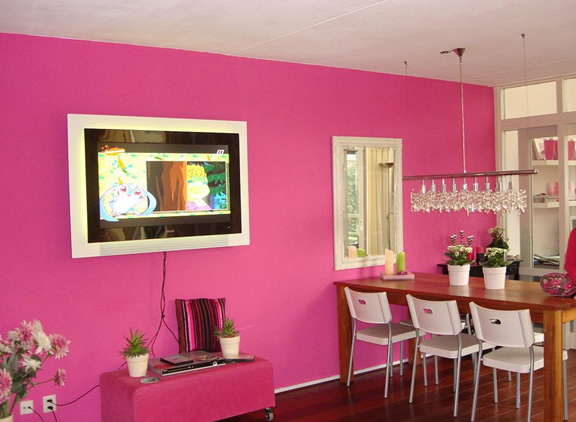 (Source: Jolante van Hemert/Flickr)
A vivid purplish pink that's immediately eye-catching, this neon shade is one that will definitely make its mark in your home. While painting your entire home fuchsia might be overkill, you might enjoy incorporating this intense shade into a small part of your home decor, such as a singular feature wall. What's more is that this pink represents unconditional love and understanding- something that's vital in every household.
NEXT ARTICLE
Fuss-free Housekeeping for Families with Children