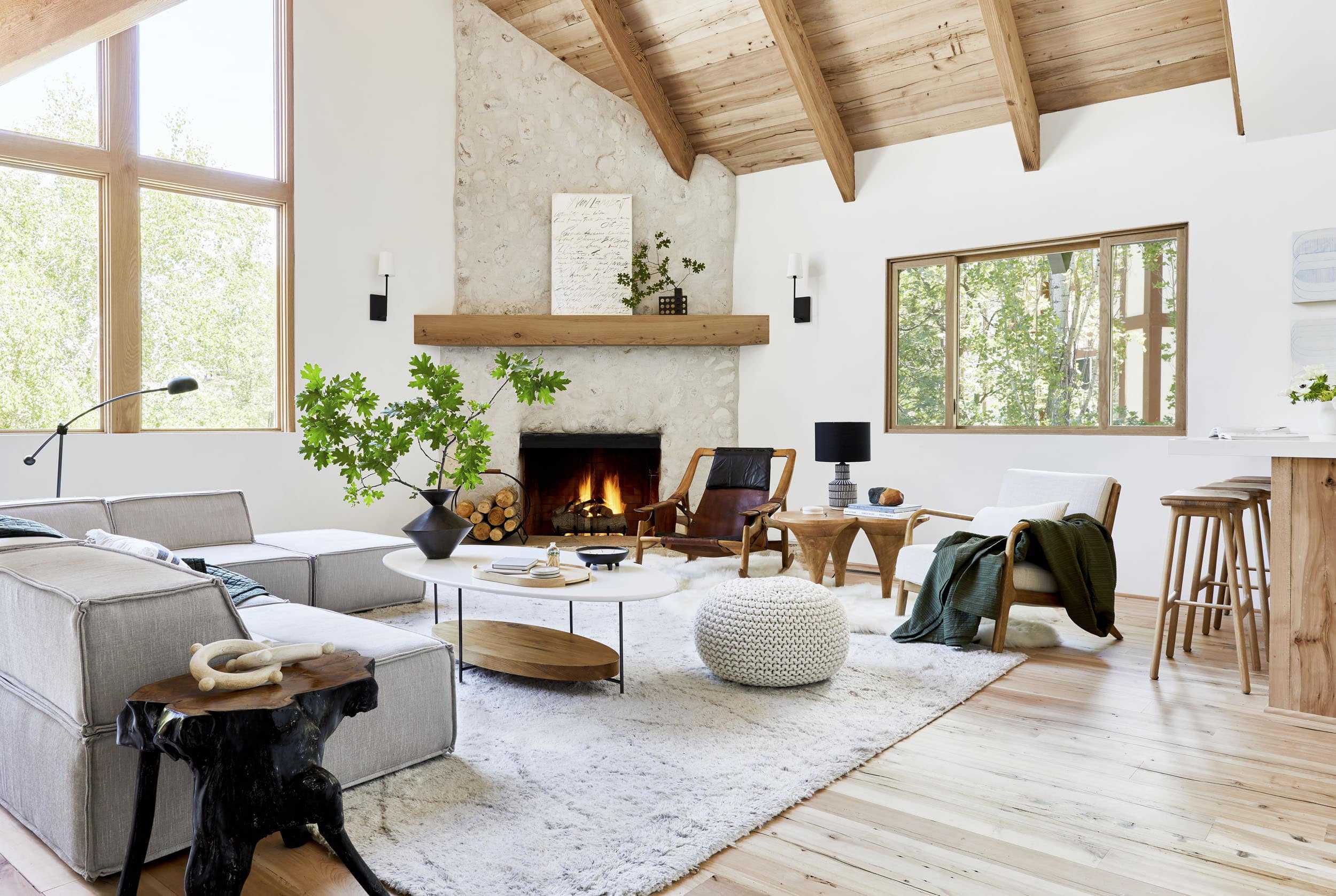 Credit: Mountain House Reveal
Scandinavian interior design is one of the most popular styles homeowners usually go for when designing their home. Known for its minimalistic and functional approach to design, the style features clean lines, muted colours, and natural materials.
The Scandinavian look creates a serene environment, making it a great choice for those who want a warm and cosy home. In our article, we'll be sharing more about the types of Scandinavian interior design and the ways to design each room at home, so read on to find out more!
Features of Scandinavian Interior Design
Scandinavian interior design is favoured for its minimalism. This manifests in a neutral colour palette throughout the house, with muted pops of colour coming through furniture and decoration. Materials like wood and leather are often used in this design style to evoke warmth, while natural light creates a bright and airy ambience. 
Neutral Colour Palette
Credit: My Scandinavian Home
One of the hallmark features of Scandinavian design is the use of neutral colours. This style typically incorporates soft hues of whites, greys, and beige, along with the occasional pops of muted pastels like soft blues, greens and pinks. 
A neutral colour palette establishes balance in design, and creates a calming and serene atmosphere to come home to after a long day at work.
Natural Lighting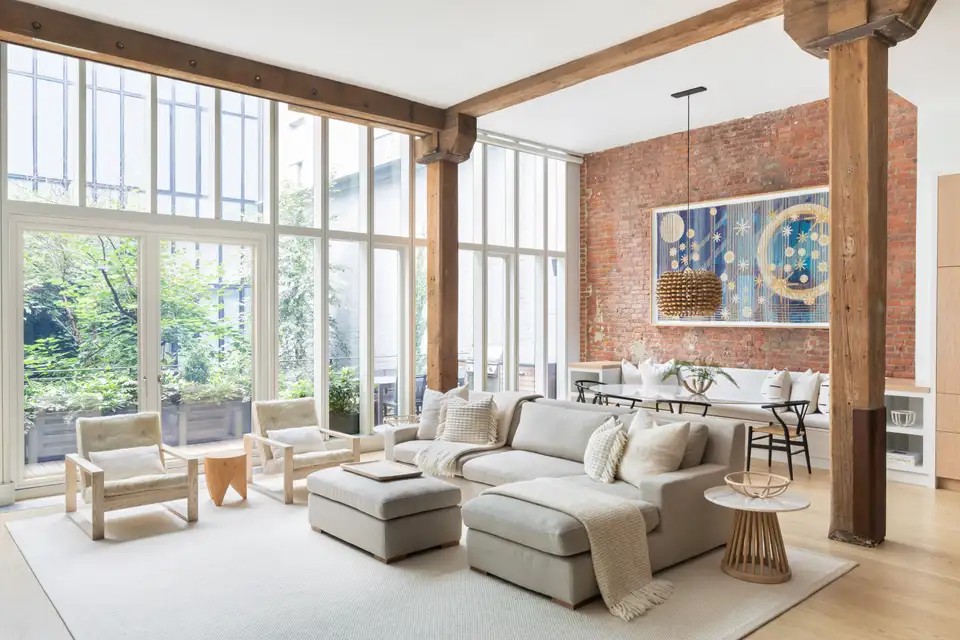 Credit: 32 Heavenly Loft Spaces
Scandinavian design is big on natural lighting as it's essential in creating a comfortable and inviting living environment. Large windows and light-coloured curtains maximise the amount of natural light entering your home. They also create a bright and airy atmosphere that's both functional and beautiful.
Aside from natural lighting, sleek pendant lights and table lamps are commonly used to bring warmth and highlight natural materials used in the space.
Wooden Furniture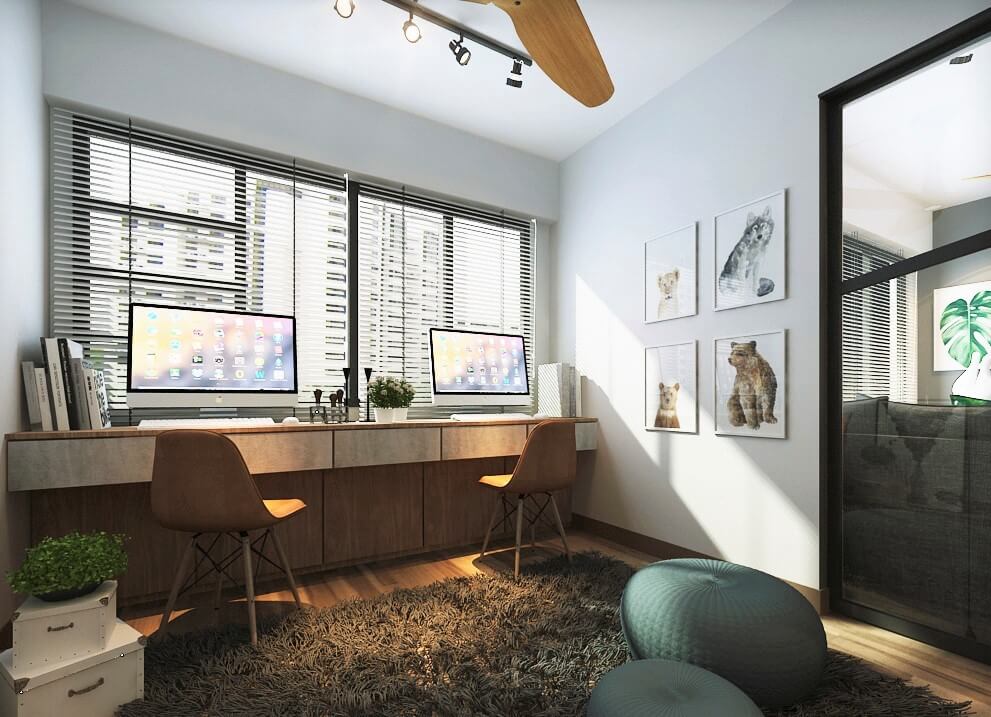 Credit: 10 Stylish Yet Functional HDB Study Room Designs
Wooden furniture is often designed with a focus on functionality and simplicity, which are core values in this design style. Combined with other natural materials like leather and wool, it creates a warm and cosy space while showing off depth and character in the furnishings. 
Scandinavian furniture design is also minimalistic in nature, placing emphasis on sleek and simple shapes with clean lines. You won't find bulky, oversized loungers here!
Practical Decorations
Think simply and practically when it comes to having decorations in your home. 
Items like wall clocks and candle holders not only serve their intended purpose, but also add to the overall aesthetic of the room. Additionally, natural elements like potted plants and wooden accent pieces are popular in Scandinavian design and bring a touch of the outdoors inside.
Don't be shy with textiles too! Cushions and rugs featuring simple geometric patterns and muted colours are commonly used to add warmth and texture to a room. Finally, simple artwork like black and white photographs, and abstract prints are often used to add flair without overwhelming the space.
Simple Feature Wall Designs
Credit: Design Detail
Feature walls aren't commonly associated with Scandinavian interior design. However, you can create a feature wall design that's cohesive with the rest of the home.
Go down the simple route with natural wood or some wallpaper in a simple, geometric pattern. If you want some eye-catching visual interest, play with textures and have brick or stone wall panels in muted colours!
Types of Scandinavian Interior Design Styles
Despite sharing some common elements, such as the use of natural materials and a neutral colour palette, Scandinavian interior design also encompasses several different styles. 
Each style has its unique characteristics, which distinguish it from the others. Understanding the various styles can help you create a personalised space suited to your preferences.
Minimalistic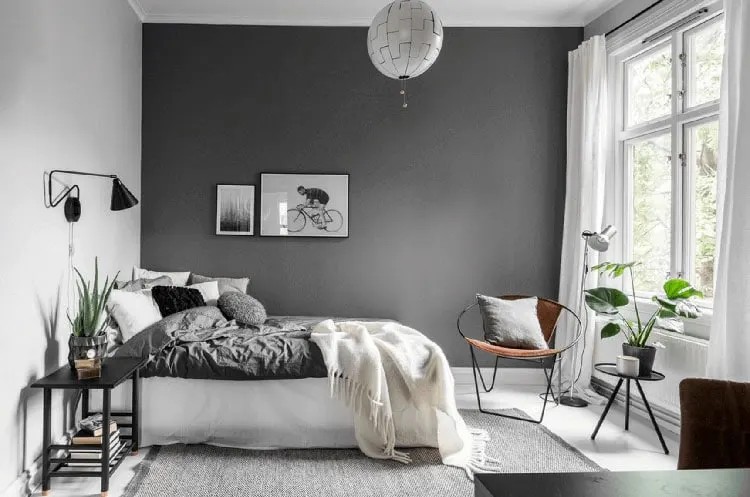 Credit: 37 Best Grey Bedroom Ideas
The most widely-known style of Scandinavian interior design is likely the minimalist style. The colour palette tends to be light and neutral, with white, grey, and beige being predominant. This design style is all about creating a calm and tranquil environment with minimal clutter and a clean aesthetic.
Additionally, furniture in this design style is often functional, comfortable, and timeless. Pieces are typically made of natural materials such as wood and leather, and feature simple lines and geometric shapes. Focus is also placed on the quality of the furniture, rather than the quantity. 
Emulate a calm and inviting look with these colours:
Rustic
Credit: A Warm Nordic Apartment with Light Brown Walls
This style is all about combining the natural warmth and texture of rugged elements with the simplicity and functionality of the Scandinavian design. Add cosy textiles like wool and fur to bring some softness and round out the room.
Try these colours to add more warmth to your space:
Industrial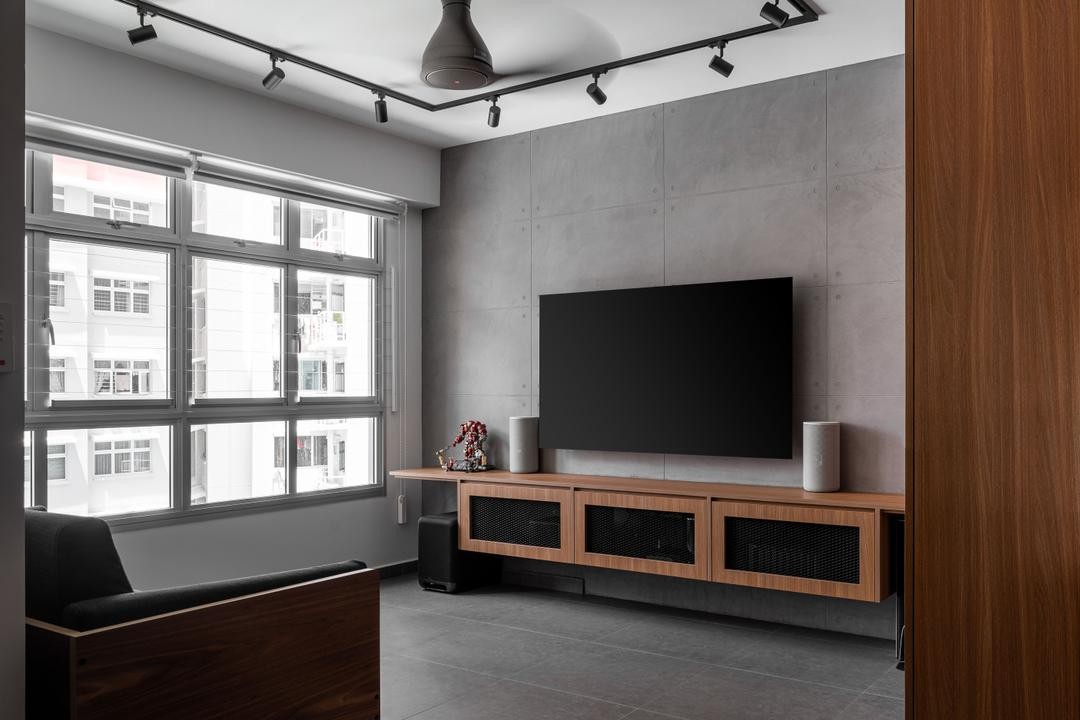 Credit: Posh Home
The industrial design is known for its raw, edgy aesthetic which, to the surprise of many, plays well with the uncluttered, minimalist look of Scandinavian interior design. Furniture pieces often include metal accents, such as wrought iron or stainless steel, and raw materials like brick and concrete are shown off on walls. 
Darker colours like the ones below are typically used as interior wall paint while natural lighting and exposed light fixtures brighten things up.
Nordic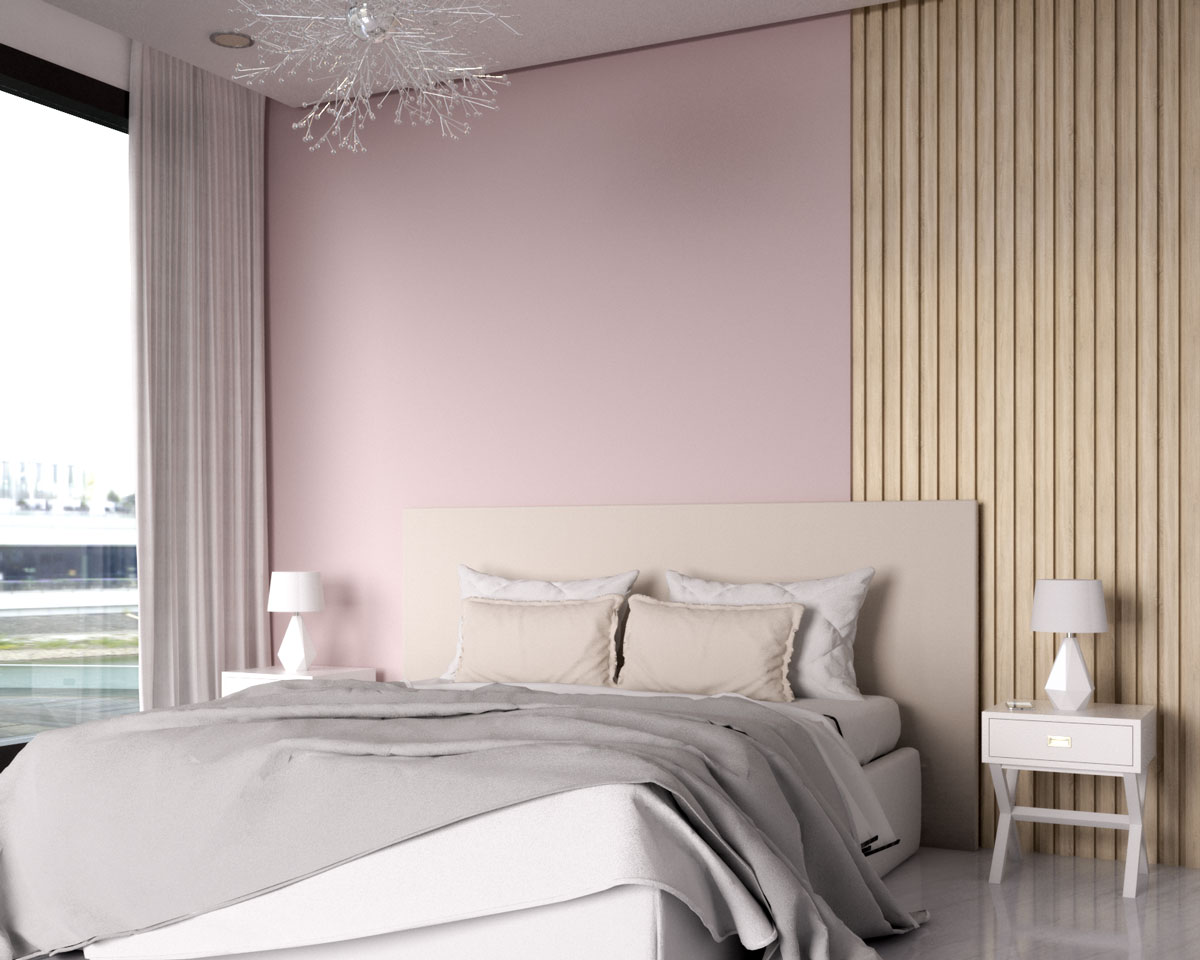 Credit: 10 Gorgeous Pink Accent Wall Ideas for Bedroom and Living Room
Nordic and Scandinavian interior designs are very similar. 
While both feature a warm, clean atmosphere that we love, Nordic design is more homely and doesn't shy away from colours. Furniture with clean lines and shapes is softened by throw pillows and rugs, and simple artwork pepper the walls.
This style makes use of the same basic neutral palette of whites, beiges and greys while adding playful accents of pastel shades like those below.
Luxury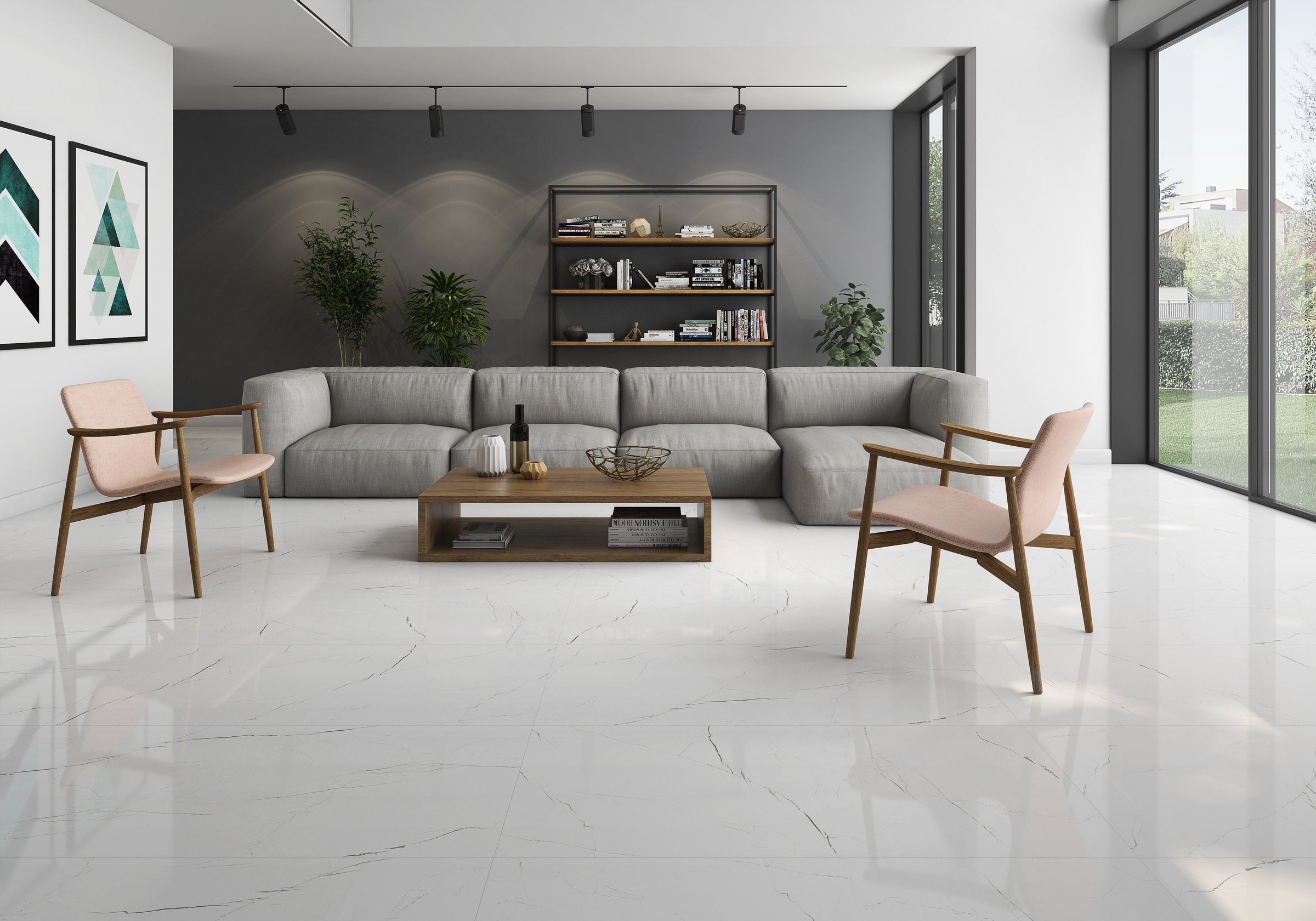 Credit: Tile Outlet Chicago
Because the Scandinavian design is so versatile, it can play nicely with a luxe style too. 
Just stick to a neutral colour palette and play around with materials to create a luxurious feel. Think leather sofas with velvet throw pillows, marble flooring, and brass finishes on streamlined furniture. 
Another way to increase the luxe factor is to use Nippon Paint's Vinyl Silk. This paint comes in a wide variety of colours and gives your walls a satin, smooth finish – perfect to tie the look together.
Modern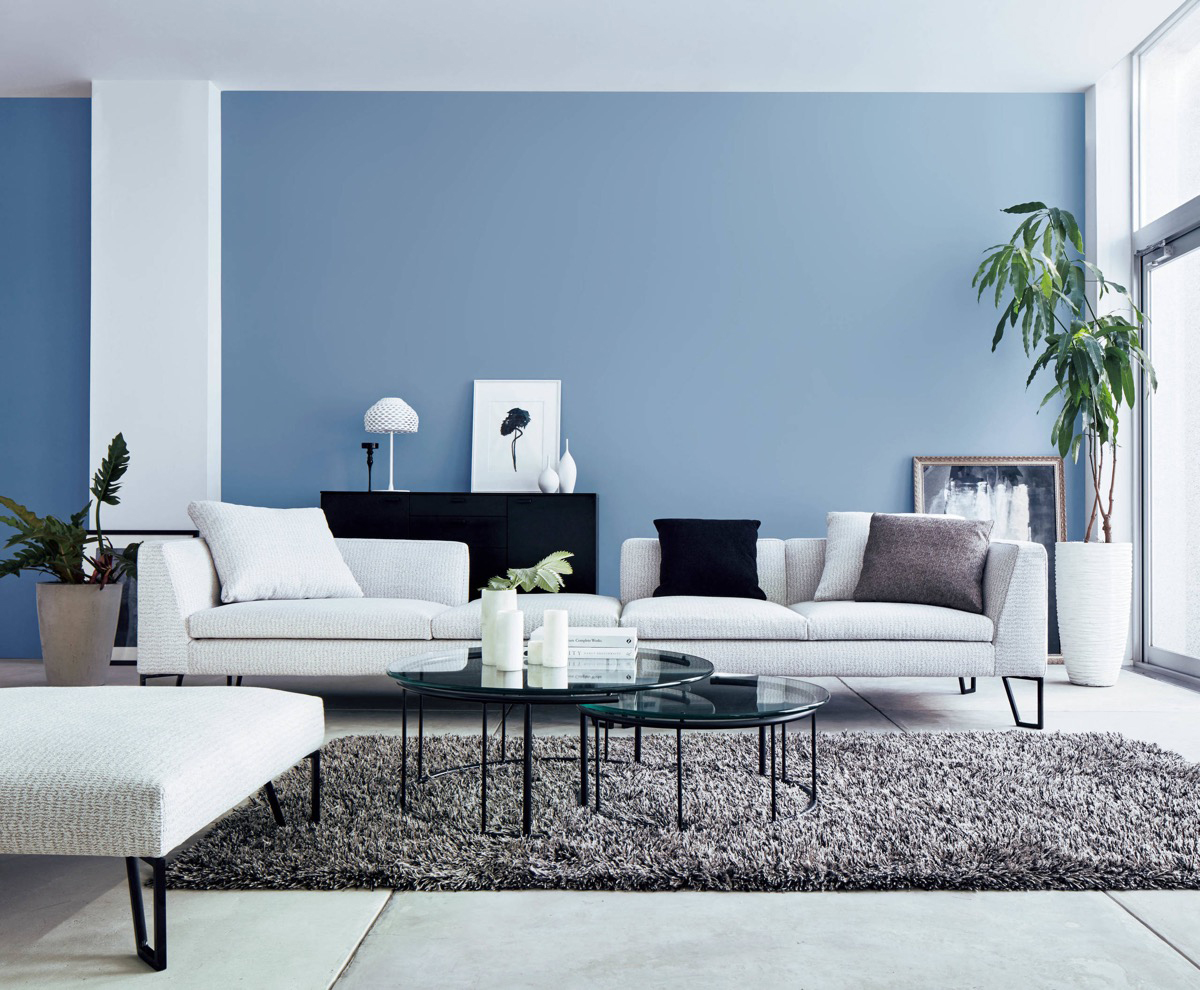 Credit: 30 Blue Living Rooms To Relax The Mind, Body And Soul
Marrying modern style furniture with Scandinavian design principles of clean lines and minimal clutter is a match made in heaven. Low and long sofas with leather or fabric upholstery in an open floor plan will let your accent walls and decor stand out. 
Also, just because we're working with a neutral colour palette doesn't mean we can only stick with cream and grey shades. A pop of muted blue as a feature wall will look striking – try these shades!
Japanese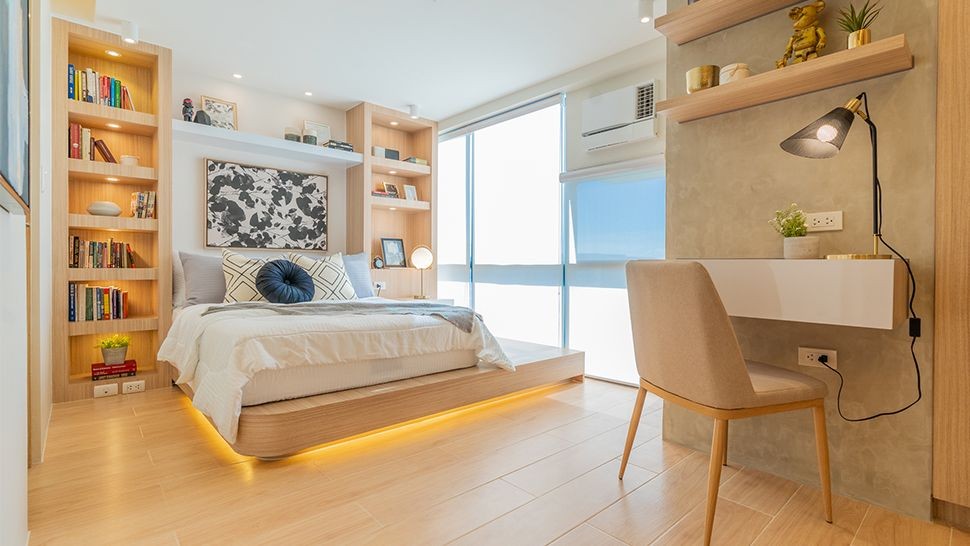 Credit: Real Living
Japandi design, a mix of Japanese and Scandinavian styles is a popular choice amongst homeowners in Singapore. Typically referred to as "Muji-inspired", this style exudes serenity and calmness, perfect for a getaway from the hustle and bustle of life.
Using cream and beige shades to create a relaxing environment, this style also features lots of wood furniture and soft lighting.
Scandinavian Interior Design Ideas by Room 
Designing your home doesn't have to be tough, especially when you choose a common design style to carry through your home. Scandinavian design is arguably one of the simplest styles to execute and we'll break it down for you room by room!
Living Room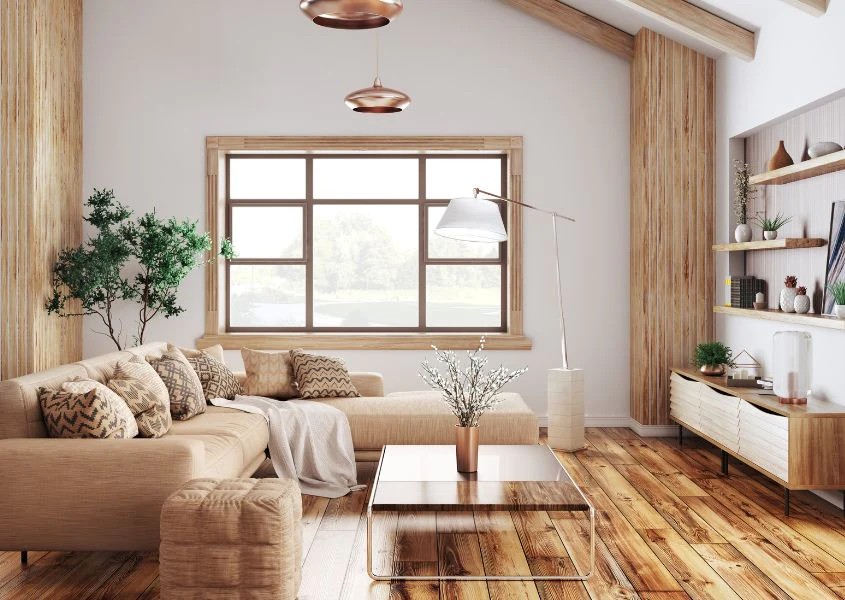 Credit: 3 best colours for a chic rustic living room
Keep things light and airy with natural lighting, and make use of sheer curtains to soften harsh light. Wooden furniture like TV consoles and coffee tables will harmonise well with a fabric sofa and a plush rug. 
Bedroom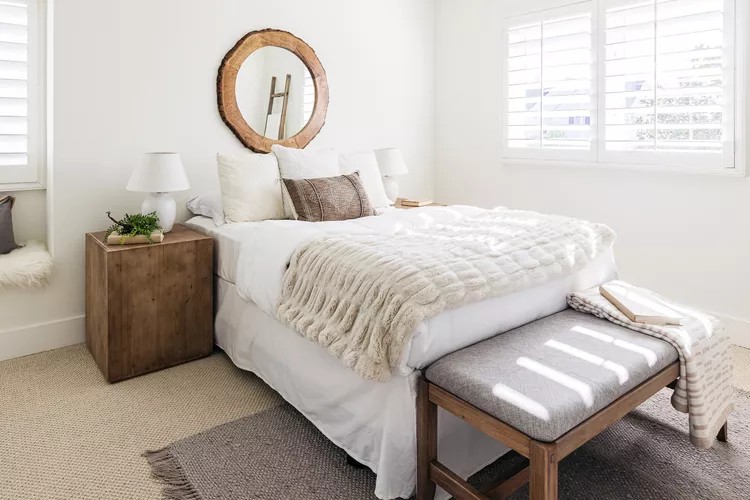 Credit: 6 Easy Tips for Choosing the Perfect Bedding Color
Create a soft and relaxing Scandinavian-inspired bedroom with white linen sheets and muted colours for the walls. Keep the room clutter-free and use soft lighting and scented candles to help you wind down easily at the end of the night.
Kitchen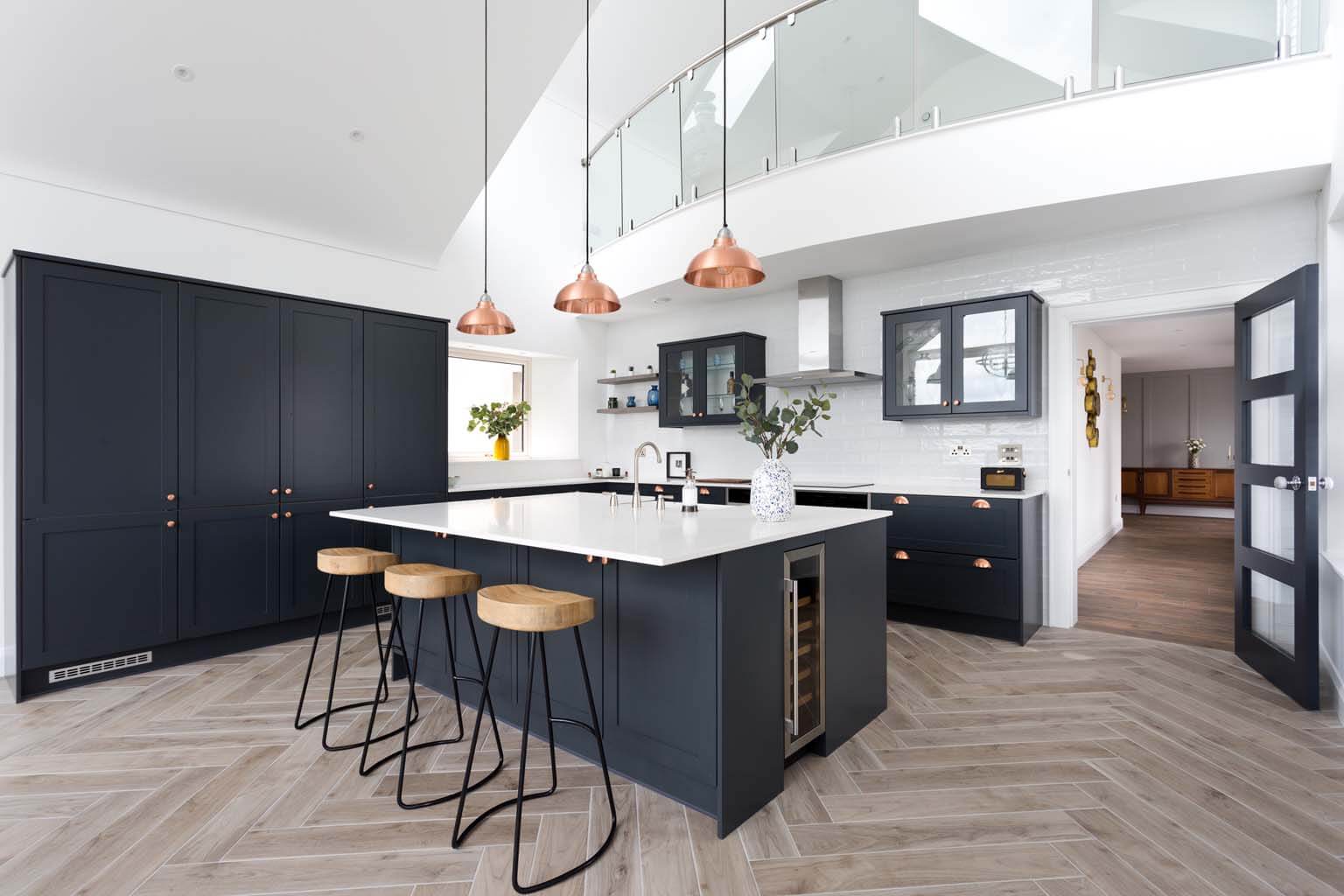 Credit: Wharfdale Interiors
Ensuring you have loads of storage keeps things neat and allows you to show off the clean, crisp look of your Scandinavian kitchen. 
Also, don't be afraid to mix different textures and materials! Wooden cupboards go extremely well with granite or white countertops and black or brass plumbing fixtures.
Toilet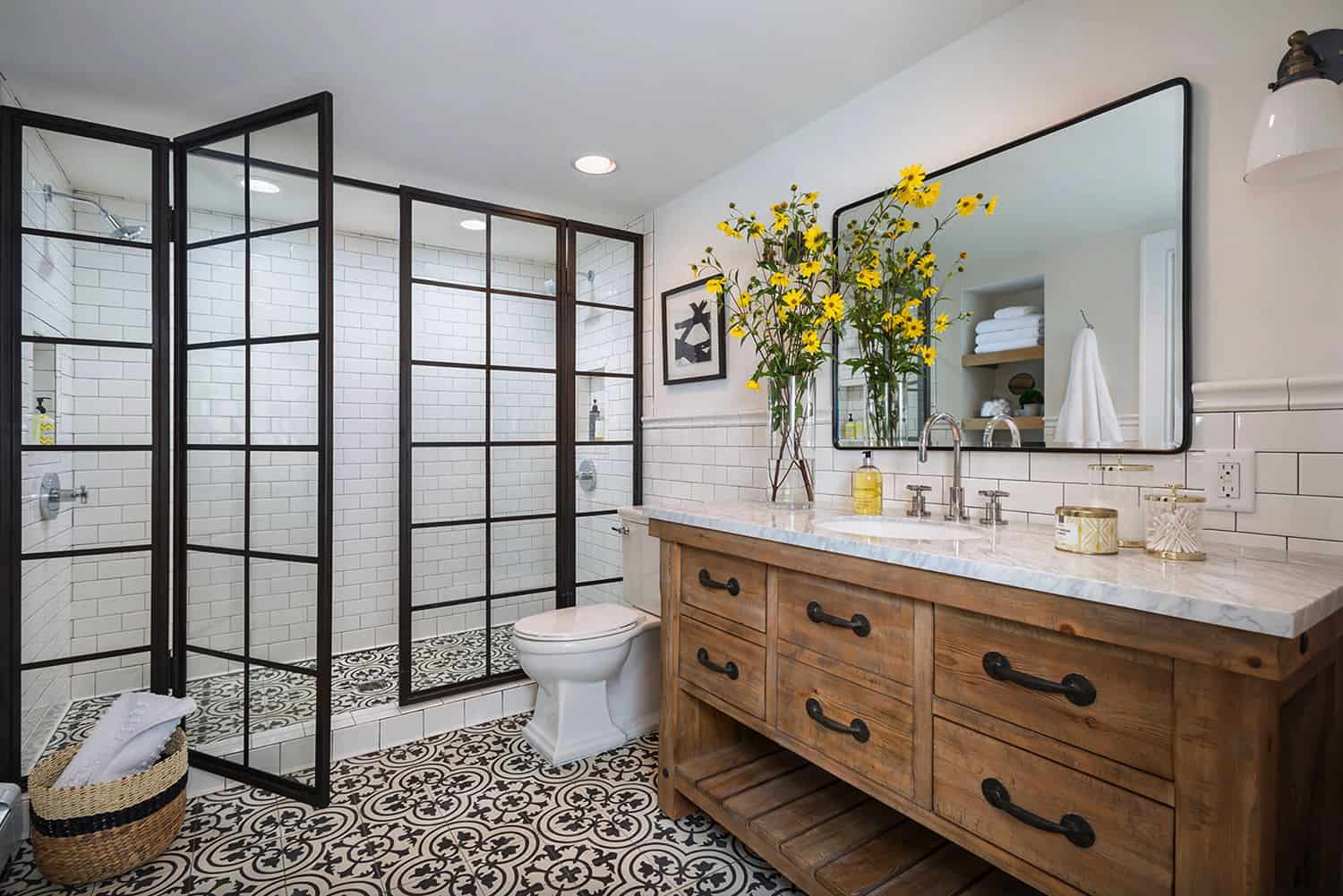 Credit: J Kurtz Design
While you can stick to white tiles, consider switching it up with some geometric-shaped tiles in neutral colours, or even wood-effect tiles. Throw in some notches or wooden cabinetry to keep your self-care products neat and tidy, and you've got yourself a Scandinavian-style bathroom.
Tip!
To keep things fresh, use an anti-bacterial paint like Nippon Paint's 3-in-1 Medifresh. This paint has excellent water resistance and is also mould-resistant, making it perfect for your bathroom.
Designing a Scandinavian Home
A Scandinavian-inspired home is easy to put together. Use neutral colours and simple, functional furnishings to design a cohesive and harmonious home!
NEXT ARTICLE
7 Amazing Glam Interior Design Ideas to Elevate Your Home