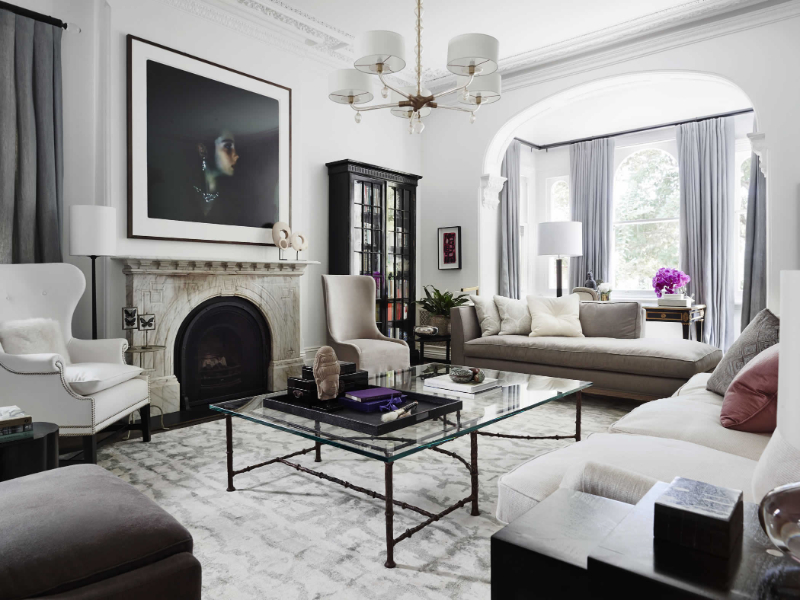 Credit: Living Room Carpet Ideas by Thomas Hamel and Associates
Glam interior design is known for its opulent style. With an emphasis on high-end materials, the style is all about creating a lavish and indulgent atmosphere. Learn about the elements that make it stand out and how you can transform your space into a luxurious haven.
Elements of Glam Interior Design
Learn about the iconic features of glam interior design and how you can incorporate them into your own space.
Colours
Glam interior design typically begins with a foundation of elegant neutral colours like ivory, black, grey and white. You can then layer it with soft pastel shades like blue, green and pink to create an appearance that isn't too overwhelming. For a more dramatic look, darker colours and jewel tones are great choices.
Need some suggestions on which colours to go for? Get inspired by Nippon Paint's wide range of interior paints which features numerous options that perfectly suits a glamorous interior theme. Here are some of our favourites:
Decor and Fixtures
Decor and fixtures play a significant role in establishing the atmosphere. Abstract artwork and chandeliers are often used as a centrepiece to draw attention. Mirrored surfaces are another common feature as they can reflect light to make a space feel larger. Adding some of these pieces can enhance the glamorous vibe of your space.
Furniture
From velvet sofas to tufted armchairs, there are many types of furniture that are frequently used to achieve the glam look. You can add a touch of elegance to your room by decorating it with items such as mirrored side tables, ornate dressers and baroque-style beds.
Materials
The use of sumptuous materials is key to creating an extravagant space. Marble and gold are two most popular materials used to create a stunningly rich and exquisite interior. 
Consider incorporating marble into your countertops and floorings to achieve a sleek and elegant appearance. Gold can be introduced to your interior through accent pieces, such as vases, picture frames, or decorative trays. 
Patterns
Glam design is characterised by the use of bold and striking patterns that add drama and interest to the space. Animal prints, geometric wall patterns and stripes are some visual elements you can use to achieve the glam look. 
Animal prints add an exotic feeling to the space, while geometric wall patterns offer a modern and contemporary touch. High-contrast stripes, such as black and white or navy and gold, can make a striking statement and elevate the elegance of your room.
Textiles
Luxurious fabrics such as silk, velvet, and fur are often used to add glitz and glamour. These textiles offer a posh and indulgent feel that enhance the look and feel of a space. 
You can introduce silk through curtains or beddings. The natural sheen and lustrous appearance makes it perfect for creating a lavish interior. Velvet furniture, such as sofas, armchairs, or headboards, can be added to make a room feel more inviting and indulgent. 
As for fur, it can be layered with other elements to add richness and depth. One way is to pair faux fur with animal prints to create a bold and visually interesting glam interior.
Windows
Glam interiors often feature large, expansive windows that allow natural light to flood the space. When designing your house, opt for floor-to-ceiling windows or the ones that have unique shapes and design. Full-length curtains made from luxurious fabrics can also be added to create the illusion of higher ceilings.
Glamorous Interior Design Ideas for Different Rooms
Looking to add a touch of glamour to your home? These ideas will inspire you to create a dazzling space.
Living Room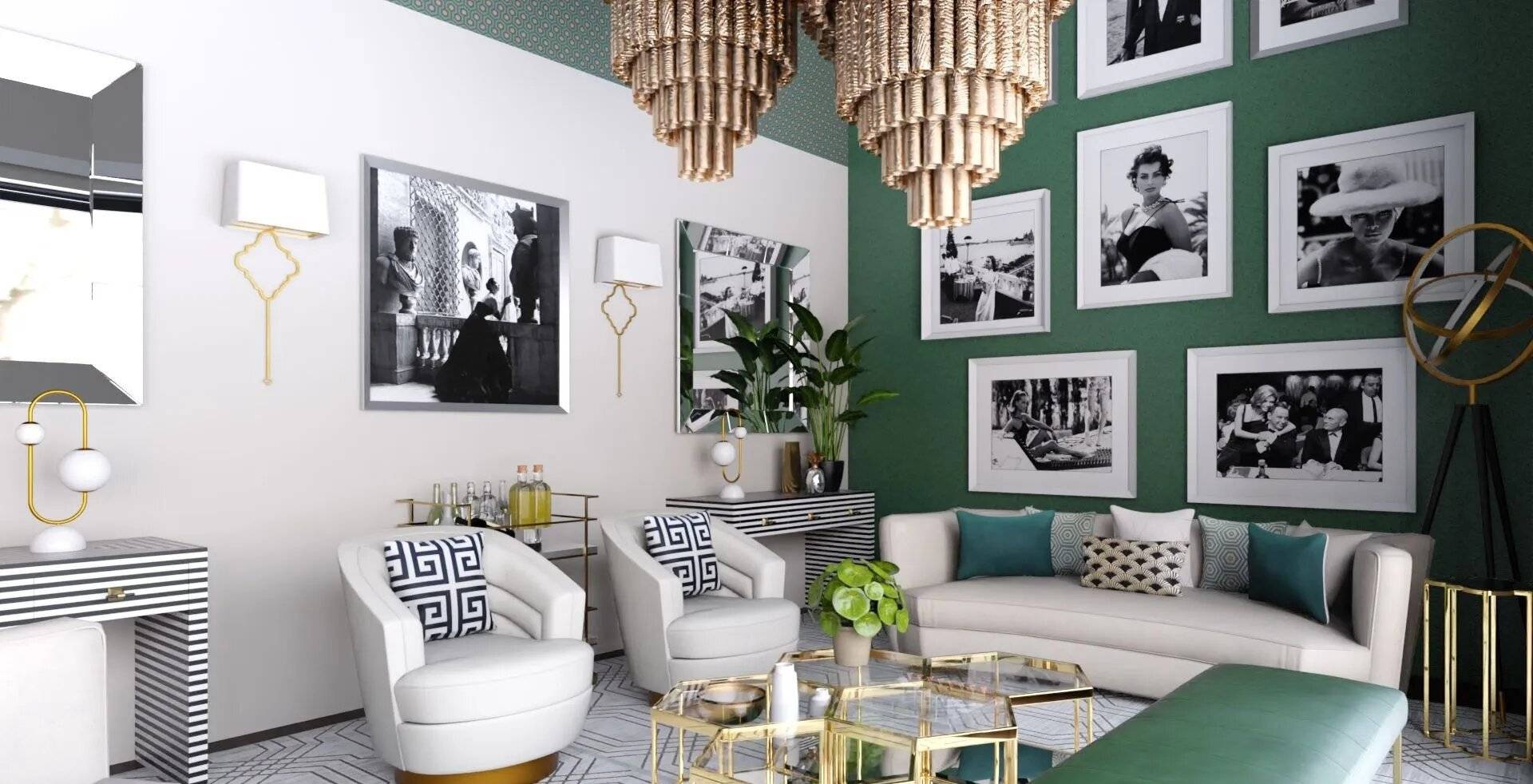 Credit: What Is The Hollywood Glam Interior Design Style?
Decorate your living room with bold colours such as black, gold, or deep jewel tones like emerald or sapphire. Layer it with sumptuous fabrics and grand lighting fixtures like a chandelier or oversized table lamps. The key is finding a balance between the elements to create a cohesive and stunning design.
Tip!
Statement pieces like a striking piece of artwork or a unique piece of furniture can add a focal point to a glamorous living room. You can also consider featuring a large canvas or a gallery wall to showcase your favourite pieces.
Bedroom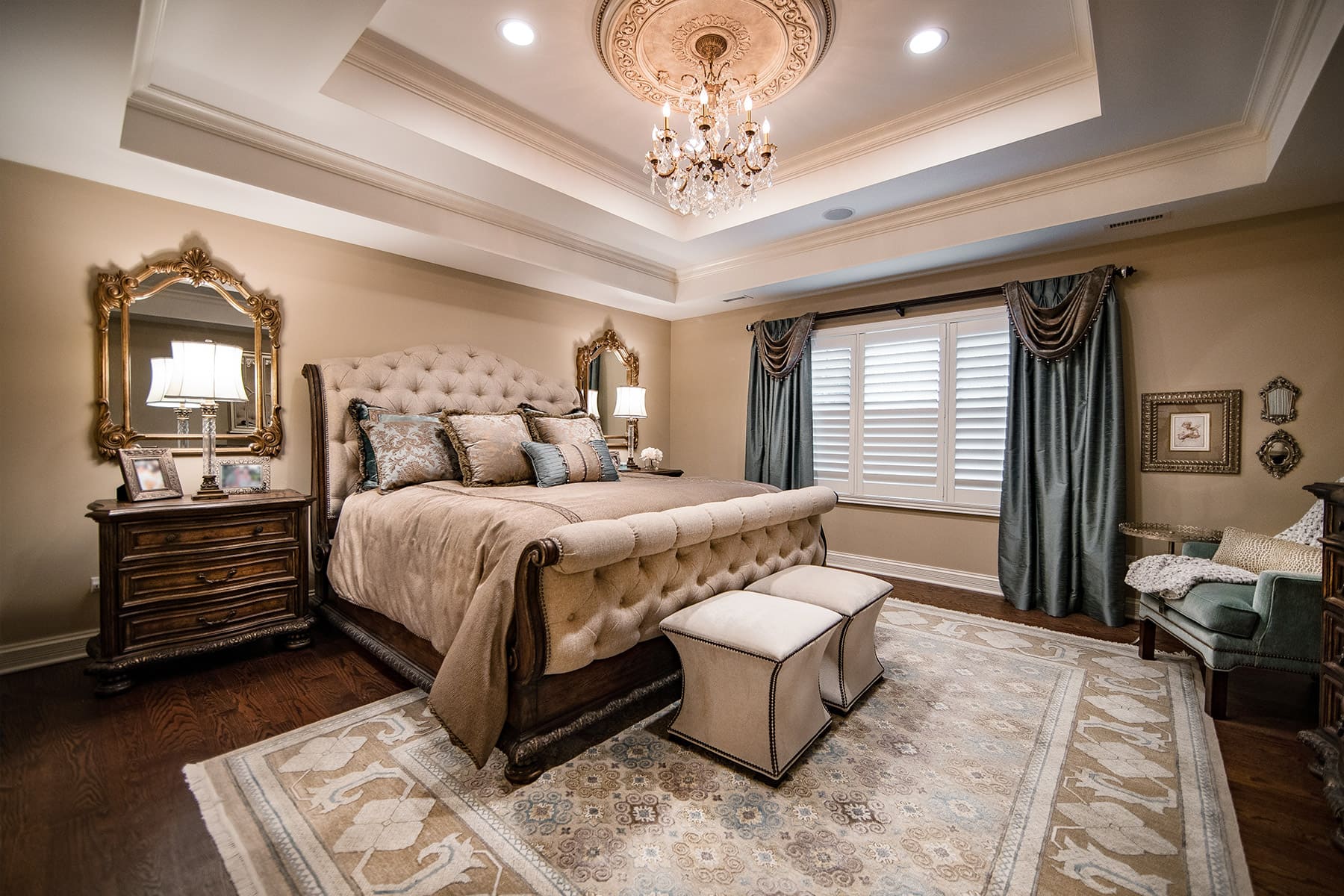 Credit: Luxury Bedroom: Design & Ideas
Try a combination of luxurious fabrics and tufted furniture to transform your bedroom into a chic and stylish retreat. Soft silk and faux fur can be used for bedding, pillows, and drapery. A tufted headboard, mirrored dresser or velvet armchair can be used to complement the design. To create a more personalised look, add picture frames or a collection of your favourite prints.
Tip!
Bold patterns and animal prints can be an effective way to add a touch of glamour to your bedroom. Consider using a neutral base colour such as white, cream, or grey and adding pops of bold pattern through accents like throw pillows, curtains, or a statement rug.
Bathroom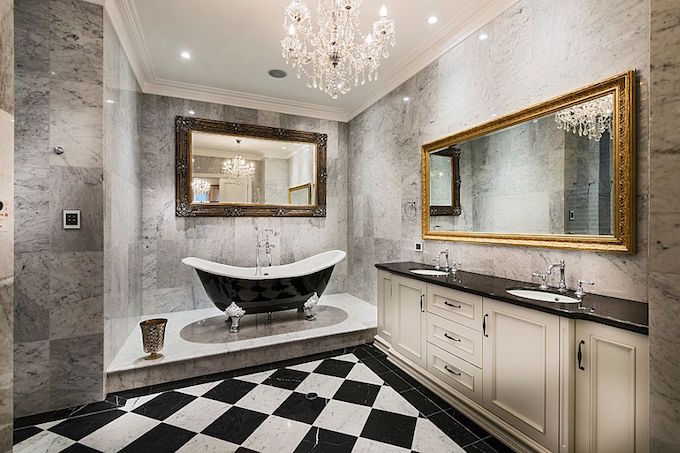 Credit: Dark Indulgence: Black Bathtubs
The glamorous black and white bathroom is a classic design that never goes out of style. The sleek colour scheme, paired with metallic accents, creates a timeless and sophisticated ambience. Plush towels and cosy rugs provide a comforting touch, while decorative soap dispensers and elegant art prints add the perfect finishing touches
Tip!
Incorporating metallic accents such as a mirror with a gold frame is a simple yet effective way to add sophistication to your bathroom design. The reflective surface of a mirror can make a small bathroom appear larger, while a gold frame can add a pop of colour and warmth.
Glam Interior Design Styles
Need more inspiration? We have curated some amazing design ideas that are sure to ignite your imagination.
1. 70s Glam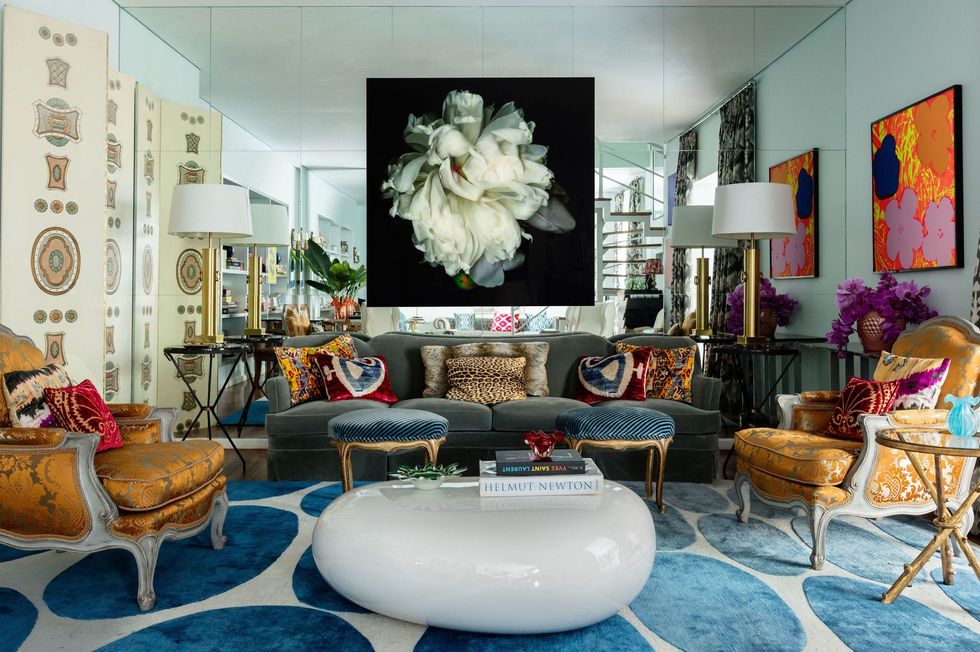 Credit: These '70s-Inspired Living Rooms Are The Ultimate Design Throwback
This style exudes a sense of luxury and sophistication, with a touch of retro charm.
One of the most prominent features of the 70s glam interior design is the use of rich and bold colours that are often paired with metallic accents. Mirrored surfaces and bold graphic prints are also common elements of this design. 
2. Boho Glam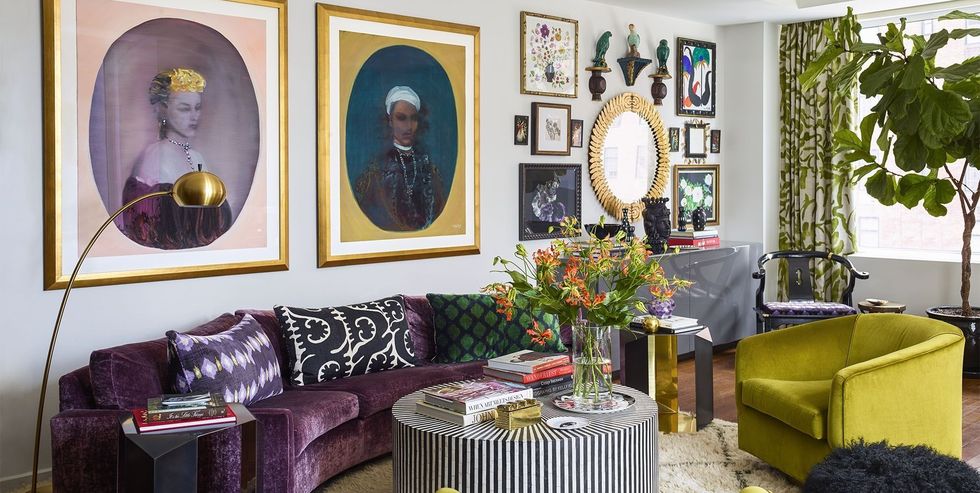 Credit: Creative Ways To Pull Off Bohemian Decor
Boho Glam Interior Design is a style that combines elements of bohemian, eclectic, and glamorous aesthetics to create a unique and visually striking look. This design is characterised by a mix of vintage and contemporary pieces, with a preference for unique and unconventional furniture and decor items.
3. Classic Glam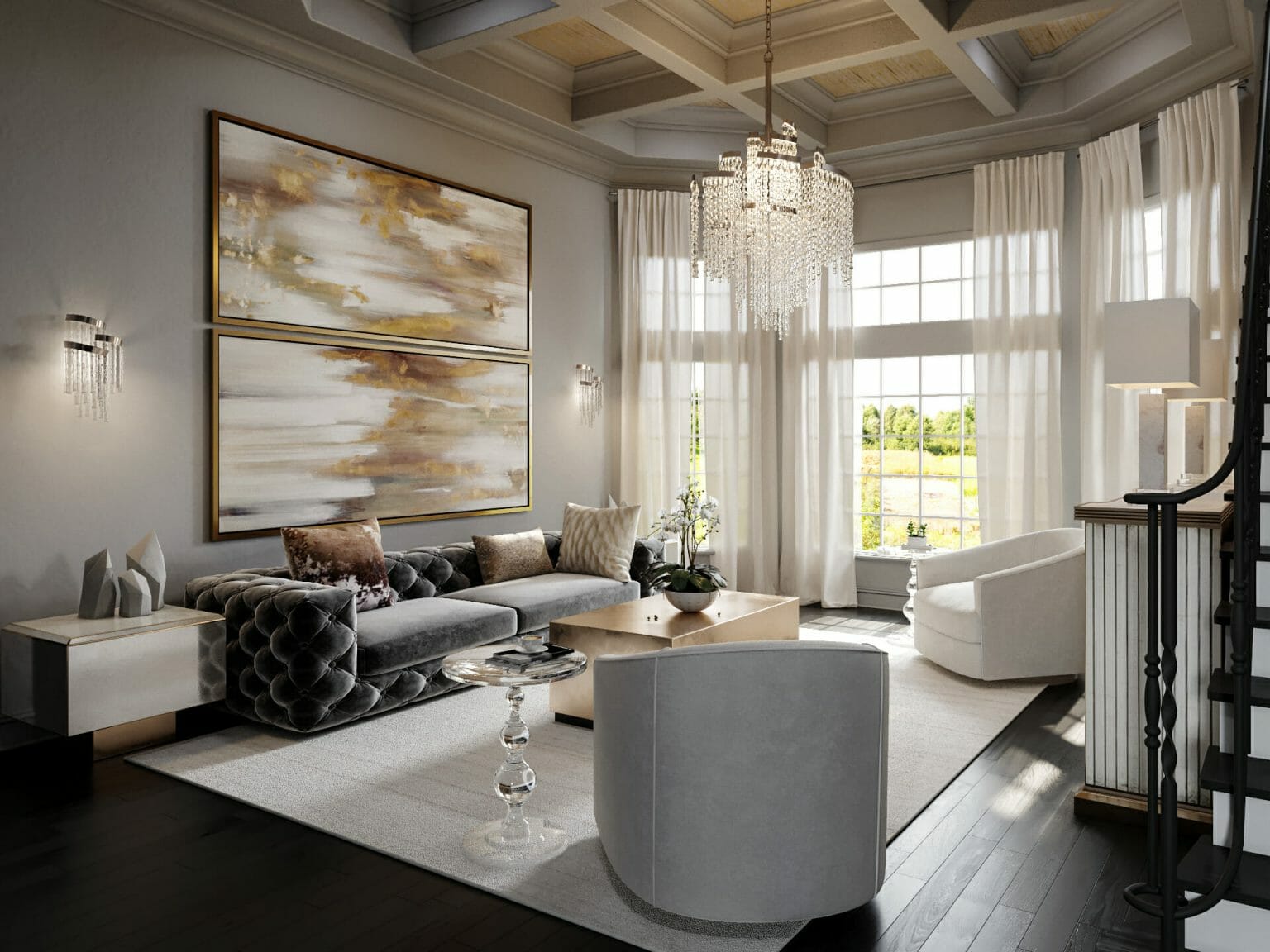 Credit: Before & After: Glam Interior Design for a New Build Home
This style exudes opulence and sophistication, with a focus on high-quality materials and fine craftsmanship. Lighting fixtures play an essential role, with crystal chandeliers or sconces being a fundamental component. Accessories are also crucial in this style, with a preference for fine art, sculptures, and ornamental pieces that add a touch of elegance and refinement to the space.
4. Hollywood Regency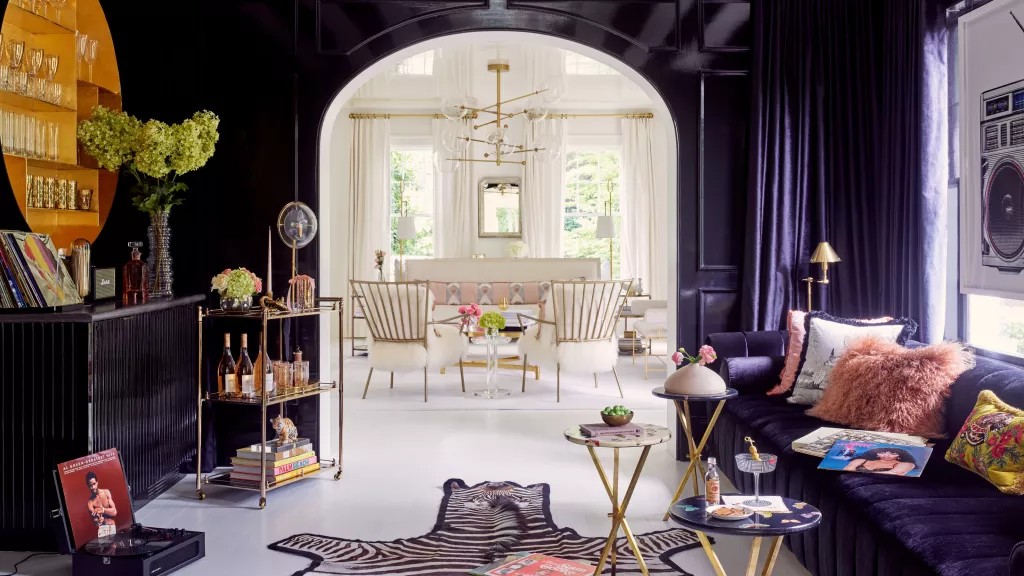 Credit: What is Hollywood Regency style, why do designers love it and how can we recreate it?
Also known as the Hollywood glam, this interior design style takes its inspiration from the golden age of Hollywood. It incorporates art deco, mid-century and neoclassical elements to create a cohesive and visually striking look. Grey and purple are popular colour choices, along with the timeless black and white pairing. 
Lighting fixtures are often statement pieces. A bold and ornate chandelier can become the focal point of the room, while unique and sculptural table lamps can add a touch of artistry and creativity.
5. Industrial Glam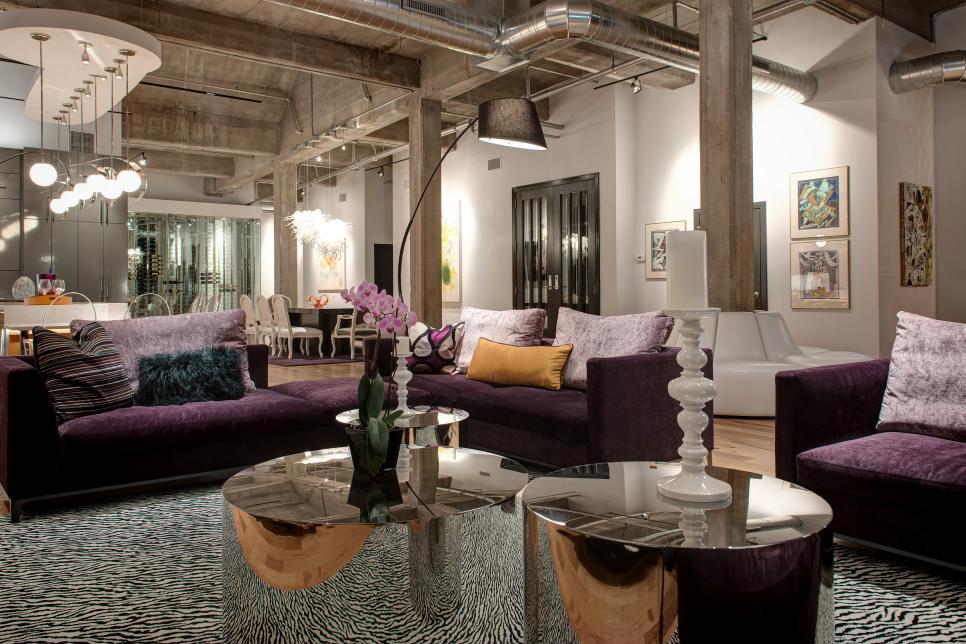 Credit: Industrial-Glam Urban Loft
Industrial glam interior design is a style that combines the raw and rugged aesthetic of industrial design with fine elements. It's all about creating a space that's both edgy and refined, with a focus on contrasting textures and materials.
A defining characteristic of this design is the use of raw and rough materials, such as exposed brick, concrete, and metal. These materials provide a sense of industrial grit and authenticity to the space. Luxurious elements such as plush velvet upholstery are often added to contrast with these rough textures.
6. Modern Glam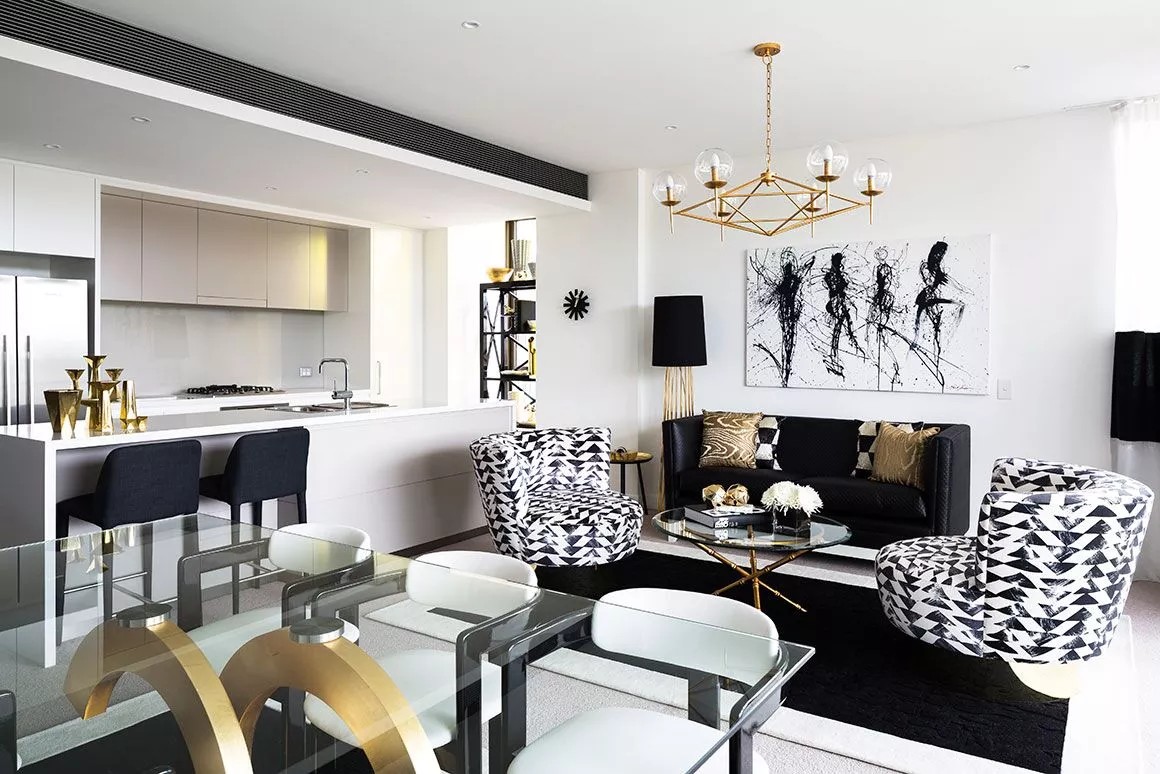 Credit: Harold Park Residence
Modern glam interior design merges the clean, minimalist aesthetic of modern design with the elegant aspects of glam interior design. The colour palette is typically neutral, with a focus on shades of white, grey, and black. However, pops of bold colour may be added through accent pieces or artwork to add interest and depth to the space.
7. Rustic Glam Decor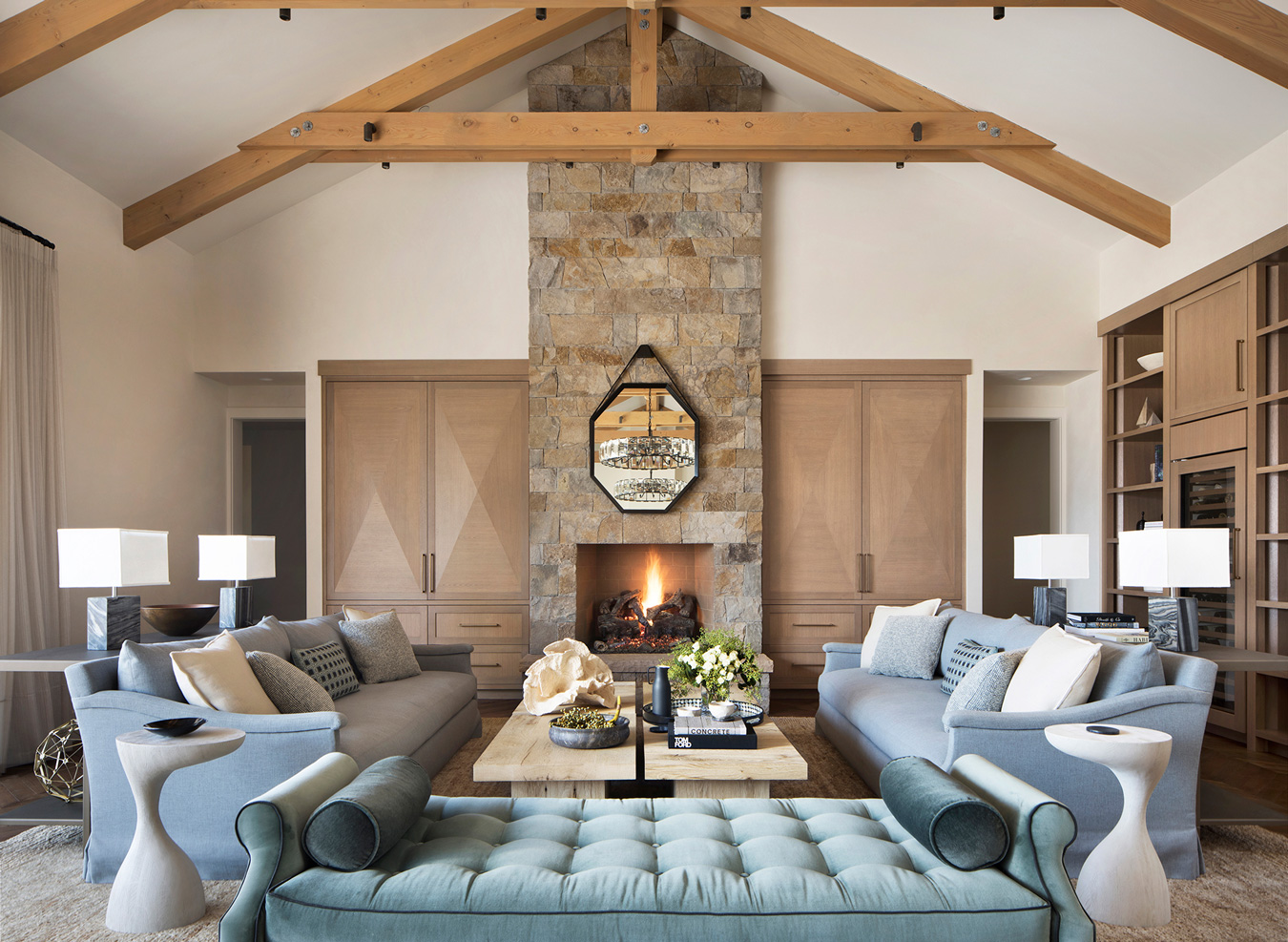 Credit: Designer Spotlight: Jennifer Robin Interiors
The rustic glam interior design blends natural and opulent elements to create a sense of balance and harmony. The use of natural light is also emphasised, with large windows or skylights to bring in plenty of sunlight. Greenery, such as potted plants or fresh flowers, is also common in this style.
Achieve the Glam Interior Design With Nippon Paint
Choosing the right paint colours is a crucial aspect of creating the glam look. Nippon Paint offers a wide range of high-quality interior paints and professional painting service to help you elevate your space. Whether you're aiming for a Hollywood Regency style or a modern glam look, we have the colours to help you achieve the glam interior design of your dreams.
NEXT ARTICLE
How to Prevent Dengue: 6 Ways to Stay Safe and Keep Mosquitoes at Bay