In the world of interior design, it's a common rule of thumb to keep your ceiling plain and white. After all, you can't go wrong with a simple colour palette, and a white ceiling can give the illusion of a bigger and brighter space. At the same time, the ceiling is the fifth wall of your home, and deserves as much care and attention as the four others. Not only can a well-painted ceiling add a dramatic effect to your room, but it can also go a long way in changing the mood of your space. If you're still on the fence, these creative inspirations should clear up any of your doubts.
Ready to step outside of your comfort zone?
1. Beachy Blues
After a tiring day at work, there is nothing more comforting than the thought of sitting by the beach and listening to gentle waves collide against the shore. In this image of Austrian hotel, Rogner Bad Blumau, clear water blue is painted across the ceiling to give a relaxing resort aesthetic. Blue is known to be a calming colour, soothing spirits with images of the bright sky and ocean. Instead of having to make a trip to Sentosa every weekend, why not bring the beach home instead?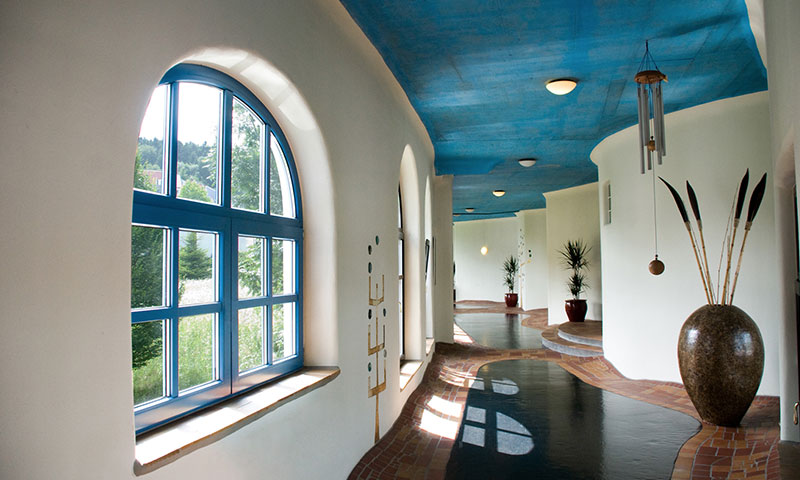 Source: Wikimedia Commons
Achieving this look is simple. To create a similar rustic and textured blue, paint your ceiling using Nippon Paint's Blue Madonna, a brighter shade, as the primary colour. Add dimension to the base by blending in streaks of a darker shade like Deepsea for a natural imitation of the ocean waters. This subdued colour palette for your ceiling is the best compliment to a small room, adding a new layer of intimacy and serenity to the space.
2. Dark And Moody
When done right, there's nothing wrong with taking a full 180 away from the all-white-ceiling standard. Embracing the beauty of black and similarly dark shades for your fifth wall is perfect if you're looking to give your home a more sleek and sophisticated vibe. In this image, the blackness of the ceiling and tables perfectly balances out the warmth of the lighter neutrals and wooden furnishing. The result of this contrast is a striking, but an elegant modern design that captivates the eye.
Source: Flickr
The best part about having a neutral palette is how easy it is to set up! To achieve a similar sleek, monochromatic ceiling, paint over the surface with one of the many black variants from Nippon Paint. Black Magic and Flint Black are perfect if you want that grey tint, but Crater Black works just as well if you feel the need to soften your space with a bit of brown.
3. Classy And Comfortable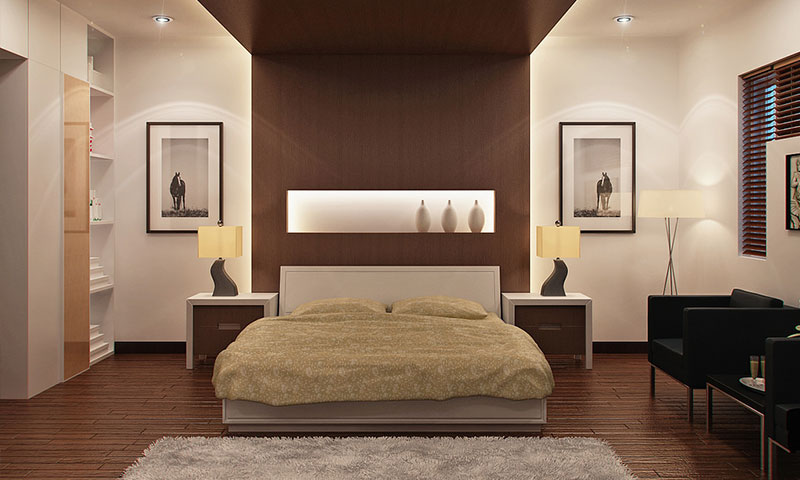 Source: Flickr
Neutrals are currently hot in contemporary design, with more and more people wanting to go for simple and sleek. But for some, white can come across as too bland while black can appear too bold. Brown is a great middle-ground shade that can soften up your space with its warmth, serving up a homey and welcoming aesthetic that blends in well with almost any style. In this bedroom, the ceiling is painted brown just above the bed, highlighting it as the focal point of the room and spicing up the otherwise white walls.
As this design shows, you don't have to stick to monochrome when painting your ceiling. To re-create this look for your bedroom, paint over the central third of your ceiling with a rich dark chocolate brown shade like Azuki Coffee or Sable Brown if you want something a tad brighter.
4. Patterned Chic
Apart from playing around with colours, don't shy away from patterns or themes when it comes to filling in your ceiling. Whether they are stripes or tiles, patterns play a huge role in adding character and personality to a room. As in this image, a cool idea is to paint stripes that converge towards the center of your space, creating the illusion of a pointed, conical shape. This design is perfect for those who are adventurous enough to make a unique style statement.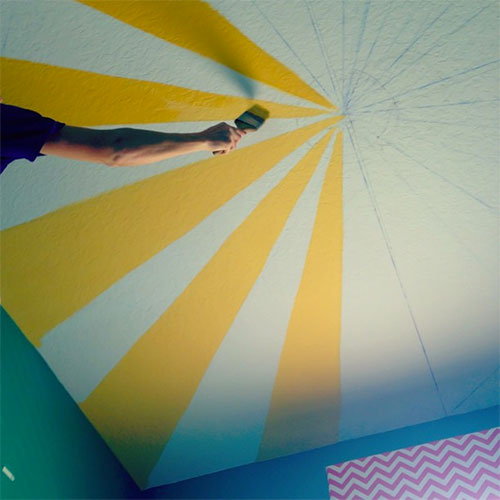 Source: Flickr
When it comes to painting stripes or other recurrent patterns, it's good to stick to monochrome so that your ceiling doesn't compete for attention with all the other elements of your room. In the case of this image, yellow is a good choice for delivering a bright burst of fun and energy into a dull space. To replicate this look, draw evenly spaced out lines that meet at the center of your ceiling before filling in alternate gaps with Nippon Paint's Sun Miracle.
5. A Starry Night
For all the adventurous creatives out there, there really are no limits to how you can design your ceiling. A popular aesthetic, especially for children's bedrooms, is a galaxy-themed ceiling that you can gaze at longingly before getting a good night's sleep. Thankfully, you can check out our in-depth guide to making your bedroom look like outer space.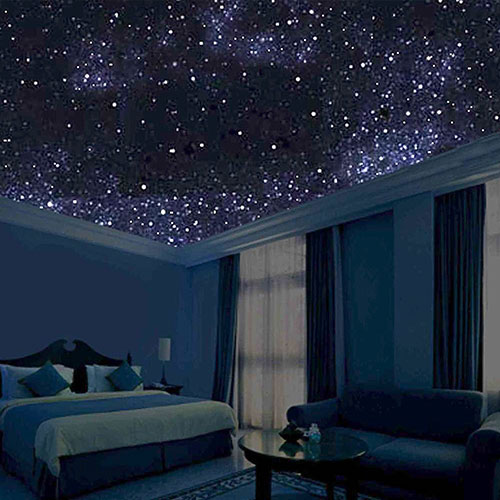 Source: Wikimedia Commons
As with the ocean, the night sky isn't a two-dimensional black or navy blue. You'll need to invest time in layering different blacks and blues to really nail that galactic wonder before dotting in stars with a yellow-tinted white like Sun Glint. Ultimately, listening to design conventions about bareness and simplicity is completely optional. Feel free to let your imagination run wild, and your ceiling will reward you.
NEXT ARTICLE
5 Wall Paint Ideas For the Ultimate Designer Home