Home is where the heart is, and what better abode to return to after a hard day's work than one that appears welcoming and comforting for the weary soul?
Other than decor, the most important characteristic of your house is your colour scheme. Whether it's DIY or inspired by your favourite movie, it can make or break your home experience. After all, nobody wants to come home to clashing hues of shocking pink and electric blue… unless that's right up your alley. (In that case, we're not judging.)
But for the rest of us, here are 5 reliable pairings that you can always count on to make you feel right at home.
1. Apple white with brown/wood accents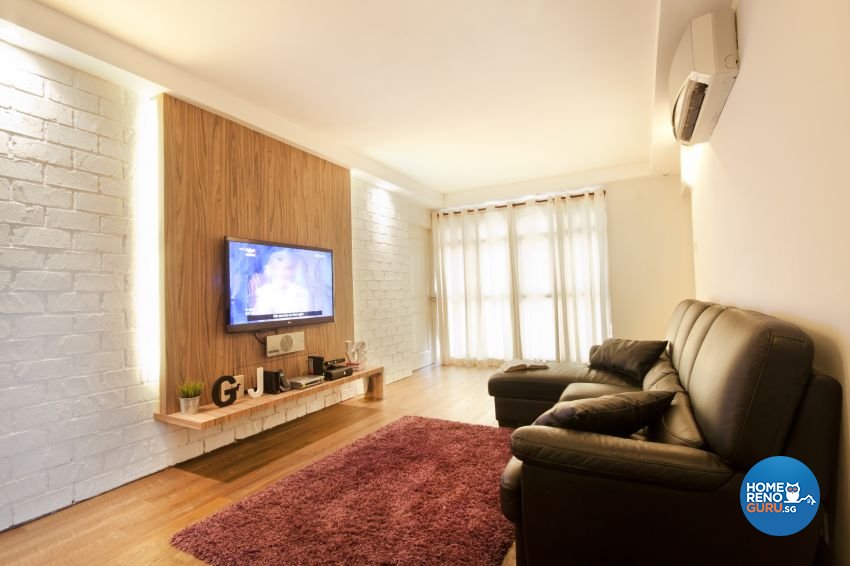 Don't write off this classic pairing as "boring" just yet. Apple white creates a clean, crisp feel, while staying one shade above plain ol' A4 paper-esque white.
Not only does it match perfectly with the ever popular Scandinavian and minimalist decor styles, it also gives a homely, rustic edge when paired with another classic – brown or wood accents. Step out of the dreary greys of the office, and into the non-complicated hues of white and brown.
2. Light/duck egg blue and taupe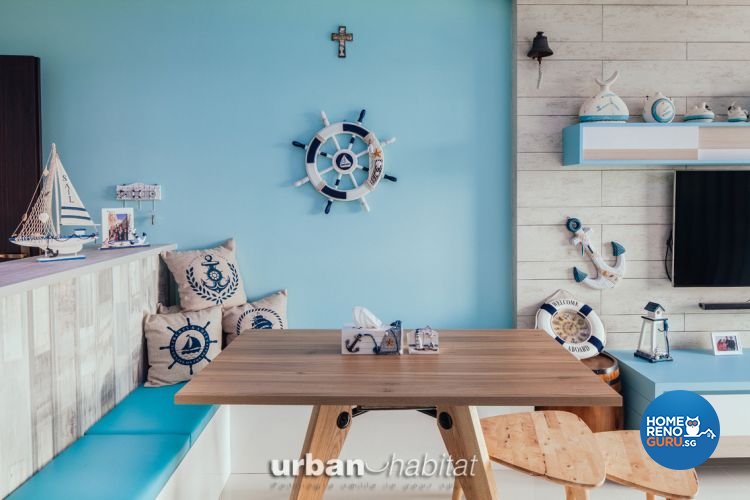 Upper Serangoon View by Urban Habitat
Fancy something a little more plush? Taupe creates the illusion of lush, heavy fabrics and accents, while lighter shades of blue add a touch of femininity. All in all, this creates a luscious, yet relaxing effect on the eyes.
You can also trade taupe for wood accents for that cabin by the beach look. Bye bye urban jungle, hello nautical paradise!
3. Mustard yellow and teal
Costa Rhu by Image Creative Design
One way to make your house stand out is to match popping colours with neutral tones. Mustard yellow and teal is one of those pairings that sound mismatched on paper, yet oddly work.
Whether you're going with mustard yellow walls with teal accents or teal walls with mustard yellow accents, the quirkiness of this colour scheme should make any home look interesting.
4. Emerald green with brass/ wood accents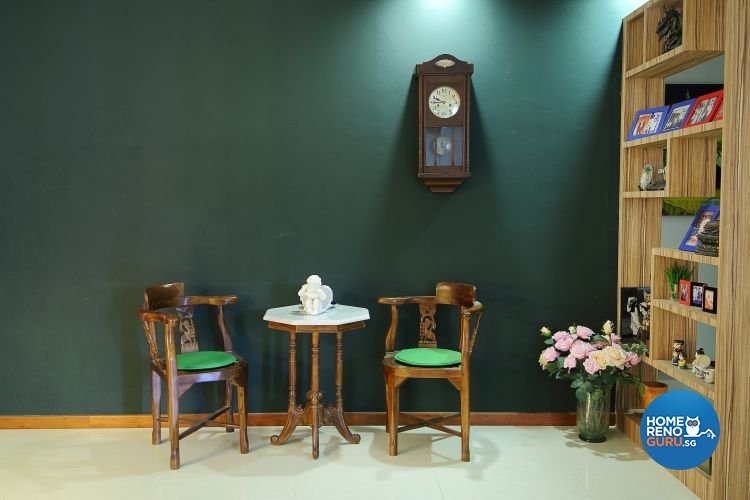 A cozy colour scheme doesn't mean you can't be sophisticated. Emerald green, when paired with brass or wood, evokes subtle homeliness with a refined finish. And with brass and wood all the rage in home decor boards on Pinterest, who can say no to this?
Home owners with a green thumb can also add potted plants for that classy tropical resort atmosphere.
5. Pastel, pastel, pastel
Ah, the default colour scheme for all things feminine. Perfect for baby rooms, pastel evokes a sense of comfort and security visually. Popular choices include pink, purple, and baby blue. Feel free to throw in a hint of grey for some subtle contrast!