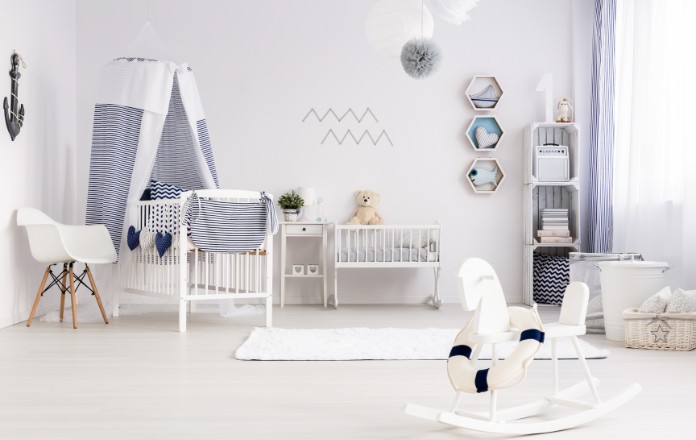 Having a well-designed nursery can help your little one feel safe and comfortable while growing up. Such a space can also be optimised to facilitate the emotional and cognitive development of your child.
As you and your baby will be spending a lot of time together in the nursery, it's important to ensure the room is designed to fulfil both your needs.
Read on to be inspired by some of the most popular room ideas for your baby boy!
Baby Boy Room Ideas Based on Paint Colours
According to child psychology, being exposed to and understanding colours is an essential part of a child's development. For example, certain tones are known to have positive effects on a baby's emotional well-being, behaviour and productivity levels.
Don't worry if you're not familiar with basic colour theory. To help you out, we've listed down some of the best colours for your son's nursery!
Tip!
Aside from choosing the right colour scheme for your baby boy's room, you'll also need to ensure that you have the proper interior paints and painting tools to get the job done well.
With the right products and equipment, you won't have to worry about common issues such as chalking, peeling and surface damage.
Baby Blue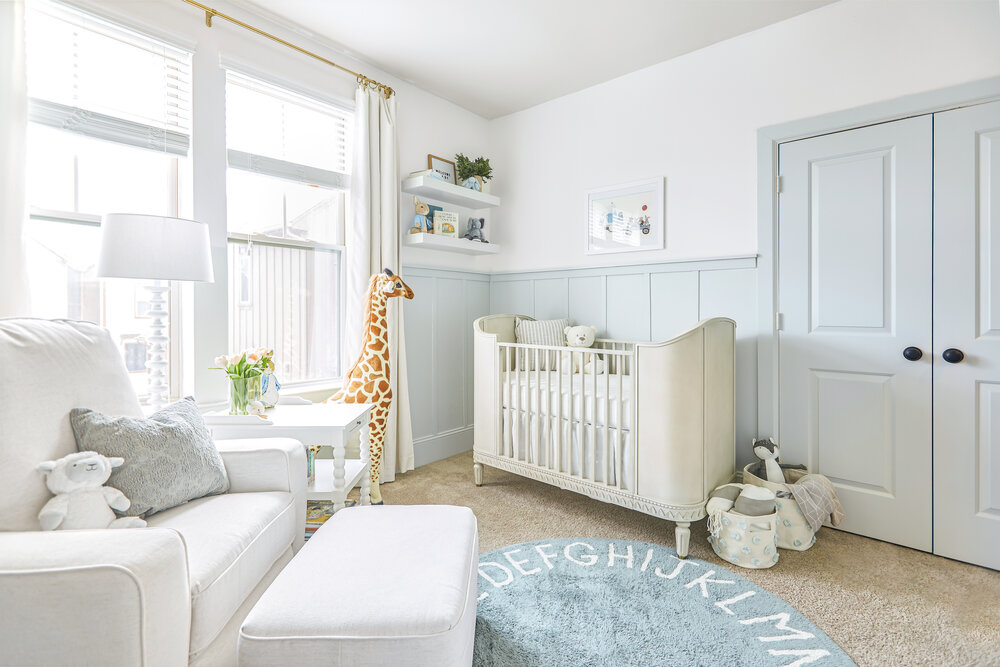 Credit: 1821 Nursey – Lauren Louise Design
Soft and gentle shades of blue, such as baby blue, can have a calming and soothing effect on babies. These tones are also said to enhance creativity and increase productivity levels. 
On the other hand, darker shades of blue should be used sparingly as using them in excess may invoke feelings of sadness.
Orange
Credit: Neutral Boho Baby Room Tour
If you're looking to create a warm and welcoming vibe for your baby boy's nursery, then orange may be the ideal colour. In fact, orange is a bold and fun colour that's commonly used in educational institutions – it's said to help with memory and critical thinking.
Green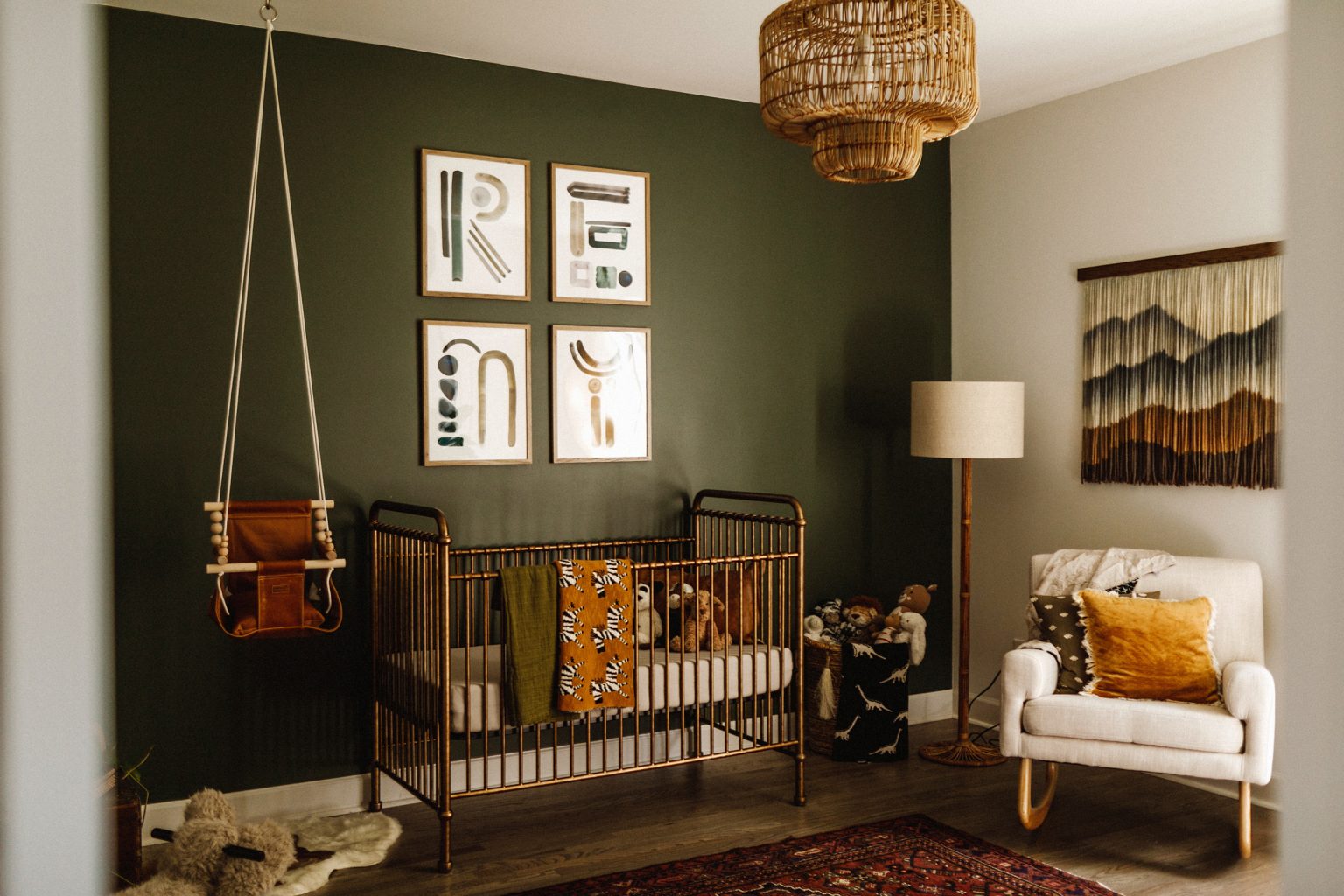 Credit: Remy's Nursery
Much like orange, green is another colour that's often associated with learning. It's one of the best colours to use in a learning environment as it promotes concentration and calmness of the mind. It's also refreshing, nurturing and easy on the eye.
Yellow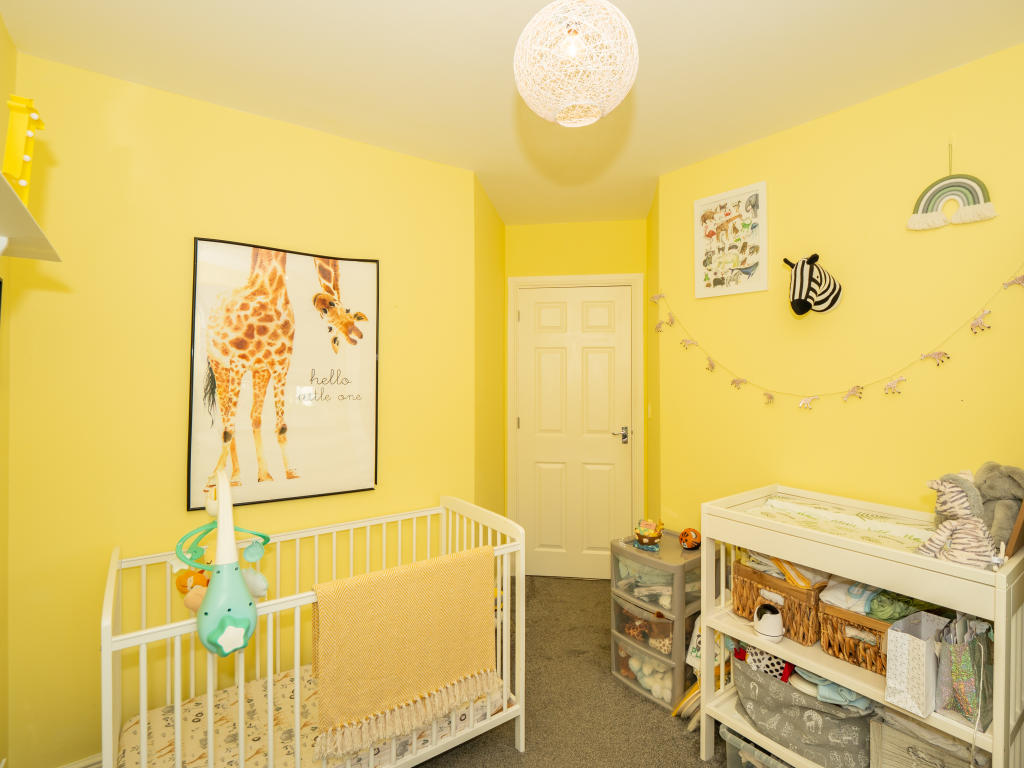 Credit: Rightmove
Yellow is a versatile colour that's suitable for any nursery, study room or play area. It helps to stimulate mental activity, and is often associated with happiness and high energy levels. 
Gentler shades of yellow are recommended, as the overuse of bright yellow may agitate your baby boy.
Purple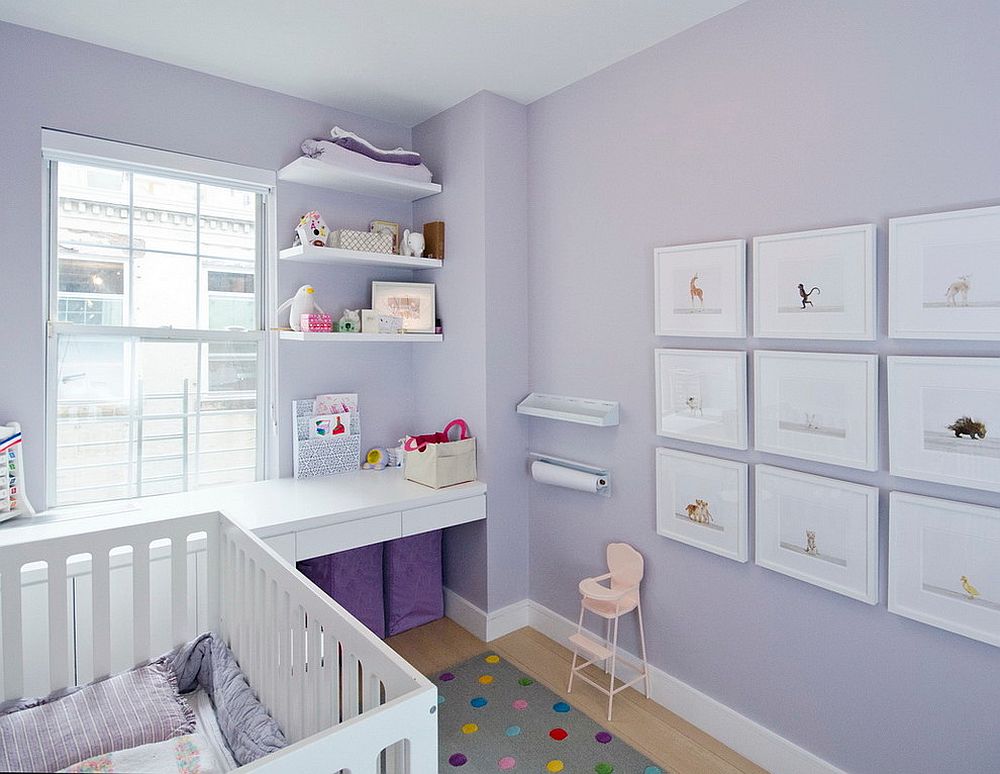 Credit: Decoist
Purple has similar characteristics to blue; they're both cool colours that have a soothing effect on babies. This colour creates a sense of peace, and a toned-down shade of violet can also evoke feelings of tranquillity.
Tip!
If you're not confident about painting the room on your own, you can always seek the help of a professional painting service provider to get the job done for you!
Themed Baby Boy Room Ideas
For the more adventurous souls, coming up with a themed nursery can make playtime even more exciting and fun for your little one.
Nature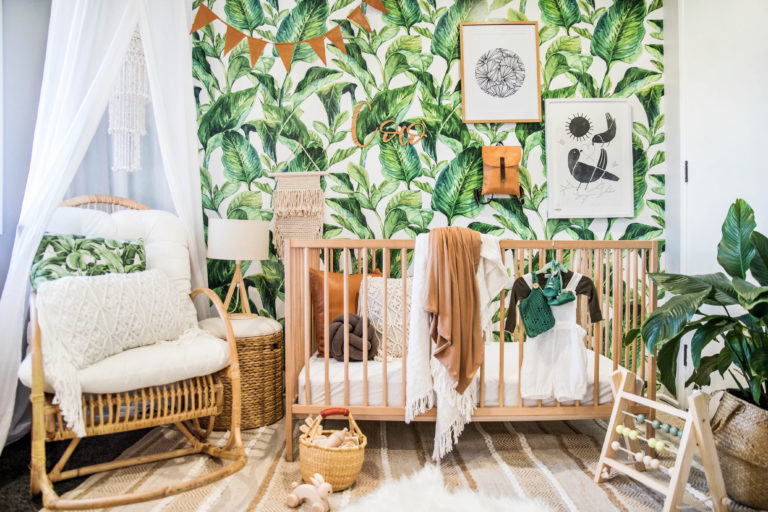 Credit: Coco's Tropical Nursery
Placing potted plants in the nursery is an easy and safe way of bringing nature closer to home. Nature-inspired paintings and furnishings can also be hung around the nursery to add more depth to the surroundings. 
Having a centrepiece for your nursery, such as a wood feature wall, can also help to complete the naturalistic look and feel of your baby's room.
Wood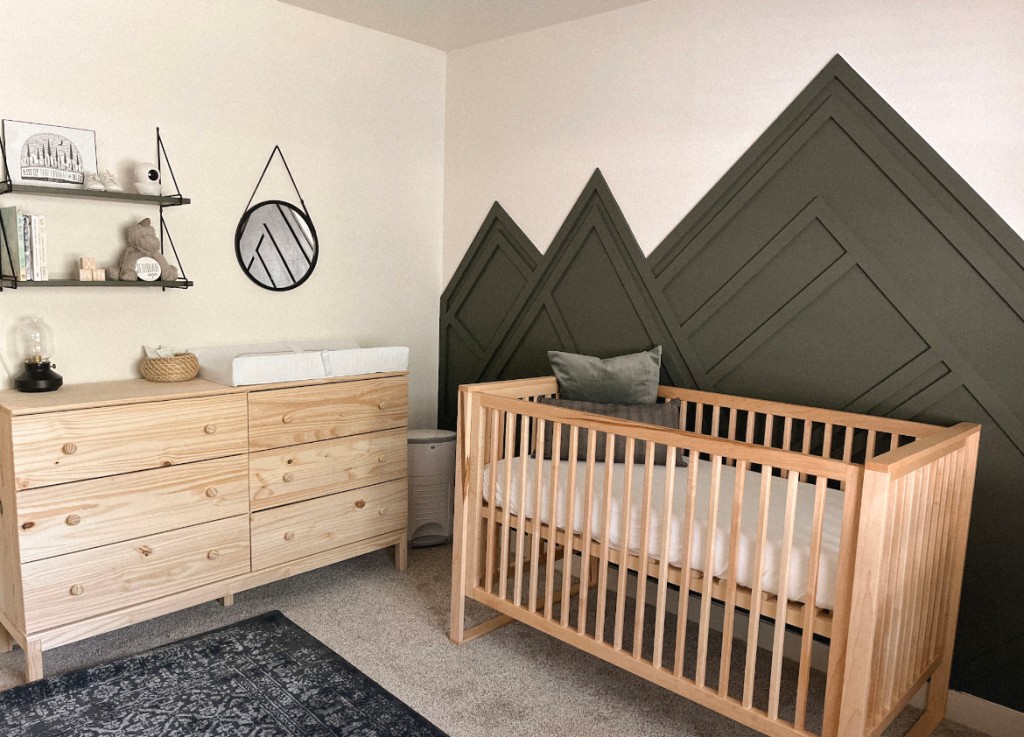 Credit: Jedidiah's Mountain Themed Nursery Reveal
Using natural wood in a nursery can create a homely and tranquil environment. Furnishings made from wood also tend to be stylish and versatile so they can be easily incorporated into any part of the room. 
Furthermore, wooden toys are great for kids as they're made from natural materials, and are free of harmful chemicals commonly found in plastics.
Zoo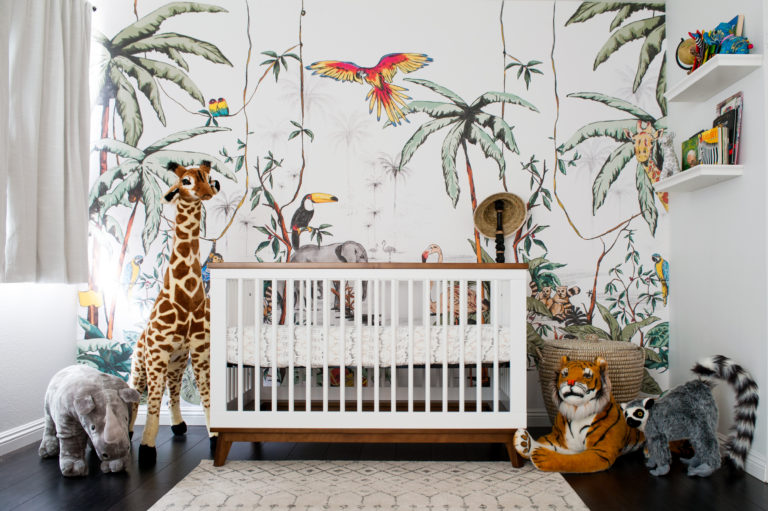 Credit: A Colorful Jungle Safari Nursery
Most babies have an innate love for animals. In fact, being around animals is said to be beneficial for kids as they're more likely to grow up as kind and empathetic individuals. 
If you're concerned about introducing your son to live pets, decorating his nursery with zoo animals may be the next best thing you can do!
Ocean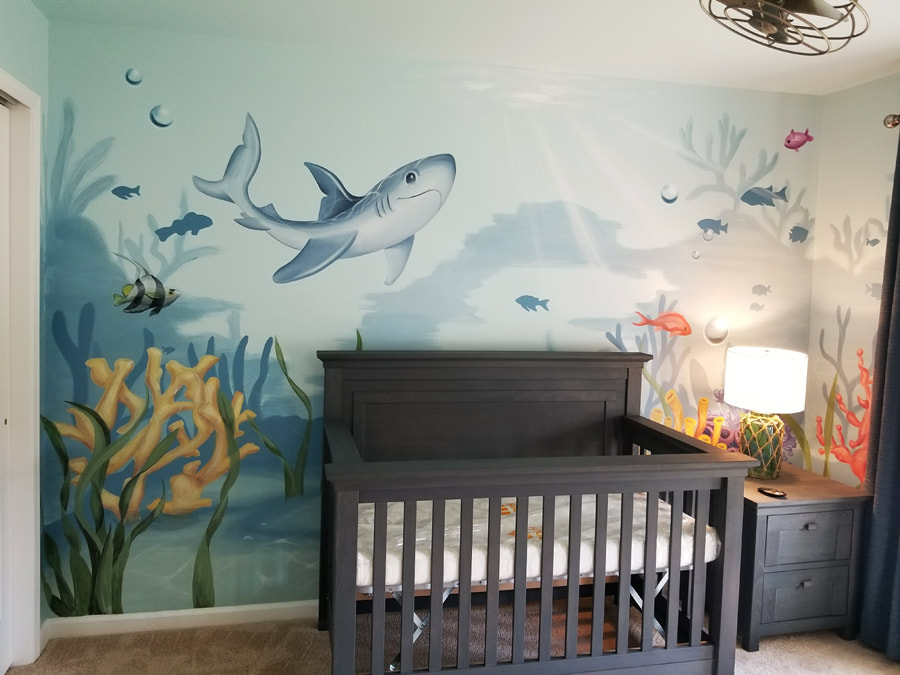 Credit: Nursery & Kid's Murals – Art by Alysia
An ocean-themed room for your baby boy is another alternative you can consider. Being surrounded by a sea of blue walls may help to promote peace and calmness. In addition, your child can feast his eyes on all sorts of colourful sea creatures that'll be on the walls.
Teddy Bear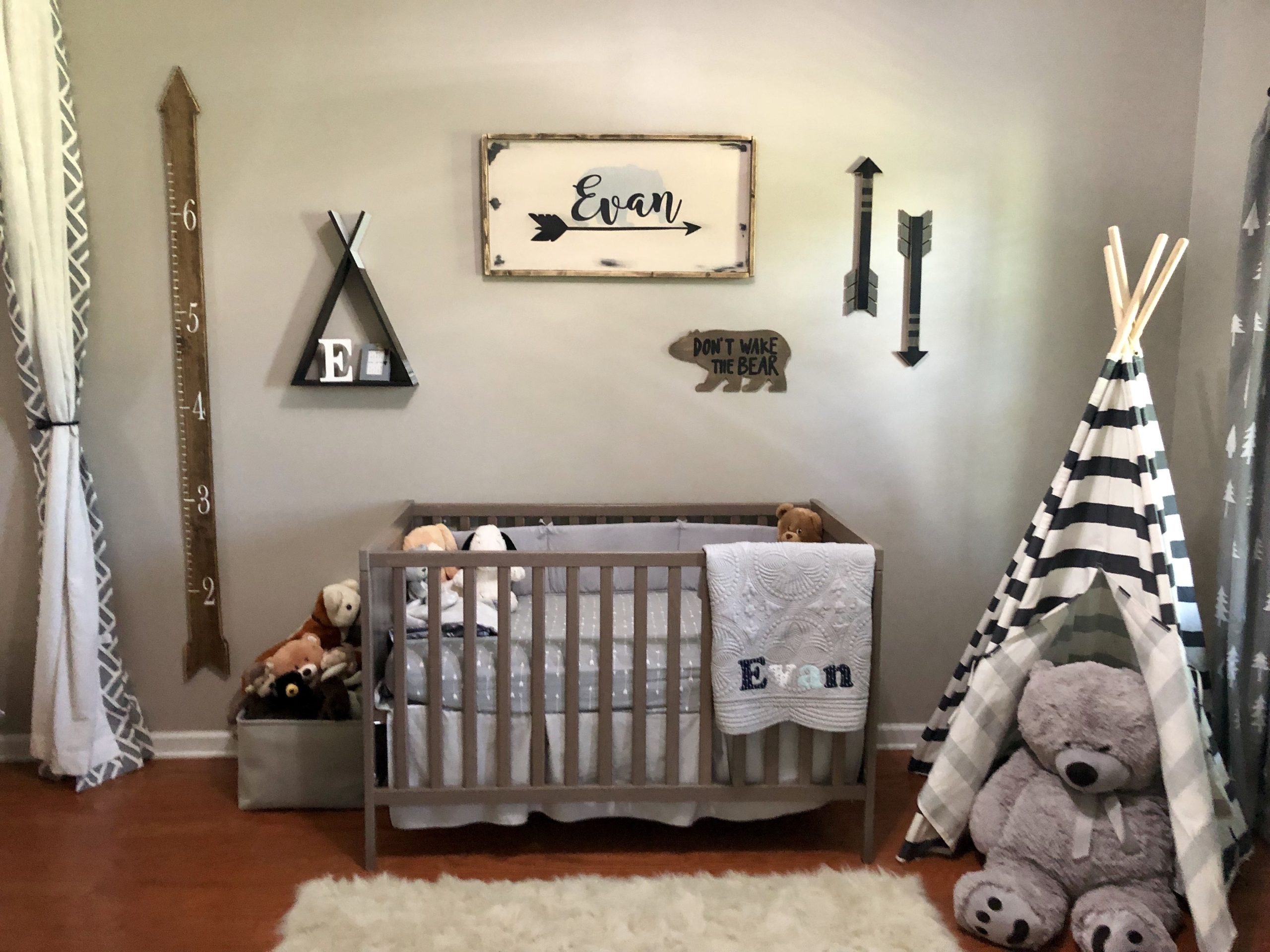 Credit: Arrow and Bear theme nursery
Teddy bears serve as transitional objects that are able to offer peace, security and comfort to infants. When a child forms a personal bond with their teddy bear, they're more likely to maintain their feel-good emotions even when their caregivers aren't around.
What are transitional objects?
Transitional objects are objects of attachment that offer a child a sense of security and psychological comfort. Usually soft and huggable, these items serve as a substitute for caregivers who are temporarily absent.
Such possessions help a child emotionally transition from dependence to independence.
Alphabets and Numbers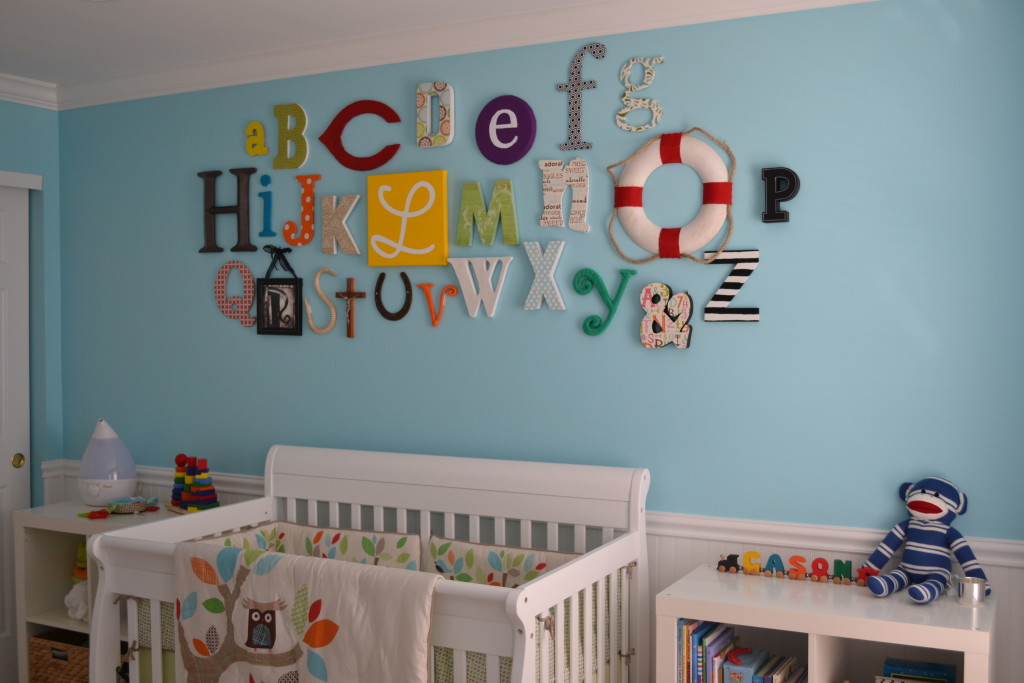 Credit: Colorful, Gender Neutral Nursery
Exposing your child to alphabets and numbers from a young age can help to develop their curiosity and cognitive skills. In the long run, this encourages them to think, explore and solve problems on their own.
One way you can design such a nursery is to use stickers to create a colourful alphabet wall. You can also make space for a hopscotch mat with numbers, as it might come in handy when teaching your baby boy the basics of mathematics.
Music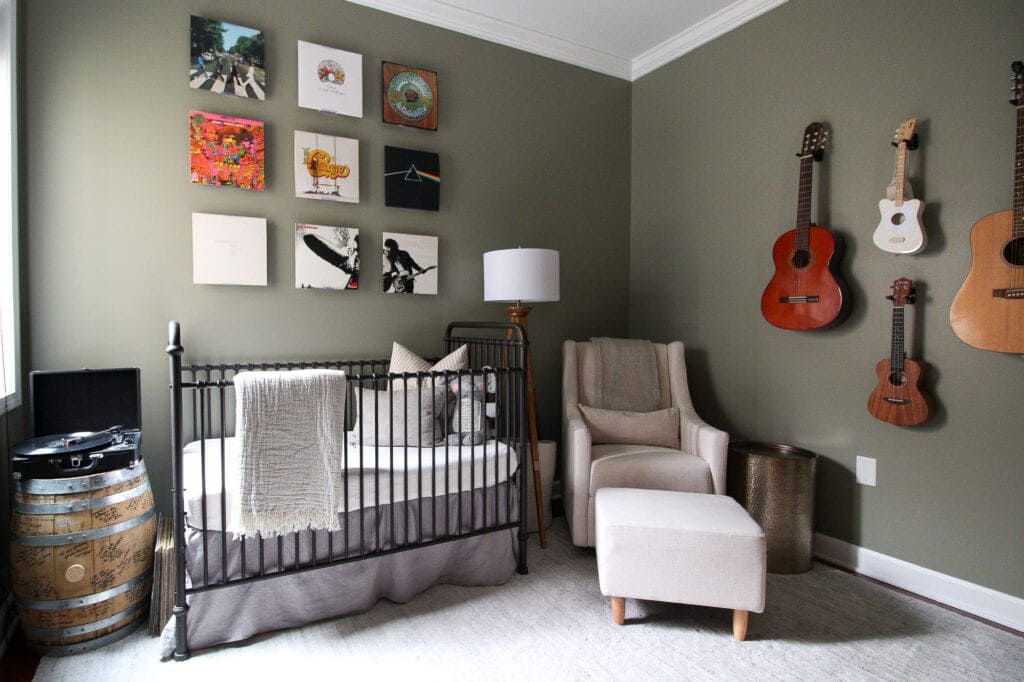 Credit: Brittany's Family-Friendly Home
Music and a child's brain development are closely linked. Introducing music to your child may encourage social-emotional growth, speed up his brain development and enhance his learning abilities.
Placing instruments such as maracas, egg shakers and castanets around the room is a great way to furnish your music-themed nursery. Doing so gives your baby boy more opportunities to play around with various musical toys!
Baby Boy Room Ideas Based on Interior Design Styles
Apart from colours and themes, certain interior design styles can also be great ideas for your baby boy's room. 
Classic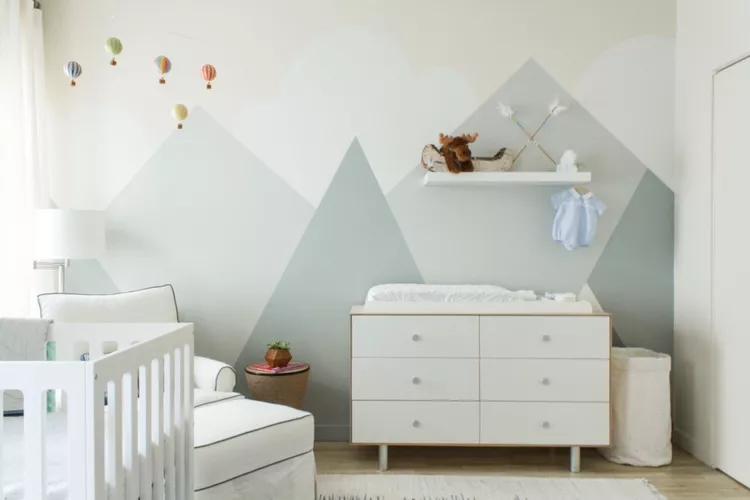 Credit: 20 Modern Nursery Ideas
A classic interior design style is usually clean and simple. It makes use of basic decorative architectural elements such as geometric paint designs, curtains and cushions to achieve a coherent look. Typically, the colours used will be based on gentler shades of white, grey and beige.
Minimalistic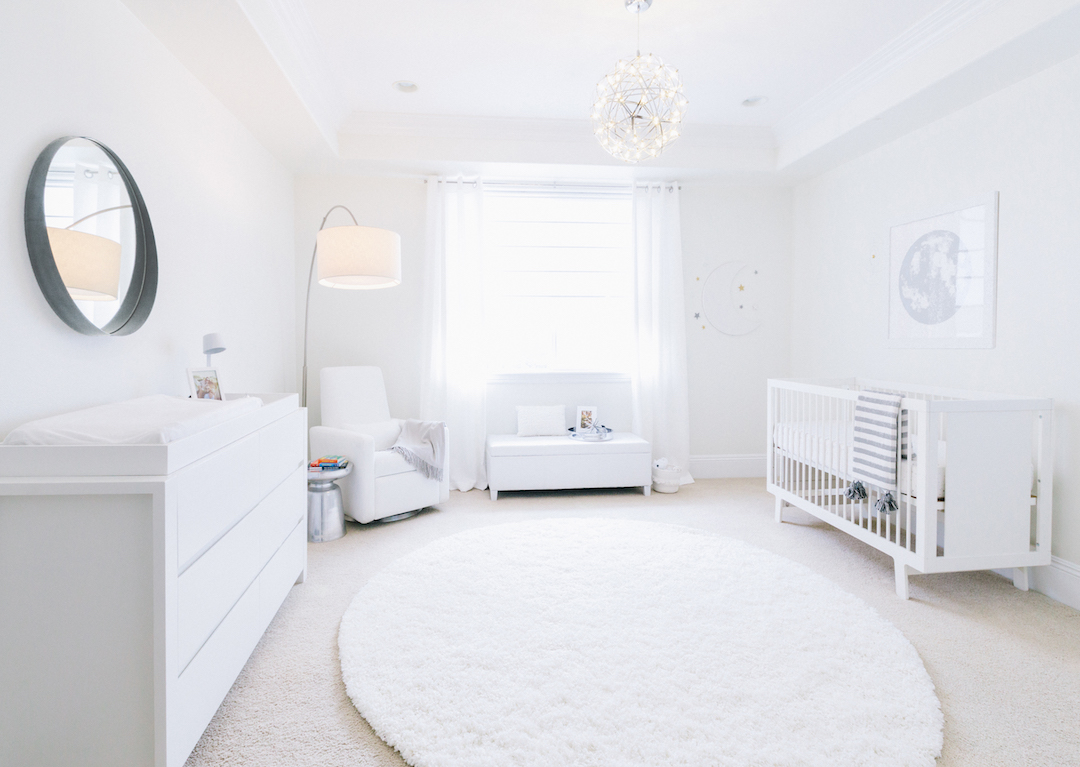 Credit: All White Celestial Nursery Design Reveal
Nursery rooms with a minimalistic style often boast a clean and uncluttered space. Characteristics of this design include having a monochromatic palette, simple patterns and large areas of open space for your child to play and roam freely.
Scandinavian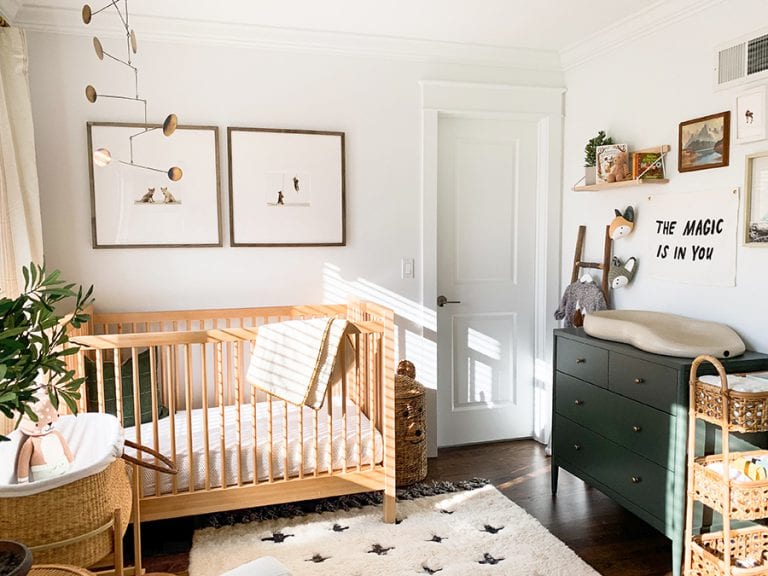 Credit: Crubspiration: A Woodland Nursery
Scandinavian interior design can work very well for a baby boy's nursery room. A big part of this design style relies on the usage of natural lighting to make the space seem warm and comforting. Low-maintenance plants will also help to spruce up the room, and provide the nursery with a more natural look.
Industrial
Credit: Modern industrial nursery with brick wall backdrop
Industrial is a popular and flexible interior design style that makes use of materials such as bricks and concrete to give character to a space. Nurseries going for the industrial look should typically have open floor plans and high ceilings.
Rustic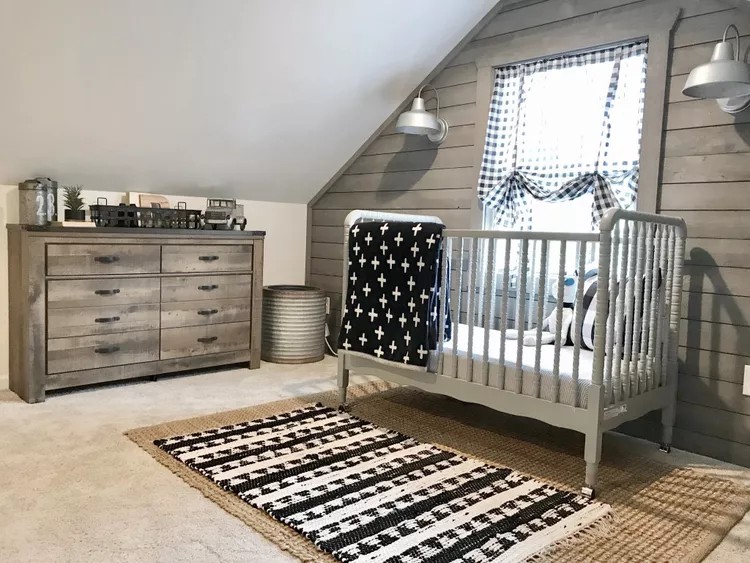 Credit: 21 Rustic Woodland-Themed Nurseries
Incorporating natural elements, a rustic design is often associated with neutral colour palettes and earthly tones. It places emphasis on unrefined beauty and is perfect for families that are more laid back.
Additional Tips for Your Baby Boy's Nursery Room
Here are some additional tips to ensure that your baby boy's nursery room is a safe and conducive space for growth and development.
1. Install a Baby Monitor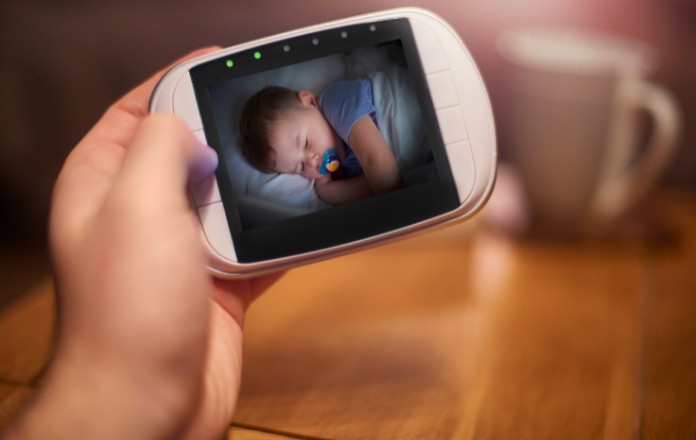 A baby monitor is an important device that'll allow you to check on your child from afar. Whether you're outside or in other areas of the house, you can remotely monitor him to ensure he's safe and sound.
2. Place Your Baby's Cot in a Safe Place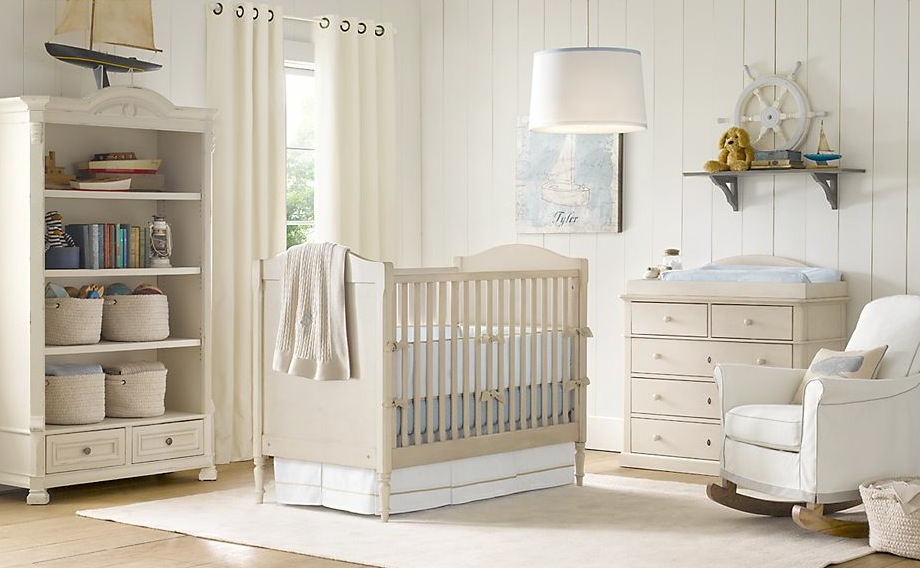 Credit: Baby Room Design Ideas
Your baby's cot should be positioned in a safe place in the nursery. It's recommended to keep it at least 30cm away from any walls, and from potentially dangerous objects such as heaters and electrical power points.
You should also avoid placing the cot near any windows, as this might expose your son to harsh sunlight while he's sleeping during the day. During the winter season, the breeze coming in from an open window may also cause your baby to catch a cold.
3. Ensure Your Baby Boy's Room is a Safe Place to Play in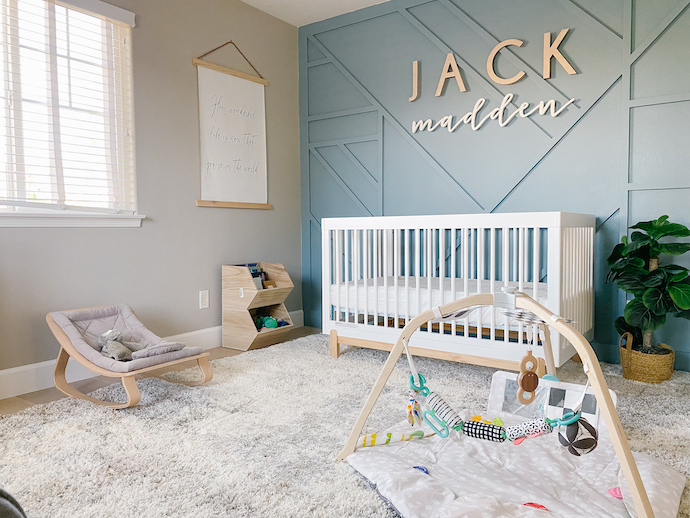 Credit: Jack Madden's Modern Nursery Tour
It's always a joy to watch your baby boy roam freely and play his heart out. To keep him safe while he plays, ensure that his play area in the nursery is cushioned with soft materials such as pillows and plushies. 
You can also consider getting corner guards to protect your child from the sharp edges of furniture such as tables and cupboards.
4. Make Space for a Rocking Chair
The motion from a rocking chair is especially helpful for lulling babies to sleep. It can also be a great spot for mums to sit comfortably while bottle feeding or breastfeeding their infants.
5. Place a Humidifier in the Nursery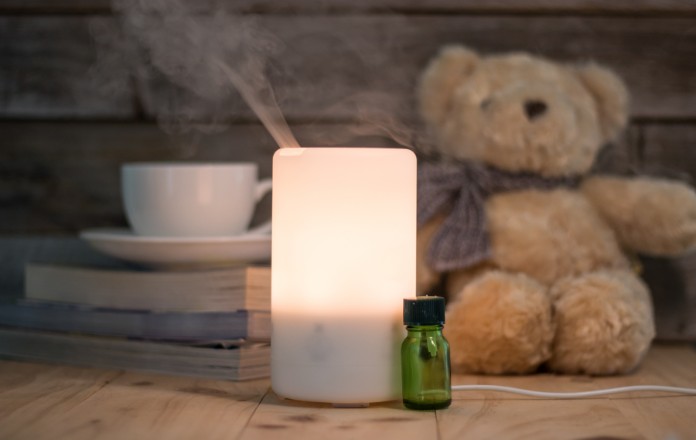 Having a humidifier in your baby boy's nursery can be hugely beneficial for your child. By adding moisture to the air in the room, the symptoms of certain health conditions such as sore throat, eczema and nasal congestion can be alleviated.
A Safe And Lively Space For Your Baby Boy To Grow
As parents, nothing is more important than seeing your child grow up happily and healthily. By ensuring that your baby boy's room is beautifully designed and safe to play in, you can create a safe and exciting childhood for your little one!
NEXT ARTICLE
How To Clean Walls and Remove Stains and Mould: Before and After Painting