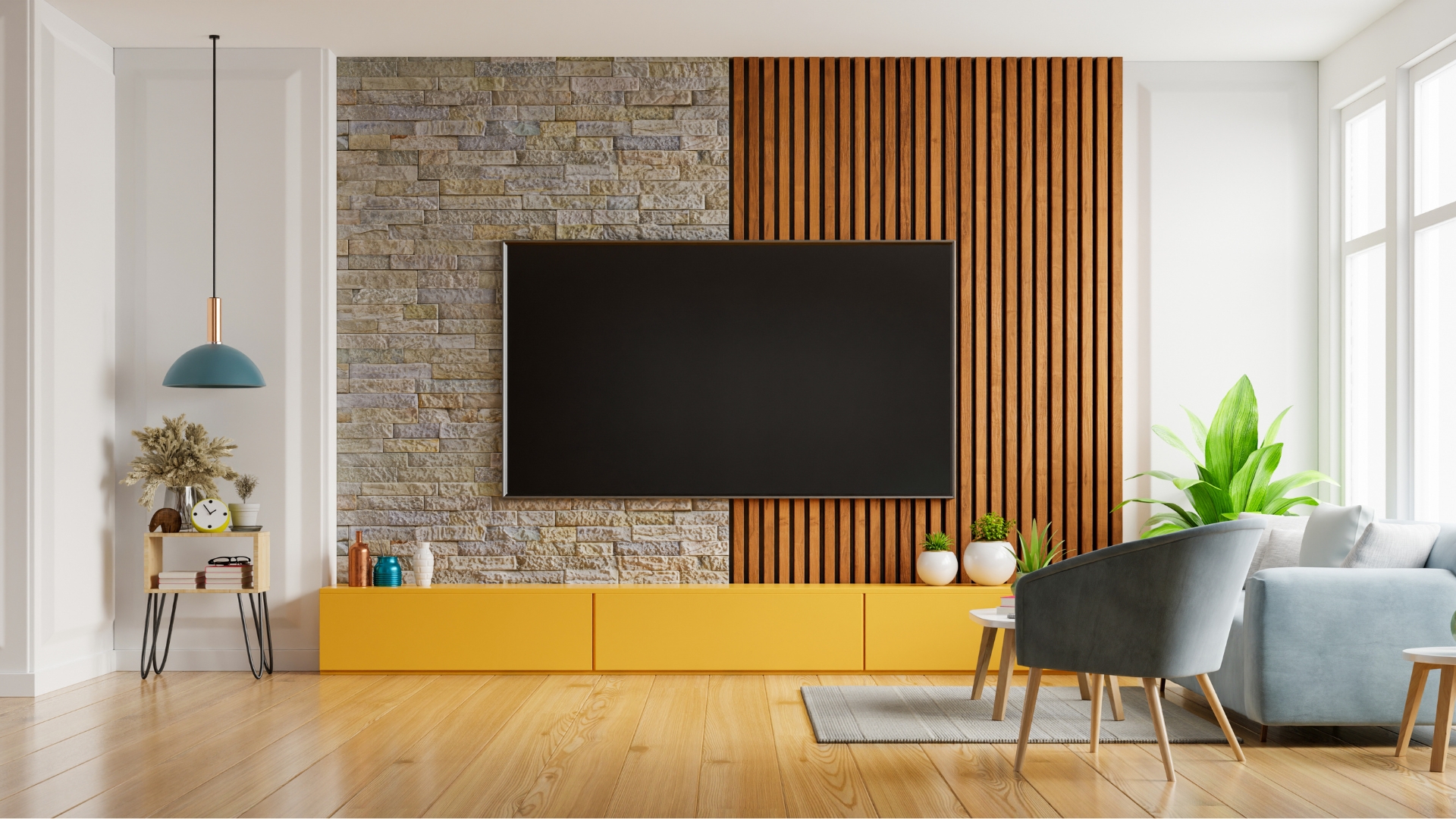 A TV feature wall isn't just a simple backdrop for your television. Think of it as the stage that sets the scene for all your binge-watching sessions, movie nights and sports viewing parties. With the right design, you can enhance your viewing experience as well as elevate the aesthetics of your living room.
Thinking about how to transform your TV feature wall from 'meh' to 'magnificent'? We've curated some of the best ideas from local interior designers to take your living room aesthetics up several notches.
Tip!
Keep in mind that no matter what kind of feature wall design you want to create, it's best to apply a coat of sealer to the wall. It helps to protect and recondition the wall which will be receiving the installation.
1. Black and White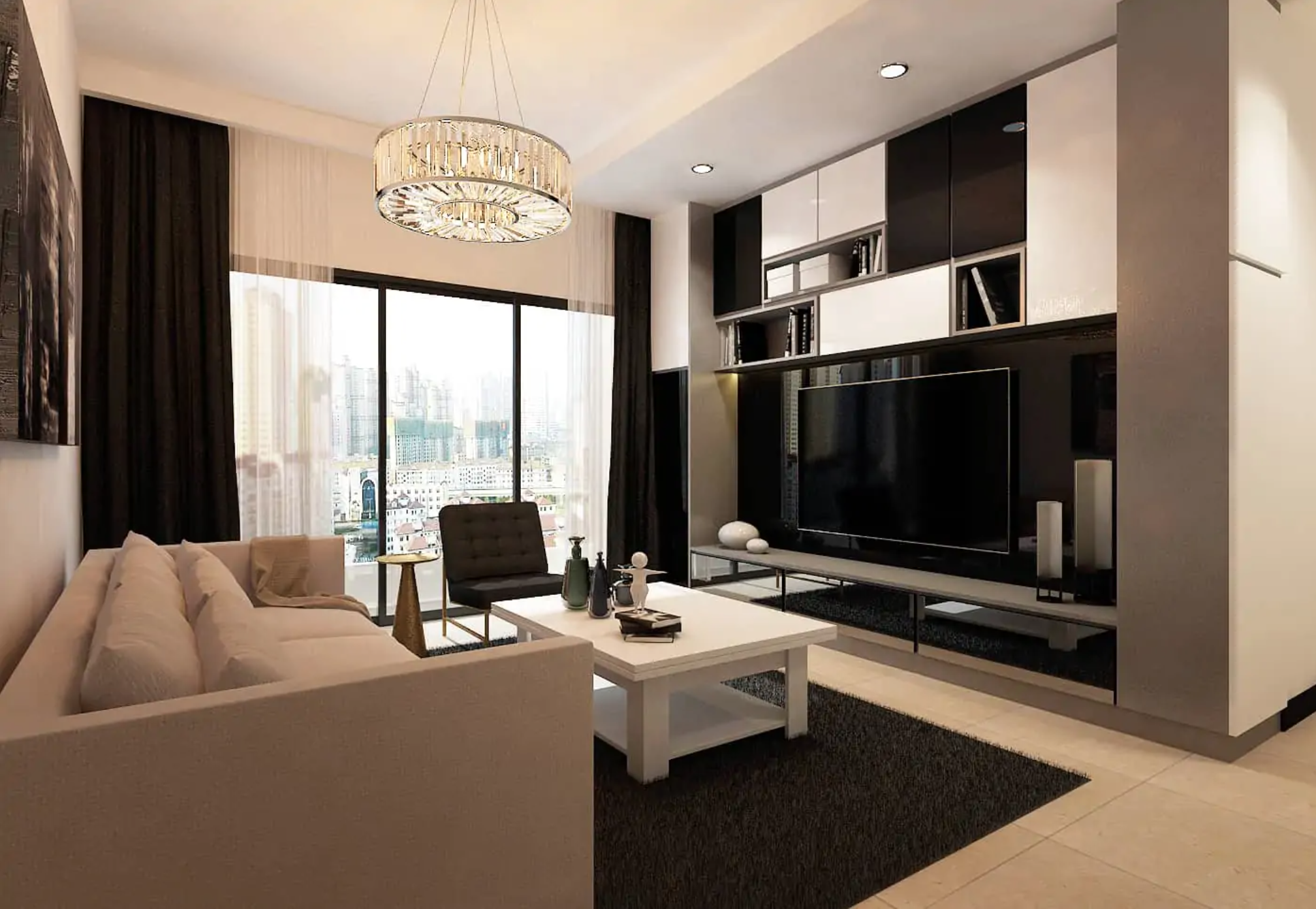 Design by: Eight Design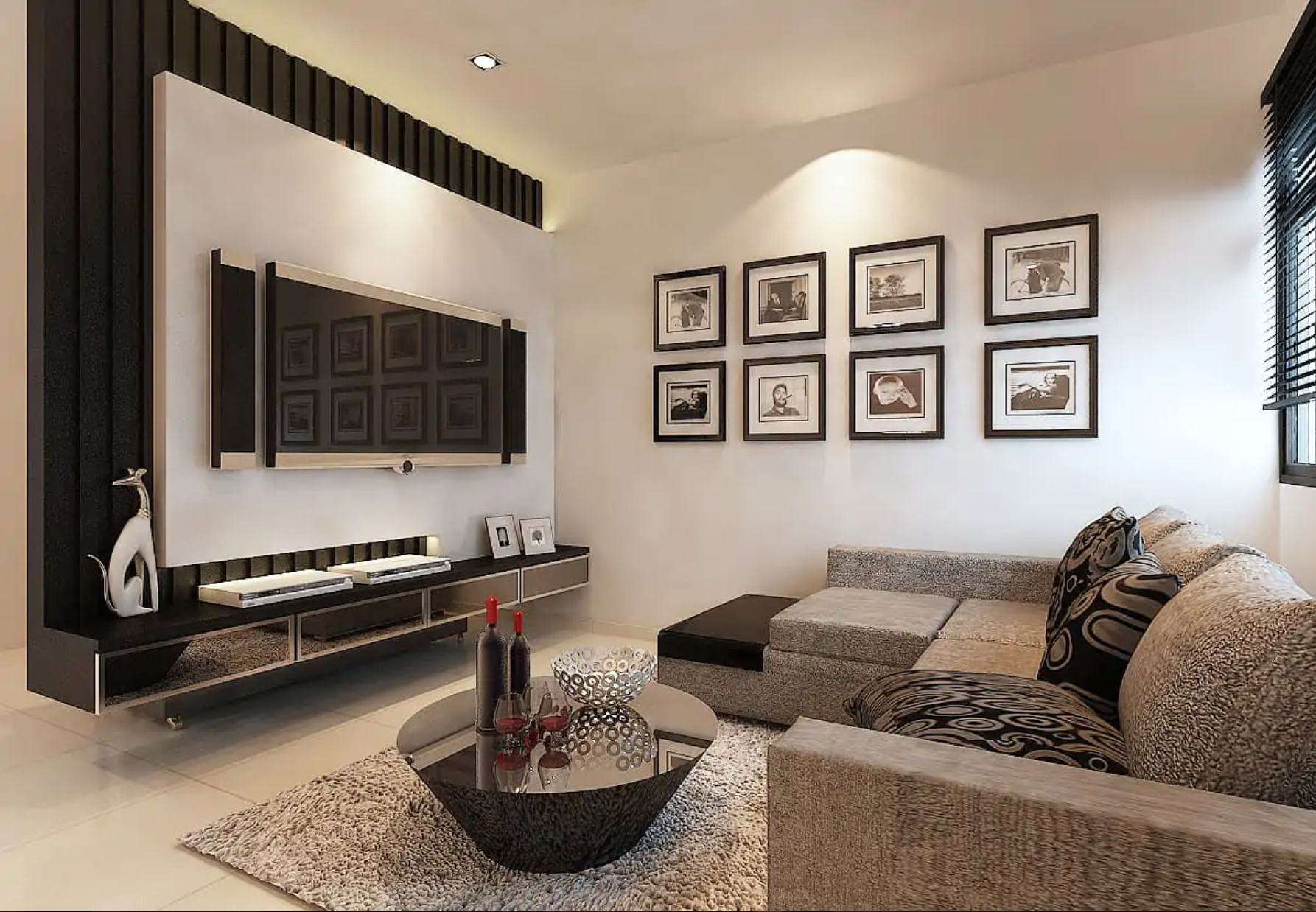 Design by: Eight Design
A black and white TV feature wall exudes an undeniable sophistication, effortlessly marrying timeless grace with contemporary design elements. It's a classic dance of contrasts, creating an enduring aesthetic that suits a variety of interior styles.
Surround your TV with black and white photographs or artwork to transform your entertainment space into a refined gallery. You can also accent it with a chandelier to add a hint of grandeur.
2. Built-In Brilliance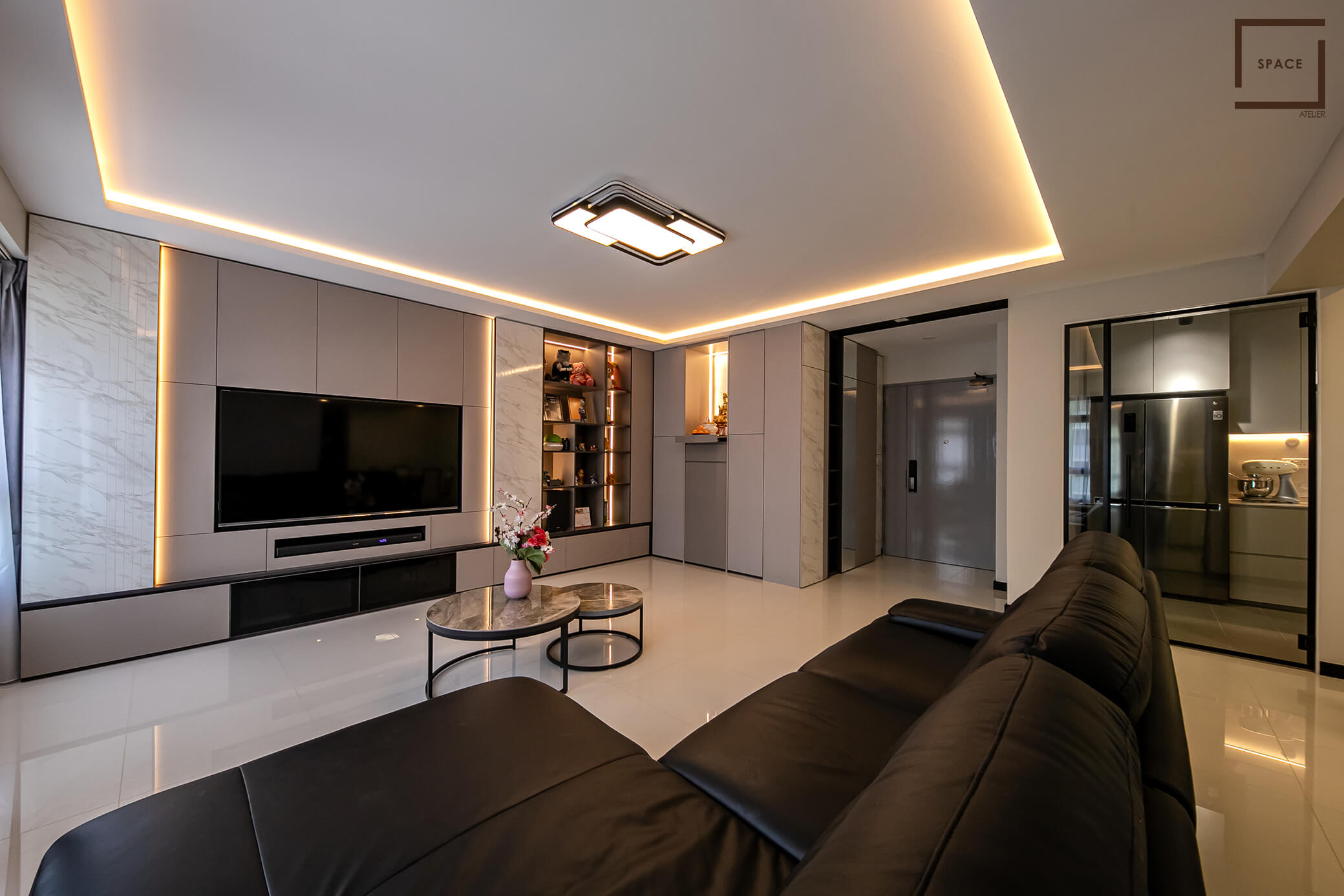 Design by: Space Atelier
Combining functionality with style, TV feature walls with concealed storage is a smart design choice for modern living rooms. Incorporate drawers underneath the TV space that can keep DVDs, video games and other items out of sight when not in use. You can also opt to build hidden storage compartments that blend seamlessly with other design elements.

3. Classic White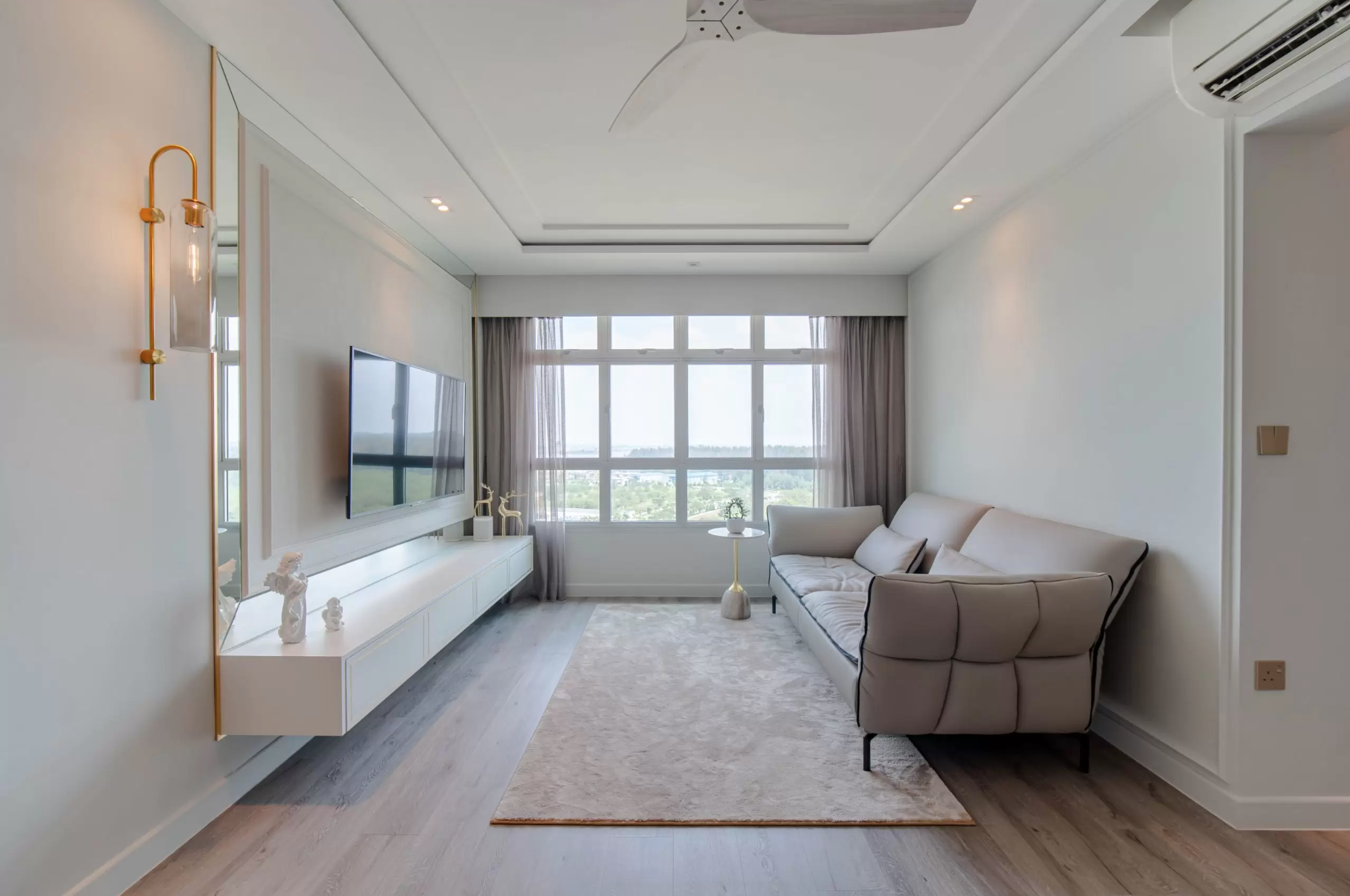 Design by: Reztnrelax
A classic white TV feature wall is the epitome of timeless elegance. It radiates a clean, bright, and inviting aura that can make your living room feel both spacious and cosy. Install elegant wall sconces or under-shelf lighting to bring soft, warm light into your space. The glow against the white wall will add a luxurious and cosy feel to your viewing area.
4. Dynamic Geometrics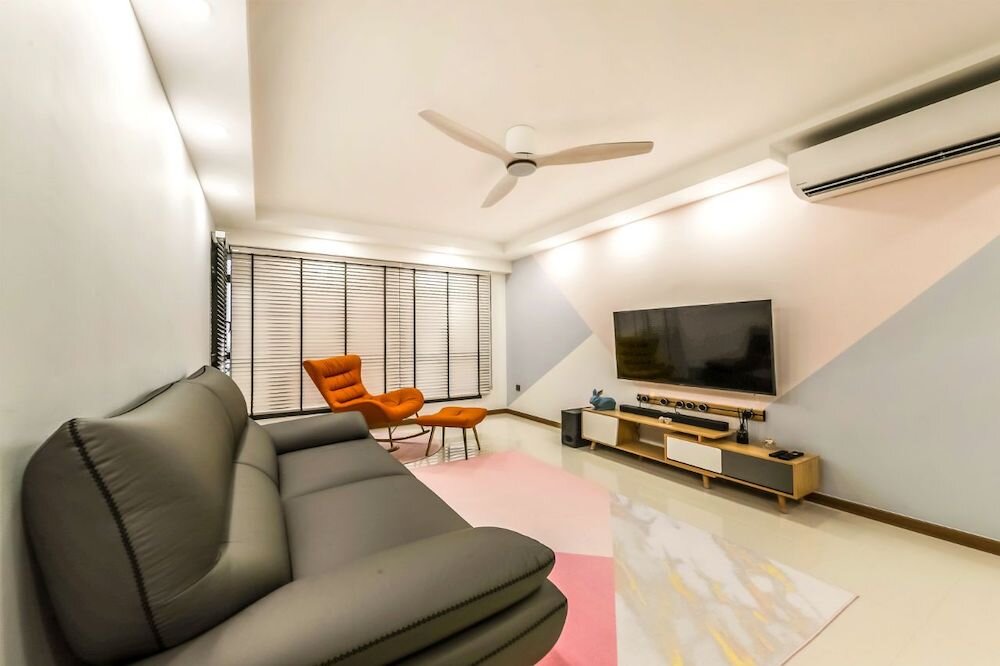 Design by: AC Vision Design
Geometric design uses shapes and lines to create a balanced and visually appealing wall that commands attention. It's a creative and contemporary design choice that can make your living room stand out. 
You can choose to engage the help of a professional painting service to bring your geometric wall paint design to life or do it yourself. With the right balance of shapes, colours and lighting, you can create a masterpiece that's truly unique and stylish.
5. Exposed Brick Wall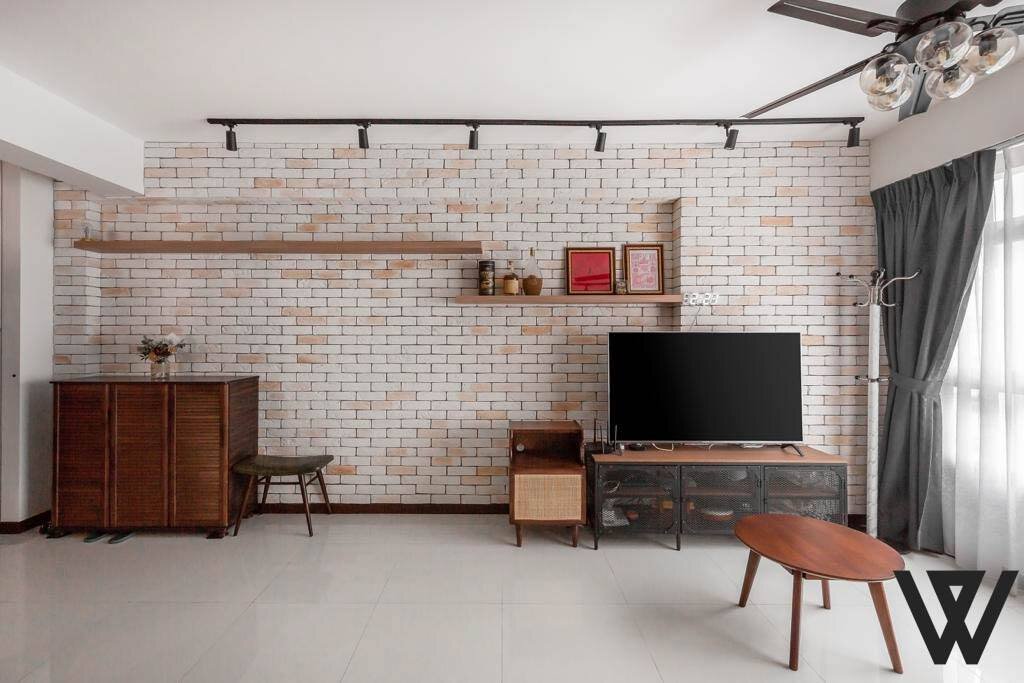 Design by: Swiss Interior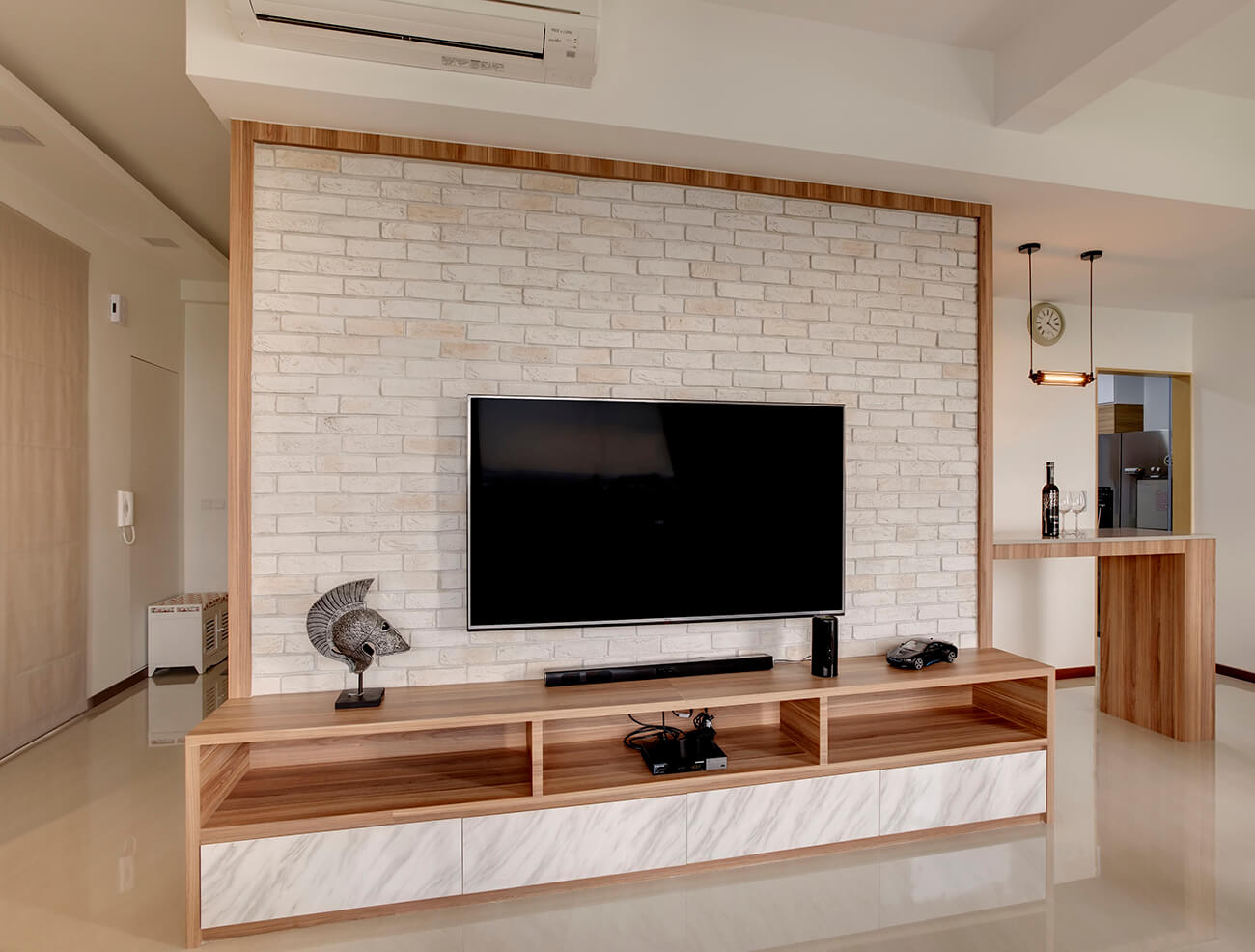 Design by: 3dinnovations
Offering texture, warmth, and a touch of industrial chic, a brick wall is a powerful way to make a design statement in your home. The traditional red brick look lends a cosy, rustic feel to your living space. White-washed brick walls, on the other hand, add a delicate charm and freshness. 
Mount your TV directly onto the wall, and let the bricks serve as a naturally textured, visually appealing backdrop.
6. Fluted Finesse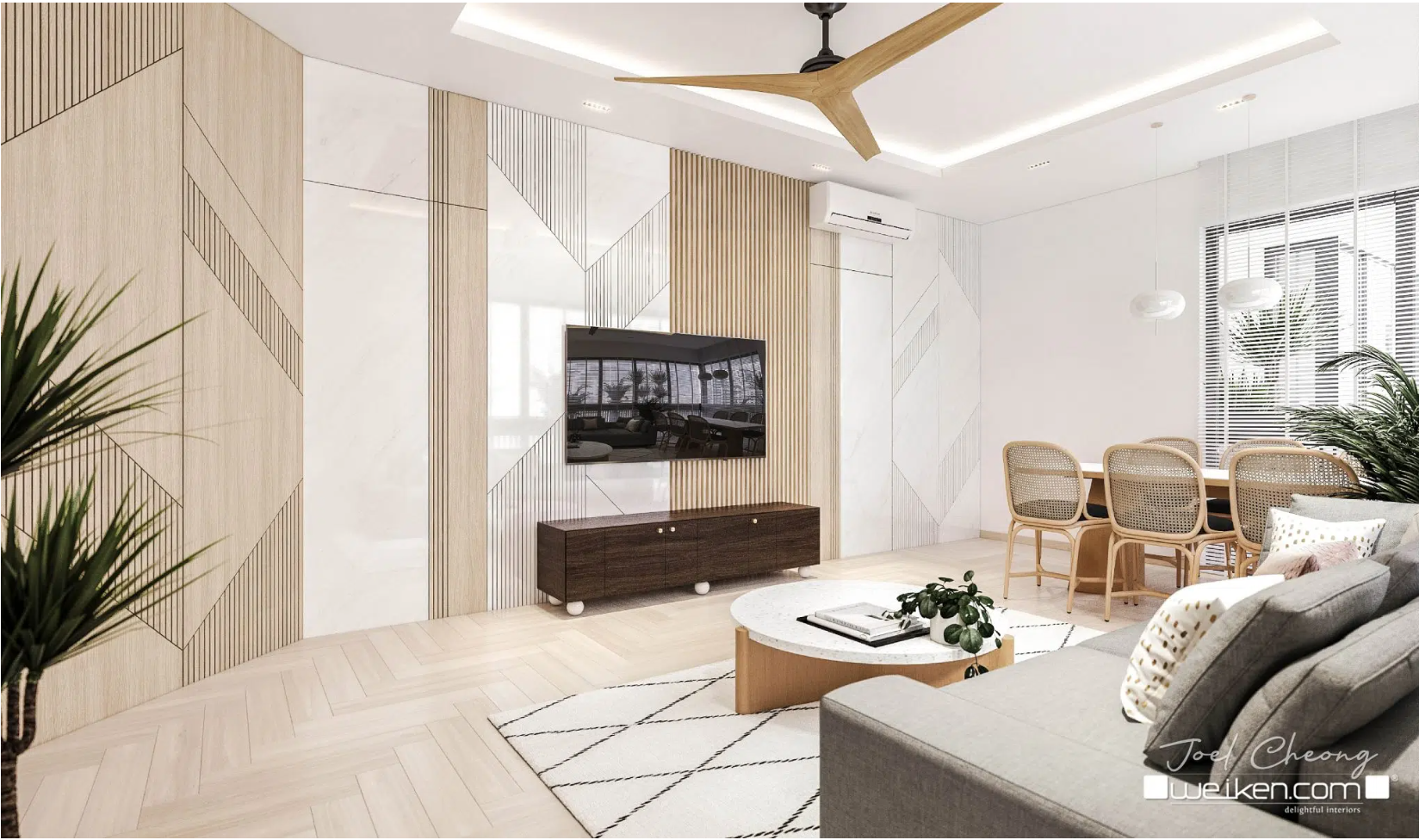 Design by: Weiken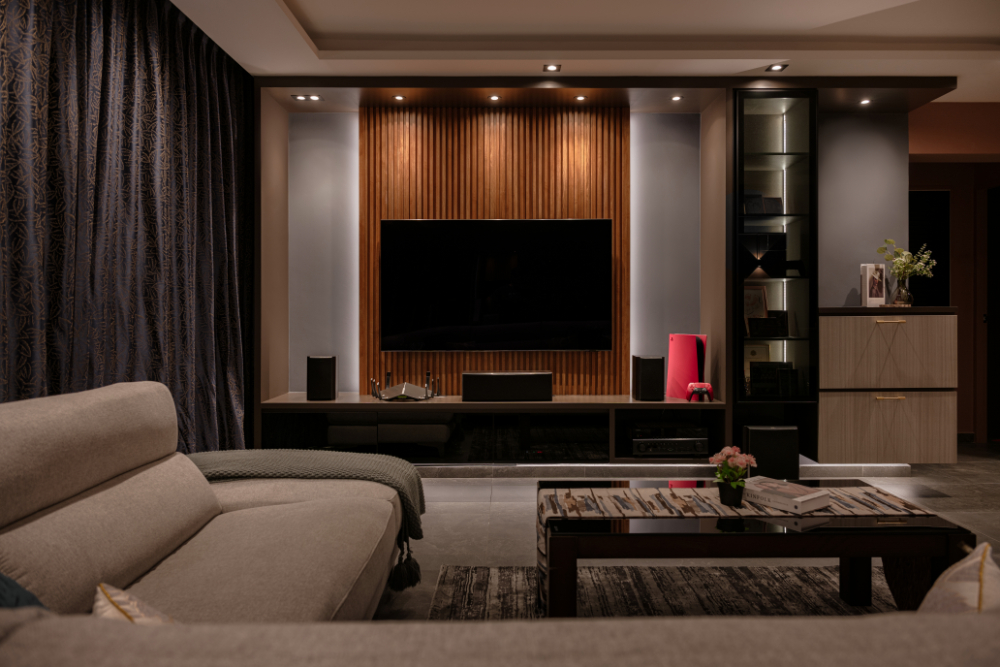 Design by: Carpenters
Fluted panels add a distinctive visual appeal. Its unique ability to add depth, texture and architectural charm to any space makes it one of the popular choices for TV feature walls.
Install a large fluted panel behind your TV that spans the width of the wall or combine it with other materials like wood or metal for a diverse look. Whether you want to create a modern, traditional or eclectic space, fluted walls offer a versatile design feature that can adapt to any style and taste.

7. Herringbone Pattern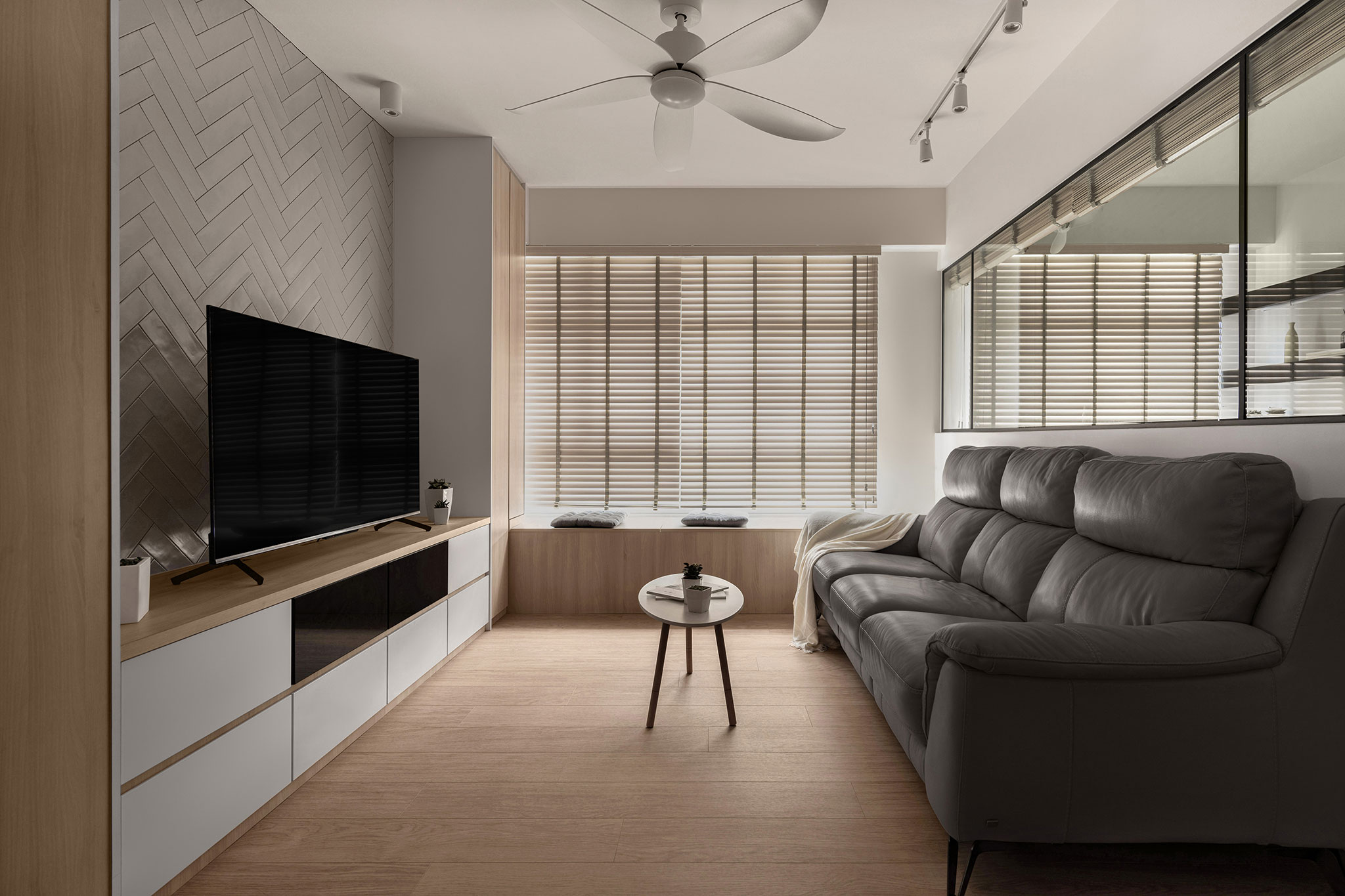 Design by: The Interior Lab
Herringbone, with its distinctive V-shaped weaving pattern, introduces visual intrigue and dynamic movement to your room. Opt for wooden planks in their natural finish to enhance the design. The wood's natural grain and colour variations add texture and depth, elevating the overall aesthetic.
8. Industrial Edge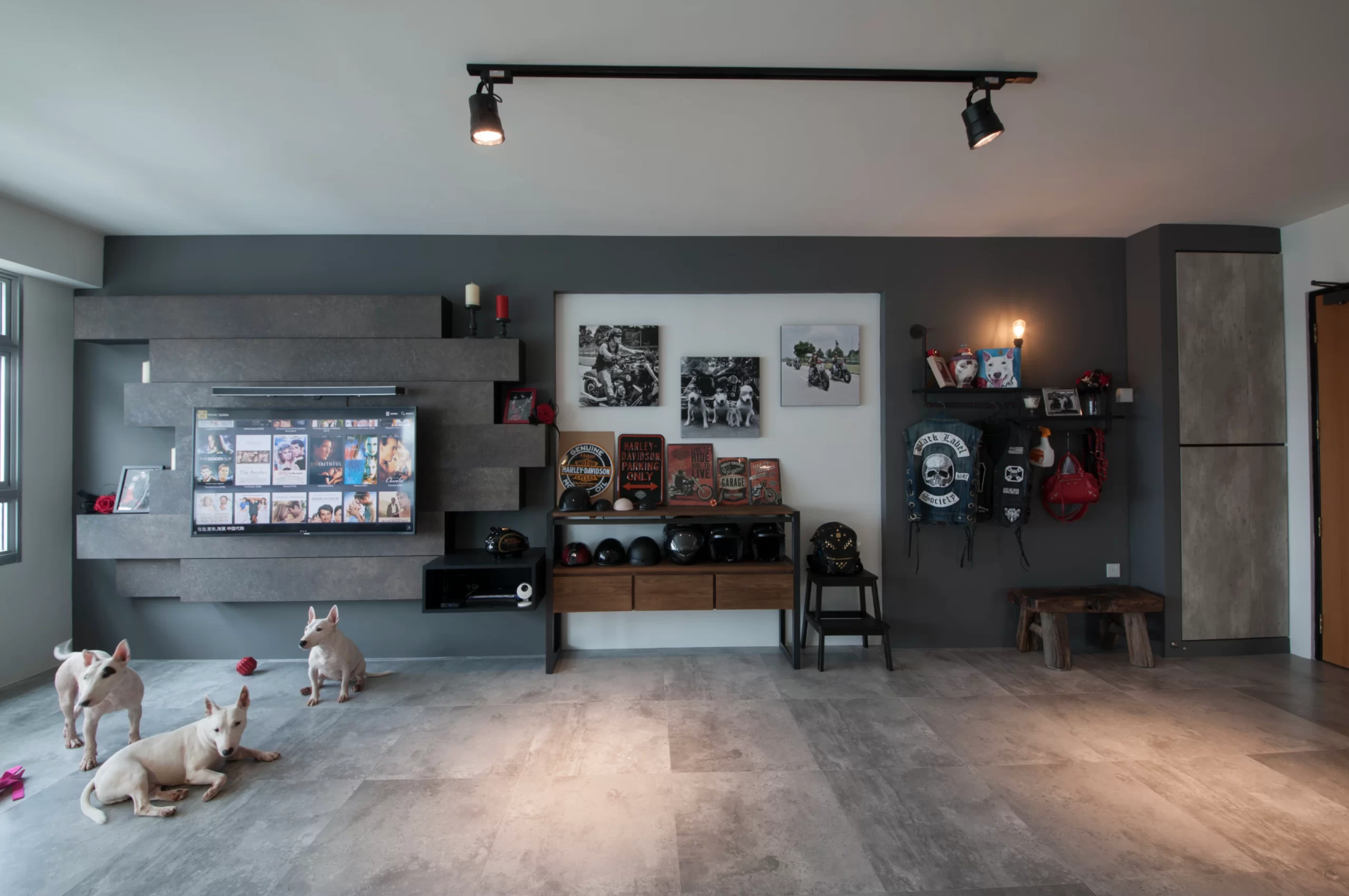 Design by: Starry Homestead
With its focus on raw materials and exposed elements, industrial design creates an urban feel. Stick to a monochromatic colour scheme with shades of grey, black and white to maintain the minimalist aesthetics. For a rugged texture, opt for a concrete wall or concrete-like finish to create an edgy backdrop.
9. Marble Majesty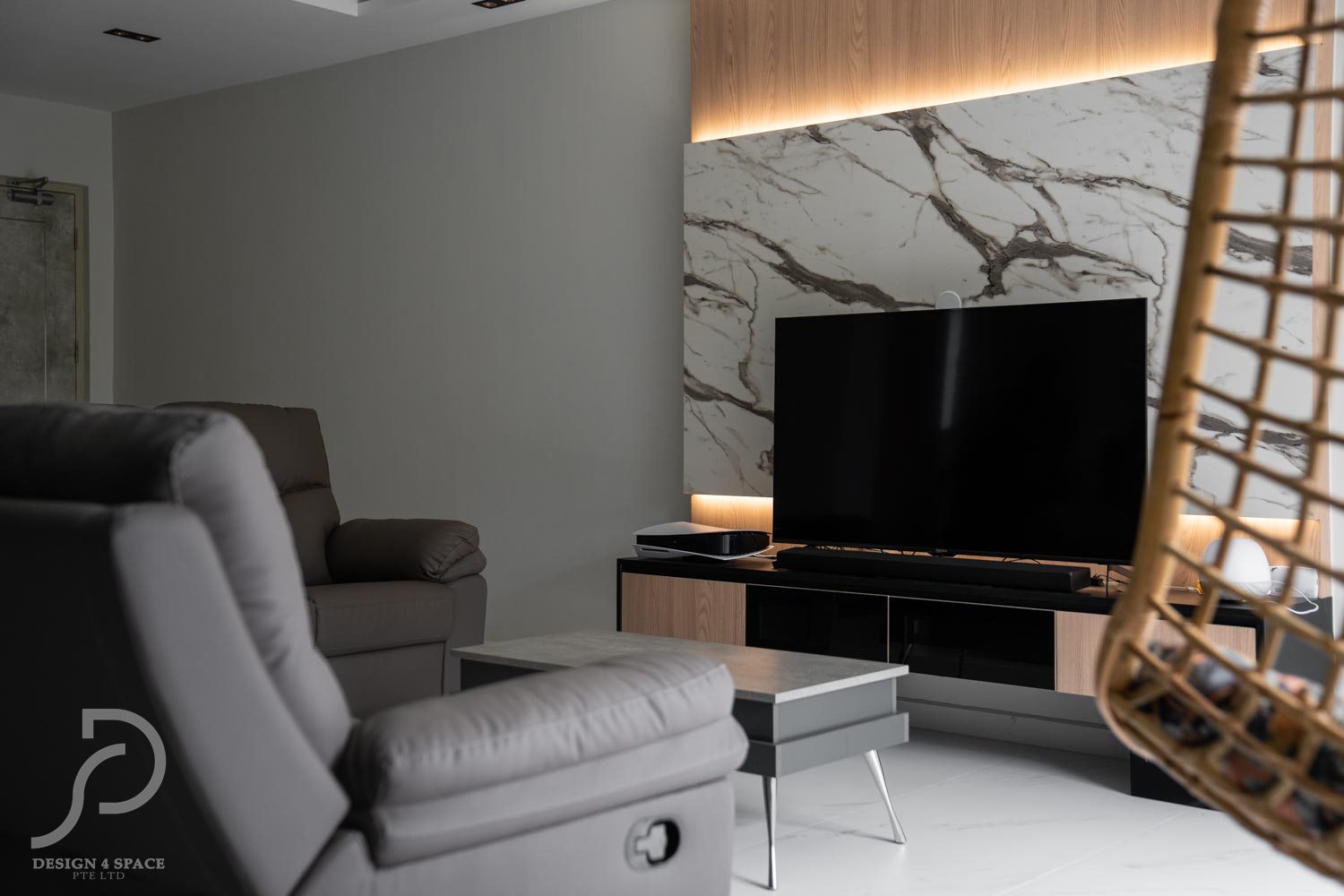 Design by: Design 4 Space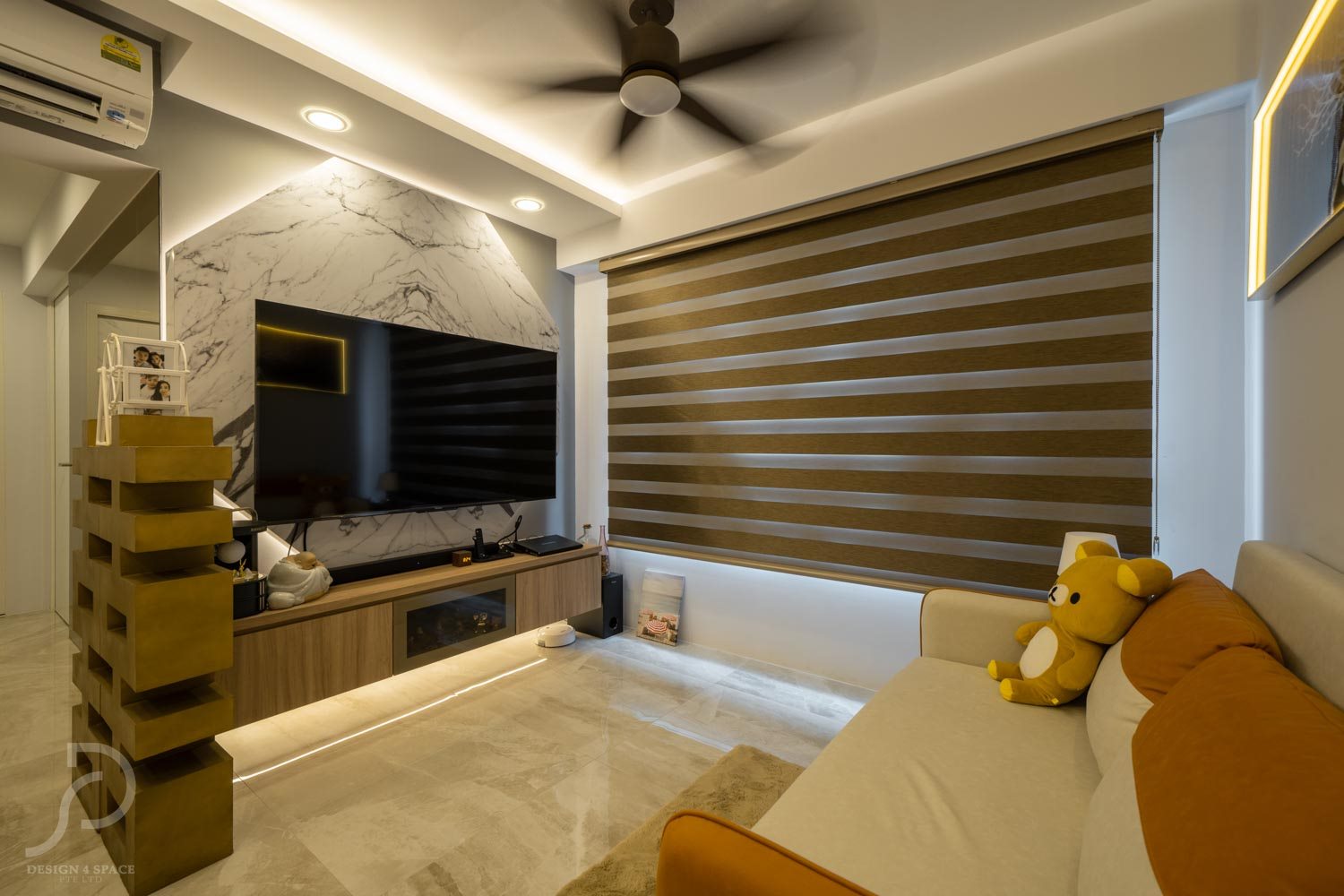 Design by: Design 4 Space
Melding the cool elegance of marble with the warm richness of wood, this design combination offers an alluring balance of natural elements. Let the natural beauty of marble shine as the main backdrop for your TV. Its glossy surface and unique veining patterns make it a standout design element.
Incorporating wooden elements like a floating console adds texture that contrasts beautifully with marble, creating a visual balance. It also functions as a stylish storage solution for your entertainment gadgets.
10. Modern Luxury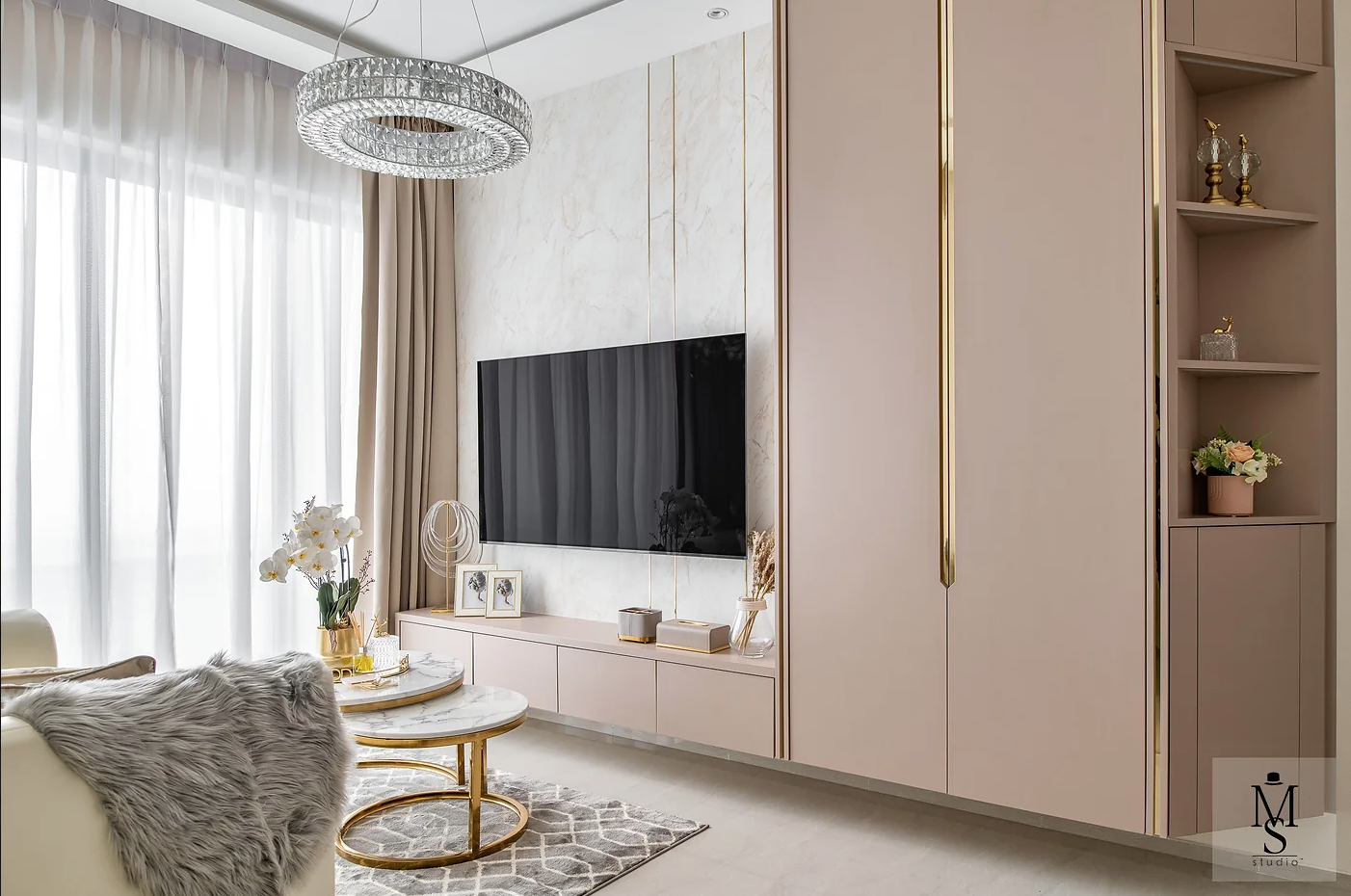 Design by: Mr Shopper Studio
Design by: 96interior
Marrying modern design with luxurious touches, this style transforms your TV wall into an elegant focal point. Incorporate metallic accents in your design, such as gold, brass or silver. This could be in the form of a metallic TV frame or even metal inlays in your wall panels. Consider adding floating shelves in high-gloss finish for practical storage solutions.
11. Muji Style
Design by: eightytwo
Transform your living room into a serene sanctuary with a Muji-style TV feature wall that incorporates wooden concealed storage cabinets. Choose cabinets with a simple, streamlined design. Avoid intricate details or ornamentation and opt for clean lines and flat surfaces to retain the minimalist appeal.
Remember the Muji philosophy of 'less is more.' Choose a few quality, meaningful decor pieces, and avoid unnecessary clutter or embellishments.
12. Open Wooden Shelving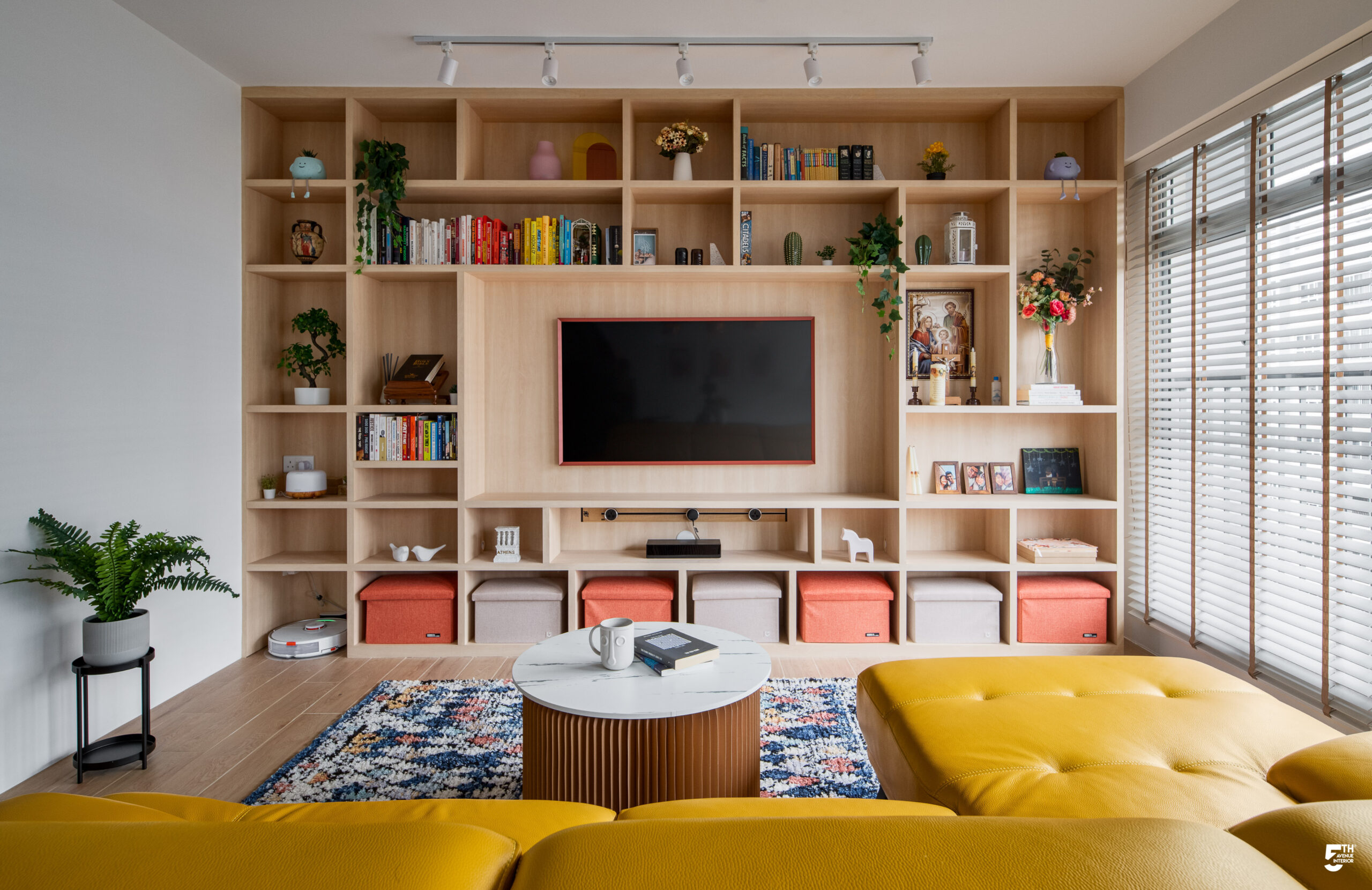 Design by: Fifth Avenue Interior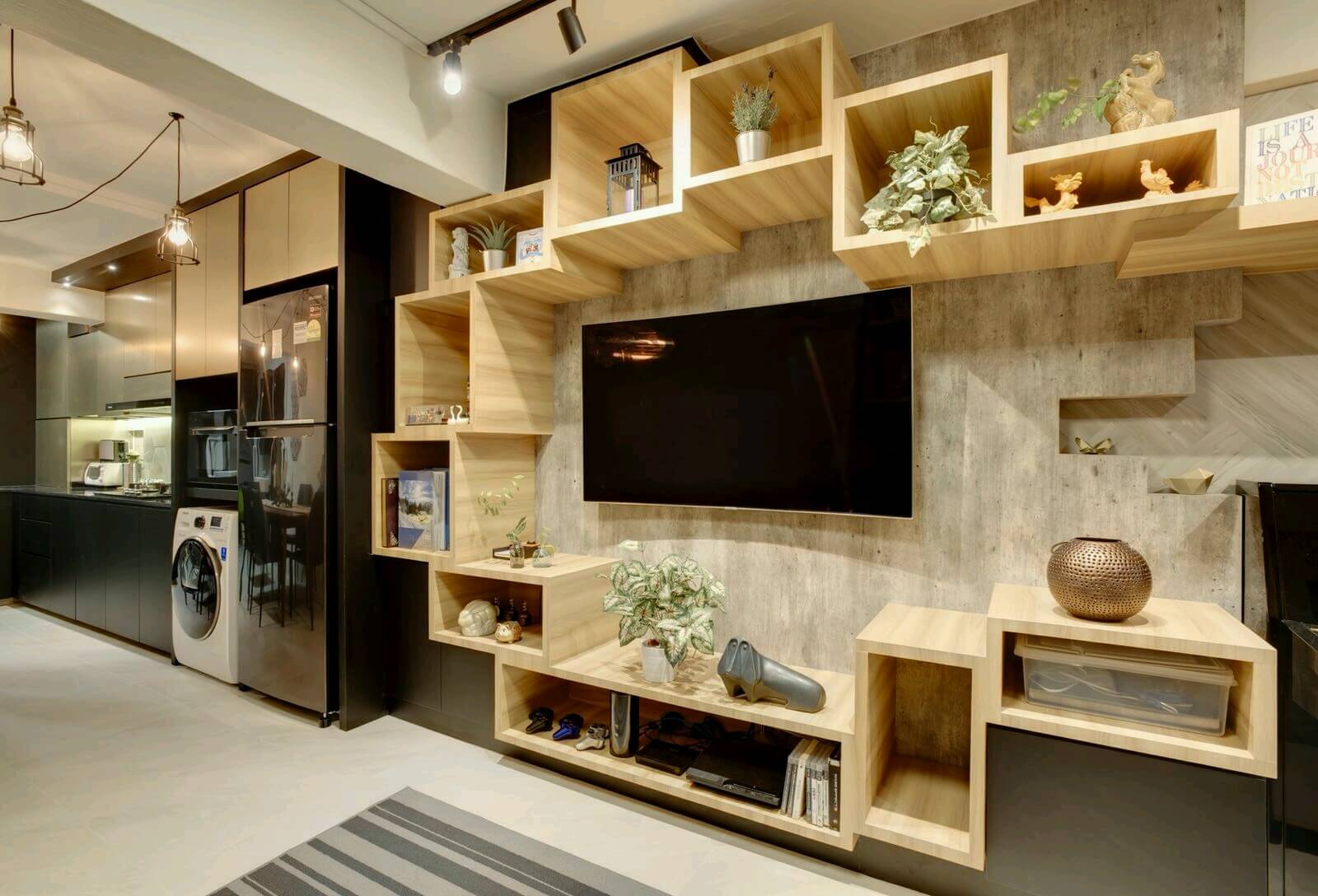 Design by: 3dinnovations
A TV feature wall incorporating wooden shelves provides a perfect blend of aesthetics and ample storage to your living space. You can customise the shelf placement based on your needs and design vision. 
Shelves installed around the TV can create a visually balanced look, framing the television and offering space for decor. Besides using them as storage, you can mix and match picture frames, plants and other trinkets to create a visually pleasing setup.
13. Pastel Chic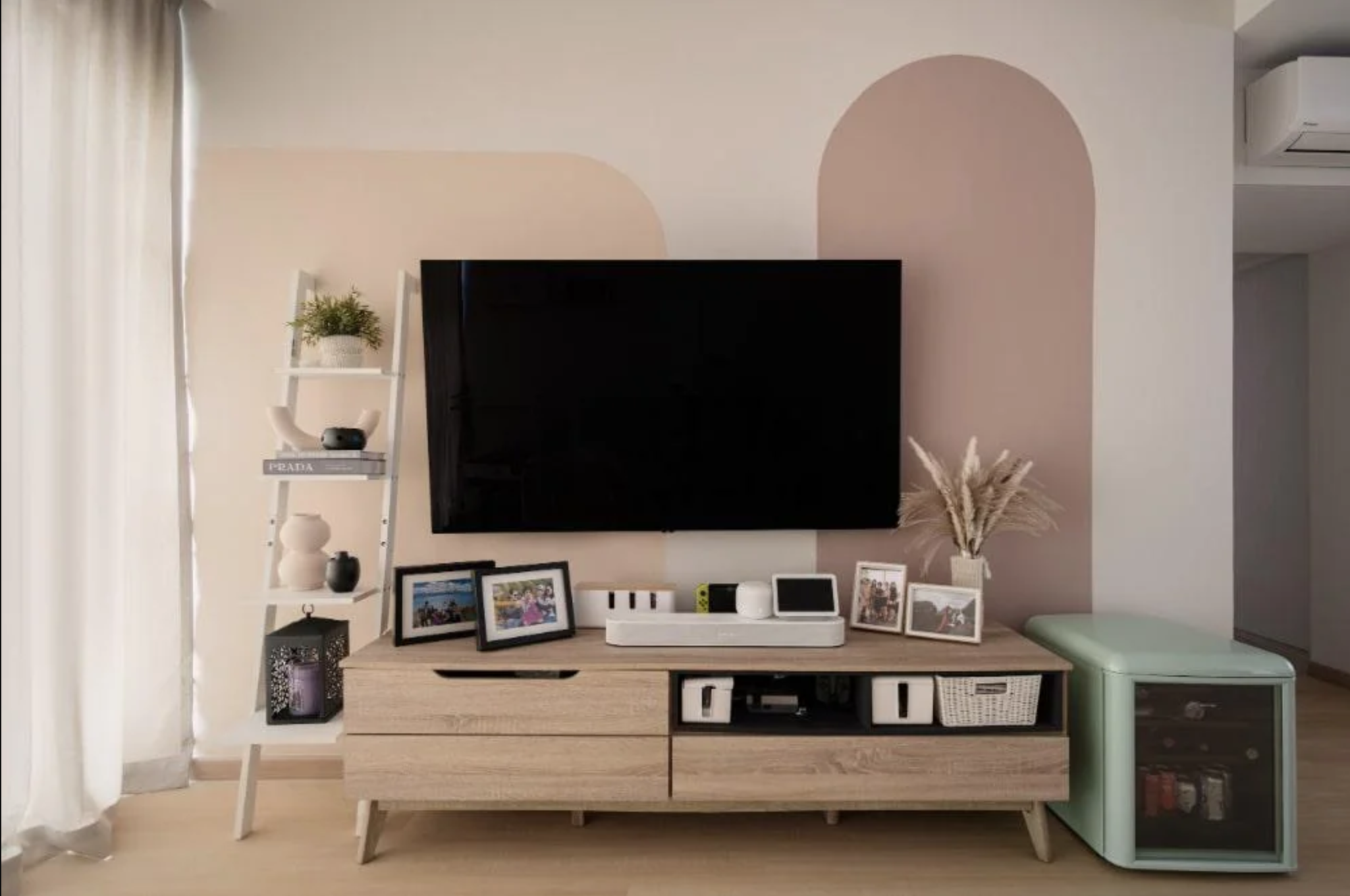 Design by: Space Factor
Pastel colours are a wonderful way to infuse your living space with a soothing aura while keeping it chic. Choose a pastel colour that resonates with you and complements the rest of your living room decor. This could be a soft blush, a soothing mint, a gentle lilac or a sky blue. 
It's also a good idea to incorporate natural elements into your design. Pastel colours work wonderfully with natural wood or plants, creating a serene and inviting environment.
14. Reflective Elegance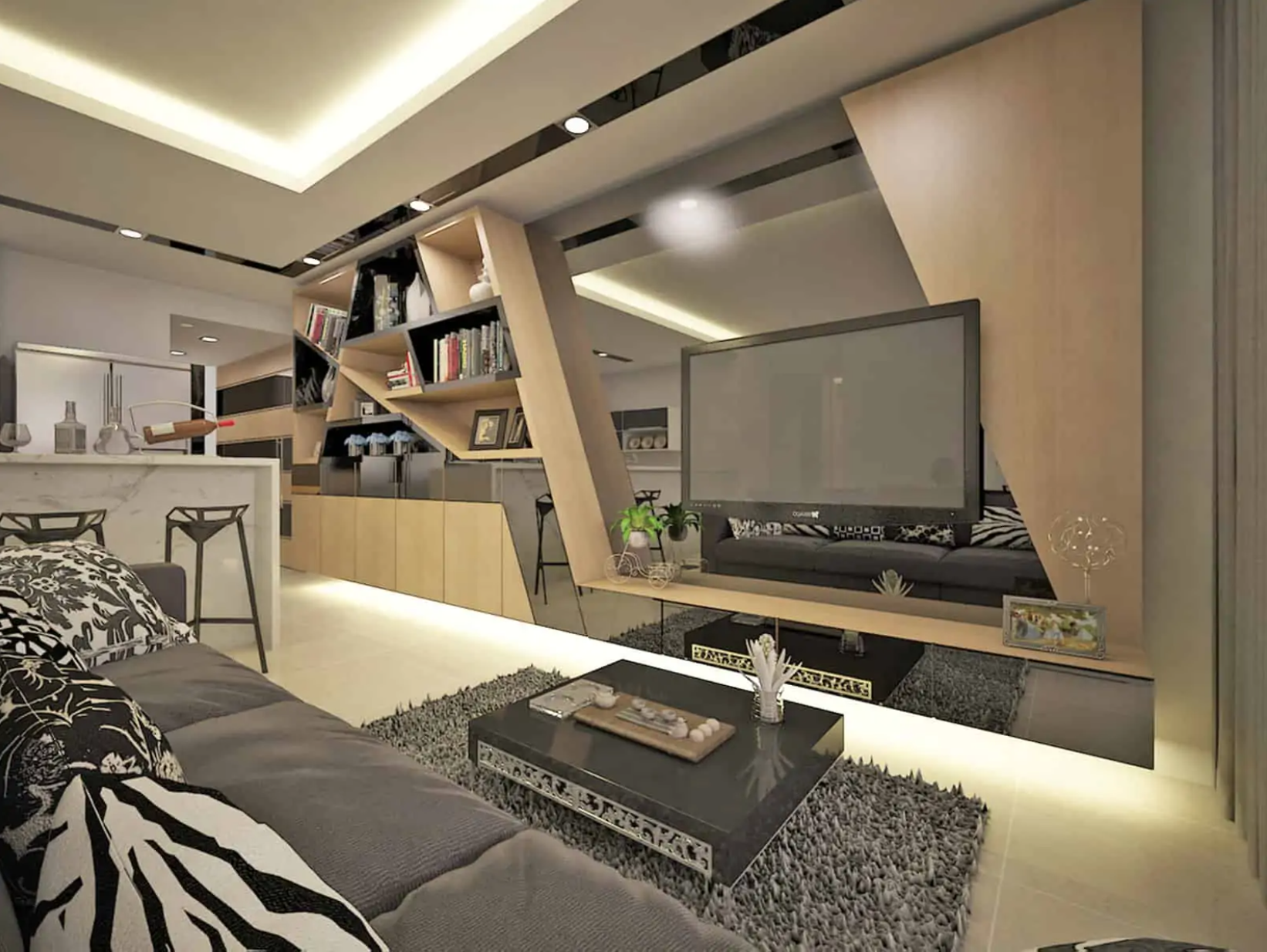 Design by: Eight Design
Design by: Mr Shopper Studio
Mirrors can add a surprising touch of sophistication and depth to your tv feature wall design. Aside from enhancing the perceived space, mirrors also reflect light to create a bright and airy ambiance. 
Depending on your preference, these could be large panels that create a seamless reflection, or smaller panels that add a bit of a geometric design element. You can also combine mirrors with other materials like wood or metal. This can break the uniformity of the mirror wall and add an extra layer of texture.
15. Scandinavian Simplicity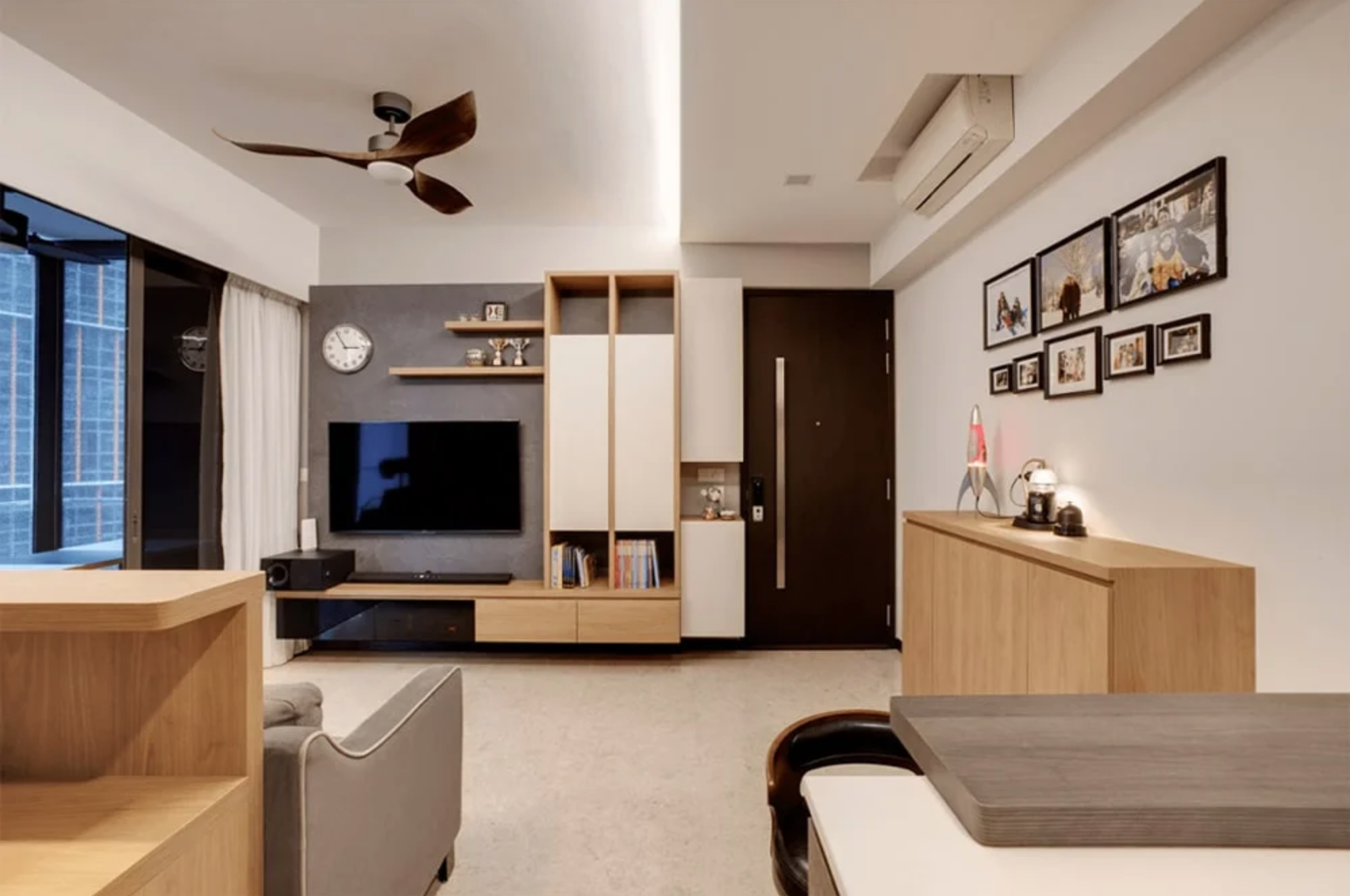 Design by: Space Factor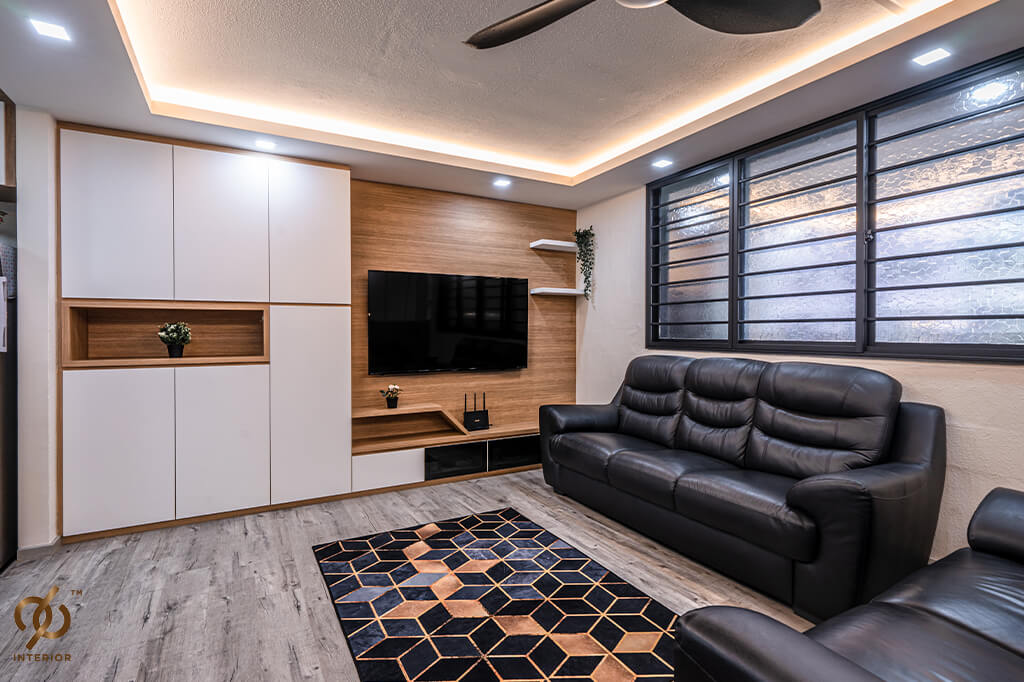 Design by: 96 interior
A Scandinavian-inspired TV feature wall in your living room can bring a sense of tranquillity. Nature elements can be added in the form of wooden TV consoles or floating wooden shelves. Make the most of natural light. Use light, airy curtains on nearby windows, and if possible, position your TV feature wall to benefit from incoming sunlight.
16. Sleek Minimalist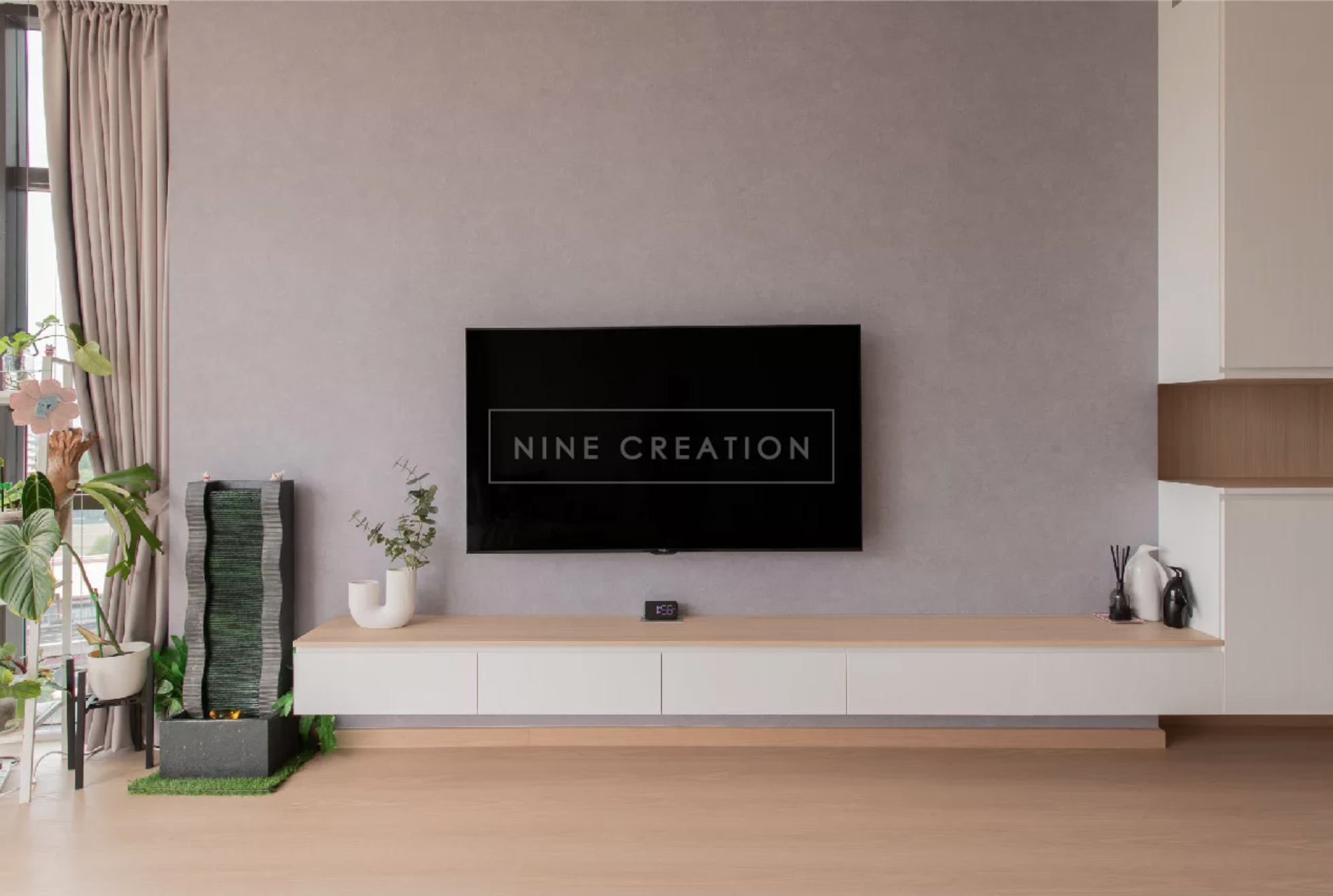 Design by: Nine Creation
Imbued with a quiet elegance, a minimalist design emphasises functionality and simplicity without sacrificing style. You could use a concrete finish or a wallpaper with a subtle pattern to add depth to the design without overwhelming it. Avoid ornate details or excessive decor elements to maintain a clean, streamlined look.
17. Victorian Elegance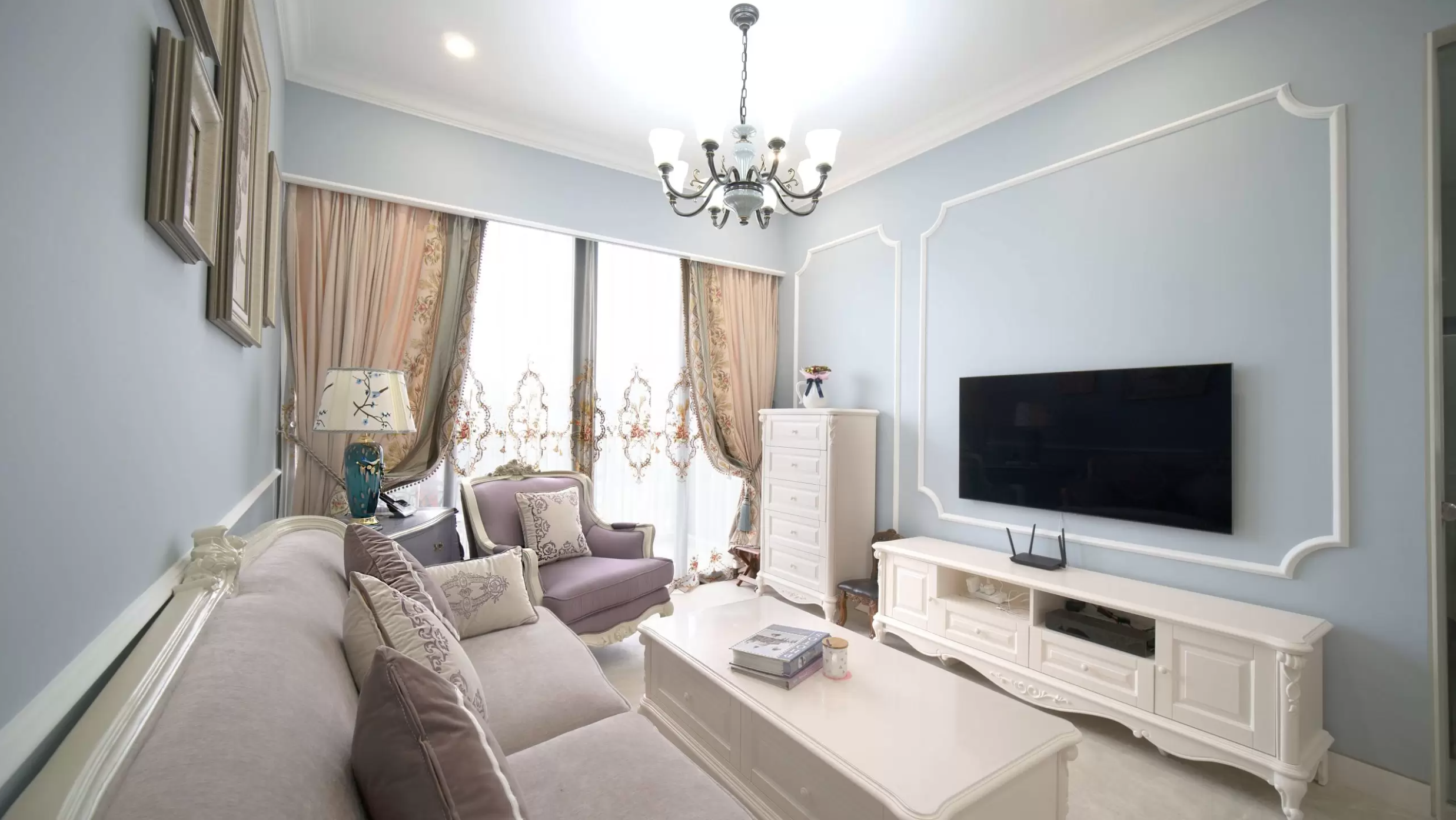 Design by: Retznrelax
Bring a touch of classic elegance to your living room with a Victorian-style TV feature wall. The ornate detailing creates an interior that exudes opulence and luxury. Choose matching tv consoles or cabinets in a classic, antique style. Add vintage-style lighting fixtures, such as a chandelier with crystal or glass embellishments to highlight your feature wall.
Turn Ordinary Movie Nights Into Extraordinary Cinematic Experiences
Your TV feature wall can be more than just a functional element; it's an opportunity to infuse your personality into your home. With endless design possibilities, you can play with textures, patterns and layouts that resonate with your individual style. It's about creating an environment that feels uniquely yours!
PREVIOUS ARTICLE
6 Steps to Building A DIY Indoor Garden and Decoration Ideas to Spruce It Up
NEXT ARTICLE
How Often Should You Paint Your Walls To Keep Them Looking Fresh And Beautiful