Inject personality, character and harmony to your home design with a dual-toned colour scheme for your living room.
Go for class with an easy-to-match monochromatic palette or opt for a luxe, regal look with our timelessly elegant colour selections. Don't forget to get creative with bold feature walls and exquisite accent pieces.
Colours are also famously known for influencing our emotional and mental states. So set the mood with these soothing colour combinations or our vibrantly cheerful ones. As long as it makes you happy, we say go for it!
Check out our picks for the trendiest, most versatile two colour combinations for living rooms in 2022 right here!
Monochromatic Two Colour Combinations
It's hard to go wrong with monochrome. One of the most timeless yet modern-looking colour palettes, monochromes can elevate your living room into a sophisticated social space.
1. Black and white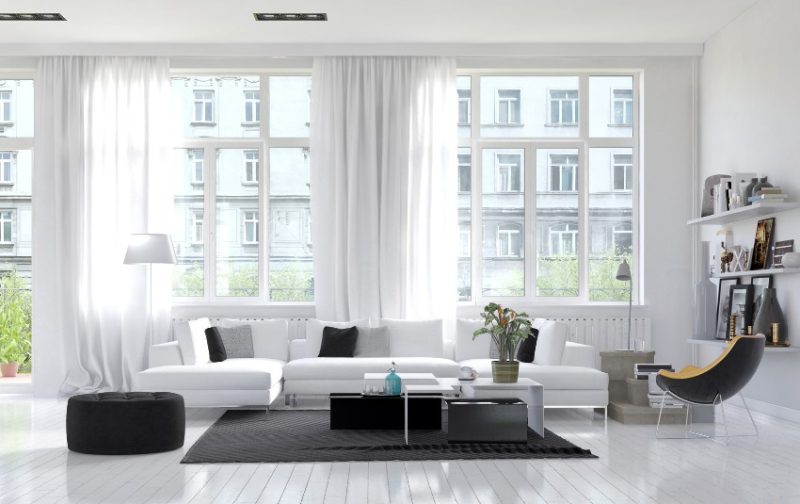 Go classic and minimalistic with a black and white colour scheme for your living room. This versatile palette can come off as bold, neutral or light depending on how much of each colour is used.
You can create a sense of space and airiness with white walls, curtains and a white sofa. Accent the space with black chairs, surfaces and decorations that will strikingly stand out against a predominantly white room.
2. Grey and white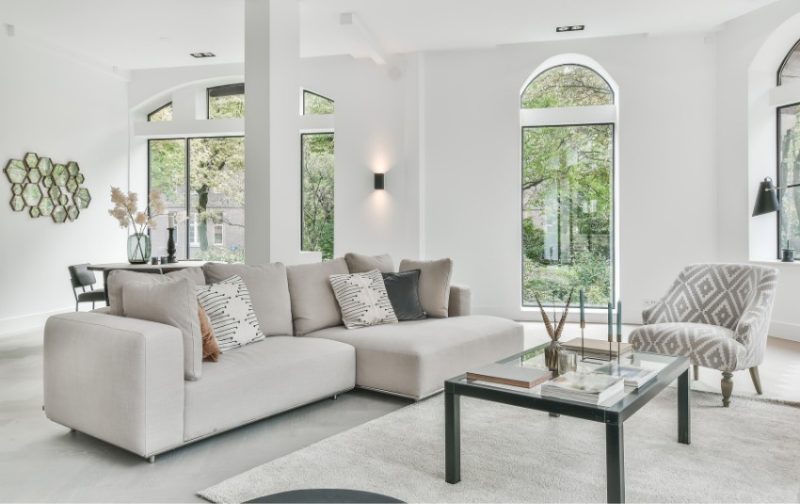 A grey and white colour combination brings a crisp, modern look to any room. Paired with natural brown or green accents (like house plants), the colour scheme can bring a calm, tranquil vibe to your living space.
White walls with light grey furniture can bring a sense of balance and elegance to a living room. Both are neutral colours, making them a versatile combination, suitable with any accent colours when adding in decor or art pieces.
3. Black and grey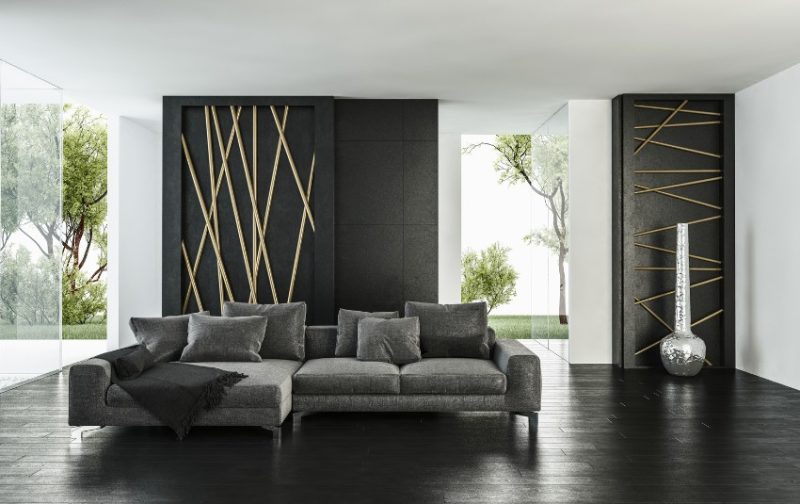 Want to create a powerful and dynamic monochromatic look for your living room? Black and grey are a great combination that can do just that. The palette is exquisitely chic, blending the sleekness of grey with the boldness of black.
A couple of black accented walls can do the trick against neutral colours like white. Complete the modern look with an L-shaped charcoal grey couch for a living room that coolly screams confidence.
Soothing Two Colour Combinations
Turn your living room into a space for extreme relaxation with these soothing tones. Featured below are two of the most calming colours, blue and pink, as well as relaxed neutrals like brown and white.
4. Cream and pastel pink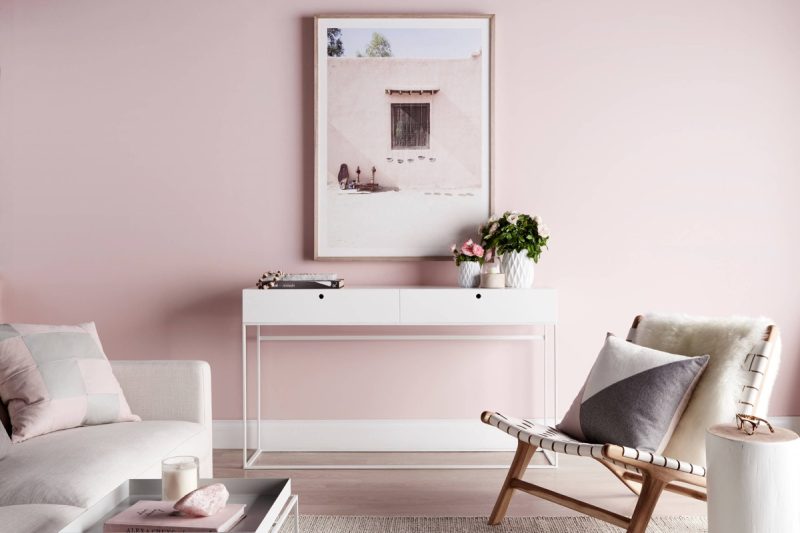 Credit: 51 Pink Living Rooms
Cream and pastel pink is a delightfully soothing colour scheme for your living room. The warmth and cosiness of cream complements the soft, nurturing feel of pastel pink. The result is a calming colour combination that brings you back to the joyful tranquillity of childhood.
Paint your walls a soothing shade of pastel pink, like Rosette, and tie it in with throw pillows and decor of a similar shade. Incorporate cream through furniture pieces like your sofa, chairs or side tables.
5. White and blue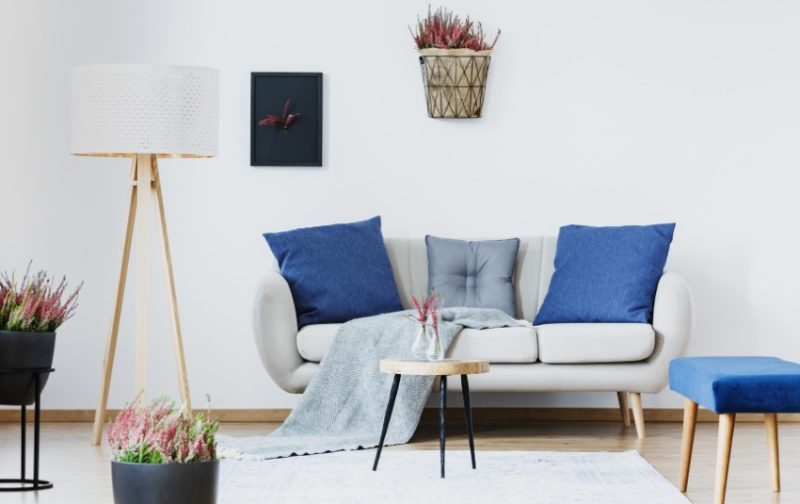 Blue is often regarded as the most calming colour in colour psychology. Reminiscent of serene, cool waters, it's a top choice for any room in the house associated with relaxation and unwinding. Used in combination with white, the pair emulates a modern Greek decor style, whisking your mind away to a rejuvenating island vacation.
A predominantly white room with rich blue accent pieces will do the trick, creating a soothing, luxe look for your hall. Bring in some soft wood tones through lamps or wooden chair legs to enhance the calming vibe.
6. White and brown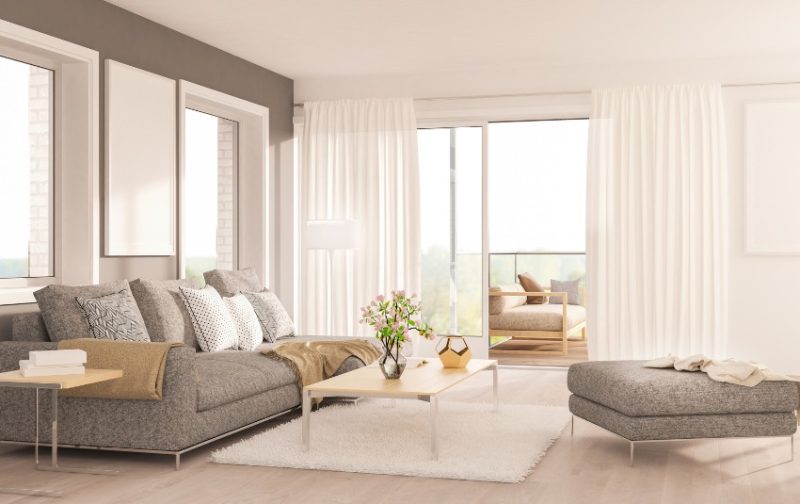 For a cosy, balanced look, opt for a white and brown colour combo. Earthy brown tones exude a feeling of comfort and protection, grounding you in the stability of nature. It's good to have this in a home, especially if you spend a lot of time indoors.
The colour white will open up your living space and is refreshing like a breath of fresh air. Establish the colour scheme with white walls, curtains and rugs. A muted brown sofa against a brown accent wall will make your space feel cosy and warm – try Beach Lover or Old Stucco.
Elegant Two Colour Combinations
Deck your living room with elegant, luxe colours like gold and purple for a daily confidence boost. These sophisticated colour combinations will stand the test of time and impress any guest you invite over!
7. White and gold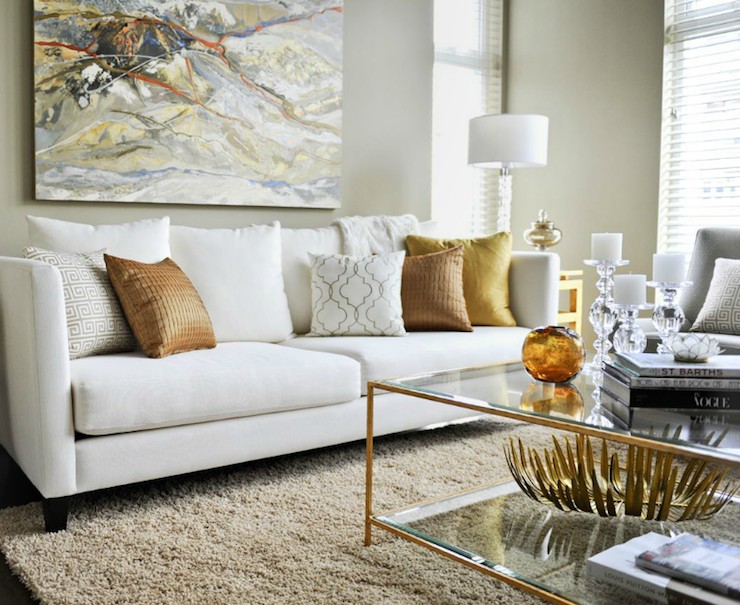 Credit: Brass Coffee Table
Few colours scream timeless luxury quite like the colour gold. For centuries, the colour has signified wealth and strength – incorporating it into your living room's colour scheme will instantly make an impact.
To veer away from overuse, it's best to add gold touches to a room with accessories and metal trimmings. Pairing this colour with a warm-undertone white creates a classy and elegant look.
As gold catches and reflects light, it leaves your walls with a subtle gleam. Together with white, the combination can make a small room look larger and, of course, grander!
8. Red and purple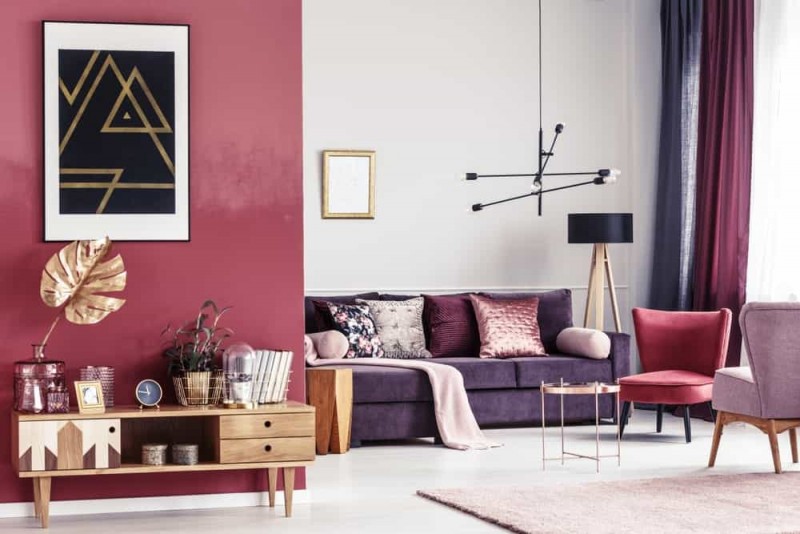 Credit: 35 Purple Living Room Ideas
Red and purple may not be an obvious colour combination as they're too close together on the colour wheel. However, if you pair them in similar saturations, the colours can create a strikingly elegant look for your living spaces.
Purple, especially in darker hues, has been known to symbolise royalty and luxury for centuries. Combined with passionate and powerful red, the duo will add a timelessly dramatic look to your room design.
A dark, muted red feature wall (like Rose Bud or Remember Rose) with a similarly toned purple sofa is eye-catchingly regal. Sprinkle reds and purples in your curtains, accessories and furniture and balance it off with neutrals like white to complete the look.
9. Blue and purple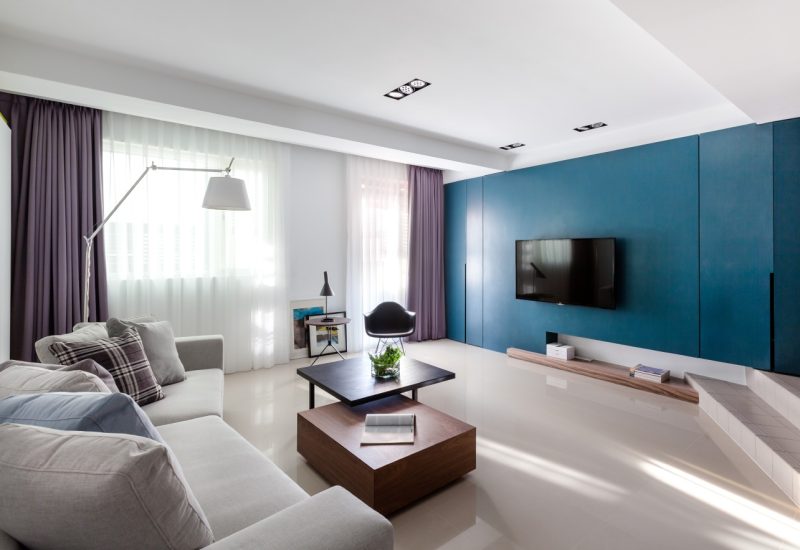 Credit: Vibrant Blue and Purple Apartment Decor
Purple paired with blue brings about a sense of elegance and sophistication. We already know that purple is the colour of royalty, and that blue stands for calm confidence. Bringing them together creates an extravagant yet balanced look for your living room.
You don't need much to make blue and purple pop in a largely neutral room. Style your space with a greige sofa and white ceilings. Then, add a dark blue feature wall (e.g. Venetian Blue) and purple curtains of a similar tone.
The combination is not just poised and bold, but incredibly calming too as you're working with cool colours.
Vibrant Two Colour Combinations
Stay upbeat with a bold, vibrant look for your main living space. These colour combinations are brimming with so much joy and positivity, they're simply hard to resist!
10. Cream and pastel yellow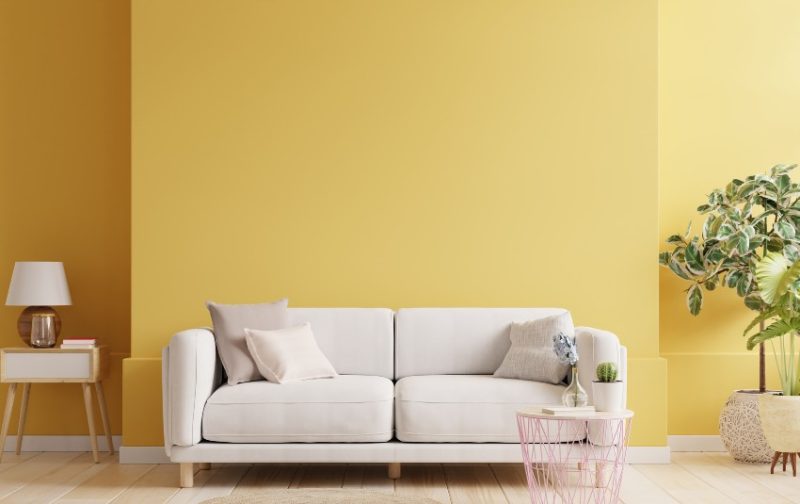 Yellow is usually used in colour therapy to promote a sense of joy and happiness. This vibrant, cheery colour breathes energy and positivity into any space. It goes well with the colour cream, which has warm undertones – together, they can make a living room feel welcoming and cosy.
A pastel yellow wall – like Lemon Pie – with white or cream trimmings instantly makes an impact in your space. Balance it off with a simple cream sofa centrepiece and house plants all around. If you'd like another pop of colour, a pastel pink side table will do the trick.
11. Orange and forest green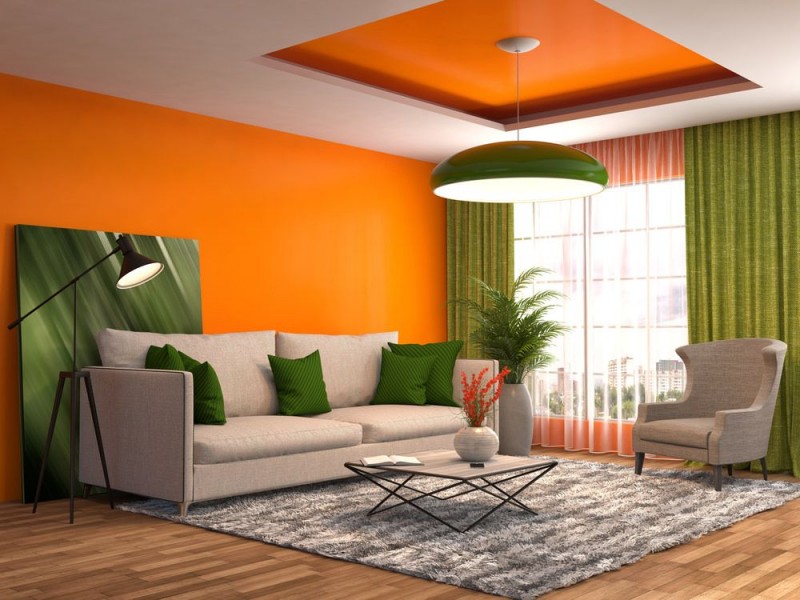 Credit: 40 Orange Living Room Ideas
Breathe life into your living room with warm, energetic orange and luscious green. This vibrant combination is for the bold, and will give off a tropical vibe to anyone stepping into your home.
The vivid Sweet Grapefruit orange pops off the walls and is delightfully contrasted by the forest green curtains, throw pillows and ceiling lamp. Don't forget to fill the room with plants and greenery to complete the 24/7 vacation feel!
12. Blue and yellow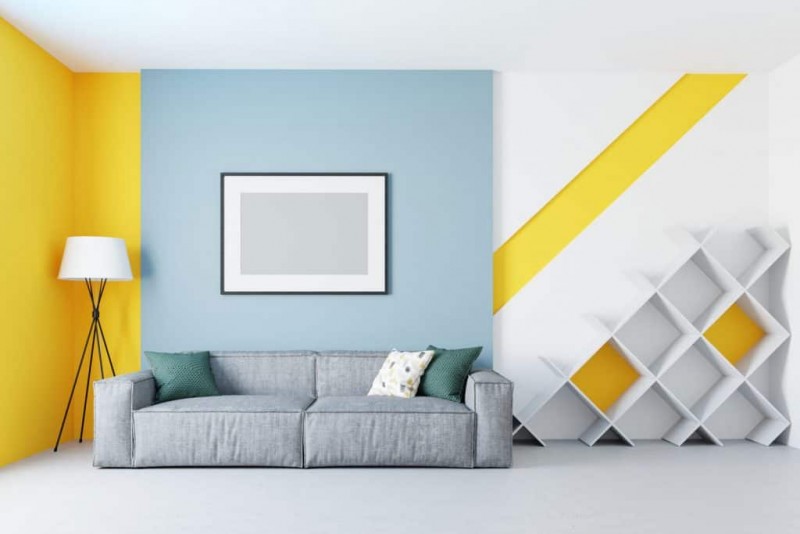 Credit: 21 Living Rooms With Yellow Walls
Pairing yellow and blue brings a fun and lively atmosphere to a room's design. The calm, cool nature of blue – especially in lighter hues – allows yellow to shine in all its exuberant glory. It also resembles the sun and the sky, bringing the beautiful outdoors right into your home.
Pull off this positively classic pair by covering one wall fully in light Lingering Blue adjacent to a contrasting bright Mayan Yellow wall. Add in some white and grey neutrals in the remaining walls and furniture to balance off the look. This will also further highlight the splendour of jaunty yellow.
13. Pink and blue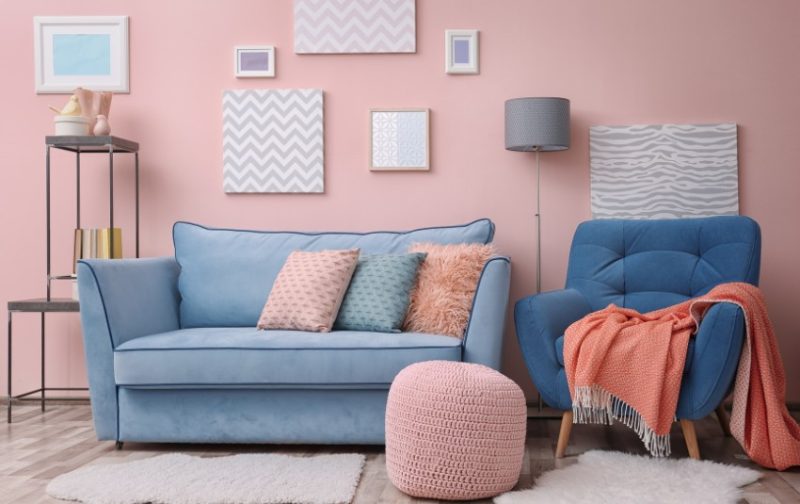 If you'd like a colourful space that's joyful and dreamy, pink and blue is a great colour scheme to play with. Creating a light and playful mood, it'll be hard not to smile when stepping into a room decked in these colours.
You can combine these colours in a number of different ways. Fill your walls in with pastel pink (like Doll House) and decorate them with artwork from the dual colour scheme. A light blue couch can be embellished with pink and blue throw pillows. You can also mix and match the colours with furniture of different hues to create contrast.
Tips for Creating Two Colour Combinations for the Living Room
Aside from choosing your favourite colour and incorporating it into a colour palette, consider these other tips for getting the most out of your hall's design. We cover the emotional and visual effects of Feng Shui, textures, wallpapers and more on your space!
Take into account Feng Shui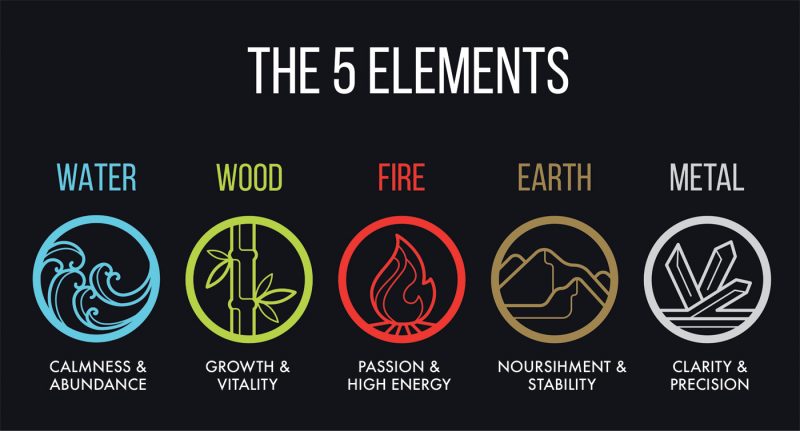 Feng Shui is the ancient Chinese practice of setting up spaces in a balanced, harmonious way. When done correctly, it's believed to bring peace and prosperity to a person's life and relationships.
When choosing a colour palette for your house, taking Feng Shui into account can bring a boost of positive energy into your living space. The 5 elements of Feng Shui are each associated with its own colours:
Water – blue and black
Wood – brown and green
Fire – red, orange, purple, pink and yellow
Earth – light yellow, beige and earthy colours
Metal – grey and white
Create an accent wall
Accent walls, also known as feature walls, are usually one wall in a room that has a different colour, texture, material or design from the others. They act as a focal point, directing attention to otherwise overlooked areas in a room. They're usually used to add a decorative flair to a room, making it look more dynamic and interesting.
These walls can help you with creating a two colour combination for your living room design while adding character and livening it up. They also help make a room feel bigger by breaking up space within it.
Use textures to add depth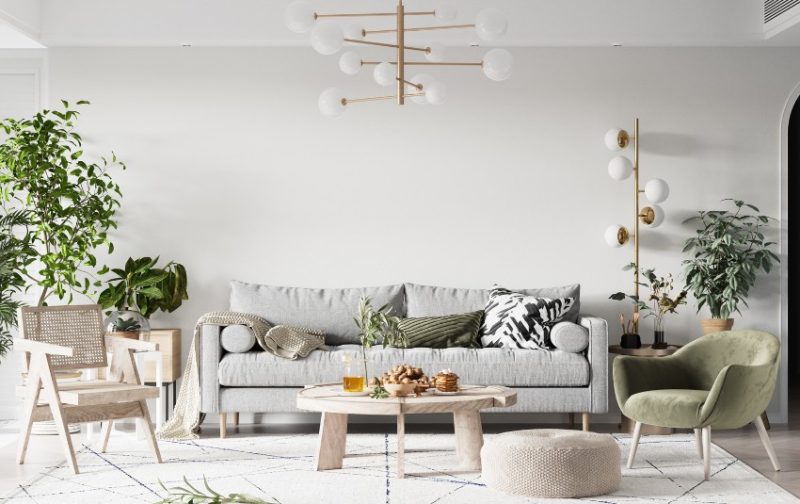 Textures can bring depth and balance by adding visual weight to a room, adding an extra dimension to coloured furniture and walls.
For example, smooth, shiny finishes like metal create a contemporary feeling to an area, especially when paired with the colour gold.
Specific feelings can also be curated in a room's design by pairing colour and texture combinations. The peaceful psychological effect of the colour green can be brought out by a soft, fuzzy material like velour or velvet. An armchair with this combination will thus look like a great, comfy spot to relax in.
Use furniture and furnishings to add pops of colour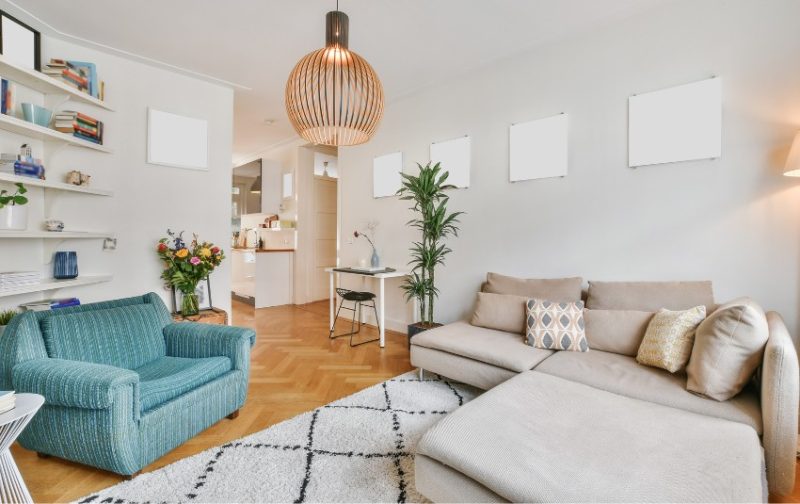 Similar to an accent wall, accent pieces of furniture can add pops of colour to a room, making its design look more visually striking. This is one of the more common ways of incorporating a second colour into a space's colour scheme. It's also a safe way to try out new colours against your predominant palette as you can always swap out colours.
In a living room with neutral coloured walls, flooring and sofa, you can add a blue-green armchair to spice things up. The pop of colour adds character to the space and helps direct attention to whichever part of the room it's at.
Choosing a Two Colour Combination for Your Living Room
Deciding on the best dual-coloured palette for the living room can be quite a subjective process.
Some homeowners may prefer to have a space decked in soothing tones, to calm their minds after a tiring day. Others may feel more at home or inspired by vibrant, cheerful colours. Similarly, some people may enjoy a timeless, elegant aesthetic while others may prefer something more modern or playful.
At the end of the day, what matters most is that your living room colour combination makes you happy, based on your individual taste!
PREVIOUS ARTICLE
20 Ideas for Two Colour Combination for Bedroom Walls: Calming, Vibrant & Chic Designs
NEXT ARTICLE
13 Types of Paints All Homeowners Should Know About: The Ultimate Guide for Painting Your Rooms and Furniture